Hello everybody !
---
Another week and here we are standing at the season end day of Splinterlands. I hope you all got some good cards from your season end rewards. If you got it then congratulations and if not welcome to the group of "NGCC = No Good Cards Club". Before sharing the rewards let me share a battle with all of you via this post & I will be participating in the weekly challenge of @splinterlands , check the post here .
---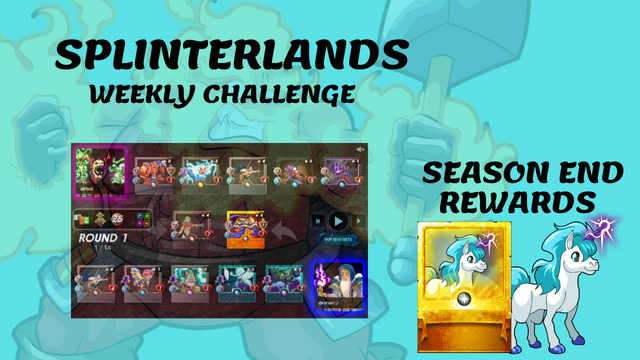 ---
This week's rule set was LITTLE LEAGUE. Which means only monsters with 4 mana or less can be used in the match.
---
---
So as you can see along with the "Little battle" rule there was an additional rule of "Monsters loose all abilities". Since with these I do really prefer to go with Water splinter. Because of the power of Magic abilities. As it will have a direct impact on the life of the opponent monsters.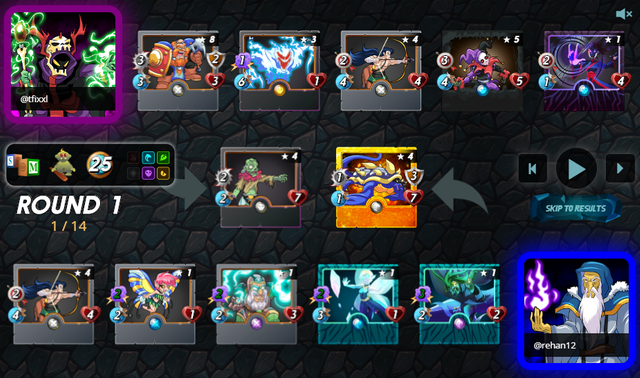 Since choosing the Water summoner I got additional +1 magic ability which did the work even more better.
---
The SPINEBACK TURTLE is probably the best option that I had. Even after loosing all the abilities it did help with the Melee attack and with the shield it survived some attacks, the way it was expected. And the life that it has was the key factor. While was hoping it would survive two rounds for the play.
While as for second position got to select CORAL WRAITH since the sneak abilities were not effective the direct attack in the life of the opponent was very much effective and in addition to the +1 Magic attack it was perfect in that position.
In third place, ICE PIXIE with an additional +1 magic did some additional benefit as well. While due to the life of it this place was suited for the card. It would have done the damage for quite some time, even if 1st position was compromised, as so it did.
Now coming to DWARVEN WIZARD I always wanted to upgrade this card but seems like I would have to max it to get some additional benefits in terms of magic ability but so far in this match it was pretty perfect.
ENCHANTED PIXIE have saved me in quite a lot of battles. With it's ability it sure comes in handy. While like I stated the benefit of Magic attack was given the more priority in this game for myself.
CENTAUR is one of the best card in this rule-set (4mana or monsters loose abilities). And placing it at the end confirmed two attacks to the 1st monster of the opponent till the end of the game. As it has some higher chance of making injury to the opponent.
So I was calculating, 5 magic attacks (+1 from the Summoner) will definitely turn the table for myself in the game. And luckily the opponent choose to rely on ranged attack then magic, lucky me ;) Well the strategy worked pretty fine for the time being and the result was on my side as well. Well next time I would probably go with Death deck as well to try something different.
To be honest I like the little rule , as well as long as I get the right deck to play with. Where the deck has some good cards in them, I am good with that rule !
---
Season End Rewards
---
I was really hoping to get some decent cards in this season but seems like this season was not good at all either. Either way climbing up the ladder is increasing as time is passing by. By that I mean I was able to get into the Diamond league (D3) this time. Hence was awarded with 40 reward cards. According to peakmonsters explorer the value of the cards were Total Value: $ 1.69 sounds funny right ;) but yet these are bonus from my point of view !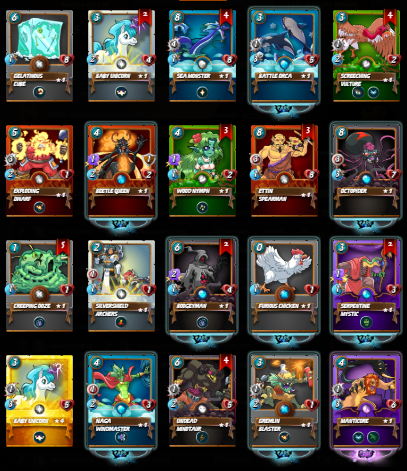 ---
Nothing good from this season as well. Few rares and one Epic and one common GF . Not that much of effective cards were awarded this season. But I guess I was overly excited this season. Well lately I have been seeing many users are not getting that much effective cards from season ends as well. Well, probably because of the effectivity of the users have increased and good cards have become way random then the past.
All the best for every Splinterlands players and hopefully this season will be more exciting for us all. Give your best
---
Thanks for Dropping By !
Best regards
Rehan
---
---
I am a CURATOR of
---
NEOXIAN CITY
If you want to earn NEOXAG try using neoxian tag in your post
Discord Server

Steemit Bangladesh
Join Steemitbd
(Bangladeshi Community)
Discord Server
---
---
---
Posted via Steemleo | A Decentralized Community for Investors