Reminder: $772 USD Up For Grabs In Just Two Days!
Tournament Reminder
Free Money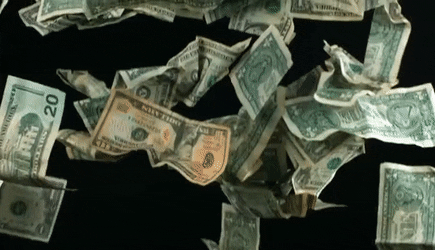 s
We Monster Maniacs have three added tournaments to play on 12/14/2019. They are fittingly named Light Weight Championship, Middle Weight Championship and Heavyweight Championship. These three tournaments combined have a current total value of $772 USD up for grabs. These are extra tournaments on top of all the added value we already get each day. 64 places pay in each one of these games so the chances of you being able to cash in at least one of them is on the higher side. You might be asking yourself, " Why did we get these added tournaments"? As you'll be able to see quoted below in text and a screen shot the reason behind these specially added games is the success of UNTAMED.
A Quote From The Splinterlands Team
The Splinterlands team is extremely grateful for a wonderful start to UNTAMED. We're sponsoring EXTRA 3 tournametns for a total of 1.2 Million DEC on Saturday the 14th.


Its only been a very short while since UNTAMED officially released and already a massive number of 280,000* UNTAMED boosters have sold. To put that in perspective for you ..... The first edition of Splinterland cards that are called Aplha had a max supply of 300,000. The second edition called BETA had a max supply of 900,000 BOOSTERS. So in UNTAMED short life span it already sold around the same amount of BOOSTERS that ALPHA had total and sold what equals to about 30% of the supply BETA had to offer. I think its safe to say that UNTAMED has been a massive success. These three EXTRA tournaments will be played in the Silver, Gold and Diamond leagues (Screen shots of them can be seen below).
Light Weight Championship
Silver League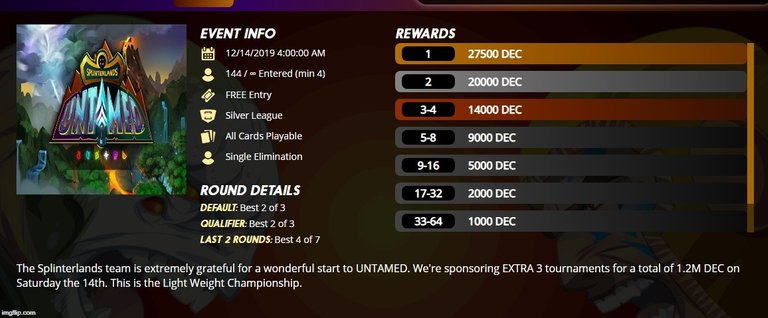 Middle Weight Championship
Gold Cards + Gold League

Heavy Weight Championship
Diamond League

---
Splinterlands (also known as Steemmonsters) is a digital card game created by @aggroed and @yabapmatt. Early game release has launched and prizes are already up for grabs. You can get started with playing and/or investing in Splinterlands by clicking here.
---
---
---