This week's Splinterlands Challenge of the Week was to showcase Mitica Headhunter, from (unsurprisingly!) the Earth Splinter.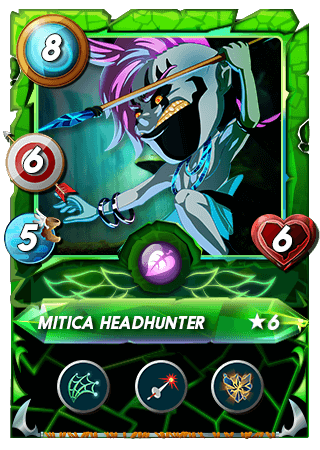 Mitica is a straight up medium-high mana carnage card - 8 mana for 6 damage with piercing and a high speed of 5 giving him a good change of hitting in most rule sets, and with decent health he can usually survive a couple of sneak attacks given that you're likely to play him near the back because of his ranged attack.
At max level he also has shatter, which gives him another advantage against exceptionally well shielded monsters.
He's crude but effective in high mana battles such as this one in which he features as my main damage card.
The Rule Set and Line Up
Mana = 36 - just about enough for Mitica
Equalizer - it's useful to get something in with high damage!
No neutrals - no specific advantage for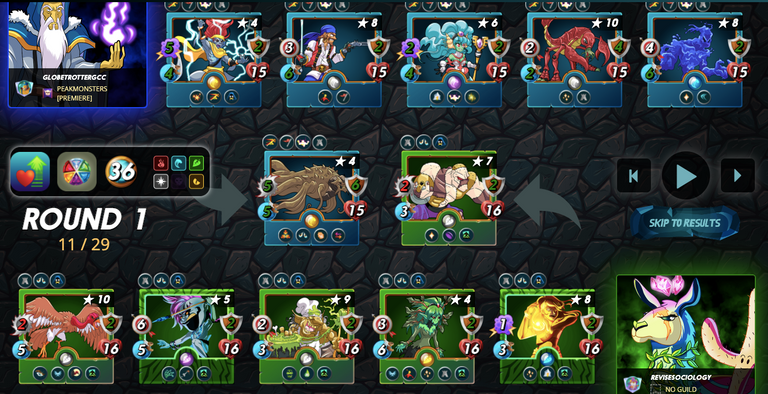 Summoner - Sacred Llama Mage
Flesh Golem - a solid tank option for Earth with no neutrals, also treble heal in this case!
Khmer Princes - healing is essential in equalizer
Spirit of the Forest - just has win written all over it!
Goblin Chef - affliction is also essential in equalizer, poison also has more chance to work on higher health monsters
Mitica - the feature card and twice as much damage as any other ard!
Screeching Vulture - at the back as I thought Last Stand would work well with this, but I didn't need it!
Did my strategy work?
Beautifully, to see it in action click here!
Round 1 - we exchange blows - no losses - I get lucky with the Golem missing the Kraken as he can't then retaliate! Treble heal keeps the Golem alive nicely.
Round 2 - Mitica plays an absolutely essential role in doing 6 damage on the Kraken, leaving him with one health which the Khmer Princess then reduces to zero. Phew!
Round 3 - my opponent now has the Ruler of the Seas in the front row with no real defence, and he falls quickly in this round. both our snipes are being eradicated by our mutual triage!
Round 4 - My combined damage of 17 does for the Pirate
Round 5 - and again for the Mermaid
Round 6 And for the Crustacean - it's relentless!
Rounds 7 and 8 - his Elemental lasts a bit longer because it dodged 3 attacks, but by round 8 it's all over, I win!
How important was Mitica?
Absolutely crucial - I had 17 active damage focusing on the tank, but that got reduced to 15 because of demoralise, but that didn't affect ranged, so the battle started off with Mitica doing over one third of my damage - and he was absolutely essential in getting rid of that Kraken early on.
The Kraken's an odd card - I don't think it did my opponent any favours in this battle - the Taunt ability drew everything to it, including snipe which meant he got killed off in round 2. And the high speed resulted in one miss, which negates the retaliate, so two of its buffs sort of worked against it!
Had the Kraken not fallen early and retaliated, the battle may have been a lot closer!
Once the Kraken had fallen, there was no way my opponent was ever going to do sufficient damage to take out the Golem with void and treble heal, so it was just a procession through his next cards, with 6 damage being landed from Mitca every single time.
So he played a bold role in the line up, crucial to the overall win!
Final Thoughts: Worth Levelling Up?
I think level 5 is optimum for this card - shatter is nice, but it costs $20 to take him to L5 where he gets max damage and then another $10 to max him out for shatter - so personally I prefer to stick at L5 - 6 damage and piercing, very nice!
I don't use Mitica that often TBH, simply because I don't get that many high mana battles, but when you can use him he does have a very high win rate, and he certainly played his part in the above battle!
If you don't yet play Splinterlands, why not give it a go?
Anyone using my referral link will receive a free rare card!