This week's Splinterlands Challenge of the Week was to showcase the Water Elemental from the Water Splinter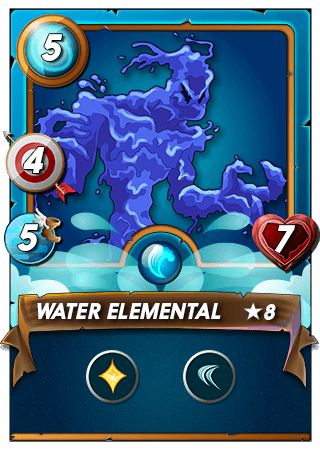 This is one of the cheaper rare Beta cards and one of the first I maxed out. It's a pretty decent card to play at the back of a deck - 5 mana, 4 damage, quite fast, dodge, so good against sneak and reasonable health with self heal
He doesn't have any real weaknesses, so TBH it's a bit of a mystery to me why I don't see him played so often!
The battle below features a classic line up featuring the Elemental, in which he plays a pretty central role in dealing out some decent damage!
The Rule Set and Line Up
Mana 38 - fine for a 5 Mana card
Earthquake - perfect for a self healer
Knockout - Nice for a 3 damage, fast card.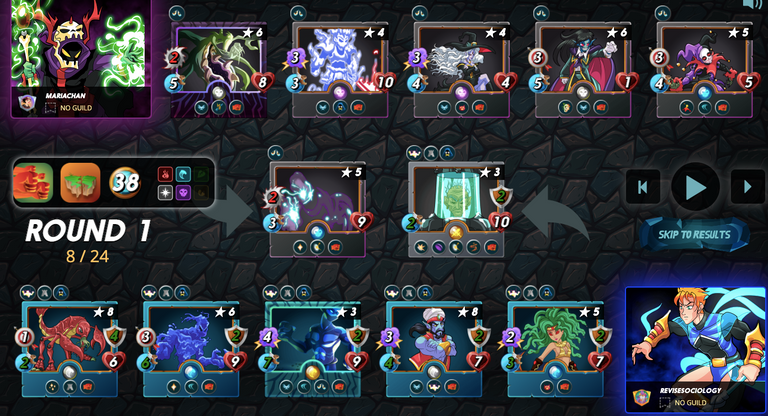 Summoner - Valnamor!
Lord A - still one of the best for Earthquake, with shield
Medusa - for stun
The Genie - flying and damage
Phantom - ditto!
Earth Elemental - self heal and decent damage
The Crustacean - protect and heal - both good for earthquake!
Did my strategy work?
Beautifully, to see it in action click here.
Round 1 - I take out my opponent's Tank - The Water Elemental does his bit!
Round 2 - I take out his Phantasm, Phantom Soldier and finally his Dark Enchantress reflects herself to death, but she does take out my Lord A. I also get his Vampire.
Round 3 - Earthquake finishes off his remaining card.
How important was The Water Elemental?
Well he played his role - 3 damage in an absolute carnage match.
It was also nice to have something that wasn't magic given that's what my opponent was set up to defend against.
Water Elemental - Worth Levelling Up?
This was one of the first cards I ever levelled up so I've got a bit of a soft spot for him, and he's cheap to take up the levels.
I can't see any real weakness either tbh - this is a decent all round budget card!
The only mystery to me is why he's got such a low win rate higher up the orders, probably due to lack of buffs and better alternatives - but for me he's still a by and max, he can come in handy!
If you don't yet play Splinterlands, why not give it a go?
Anyone using my referral link will receive a free rare card!
Share on Publish OX - https://www.publish0x.com/retire-by-50/splinterlands-challenge-of-the-week-water-elemental-xlyxkne