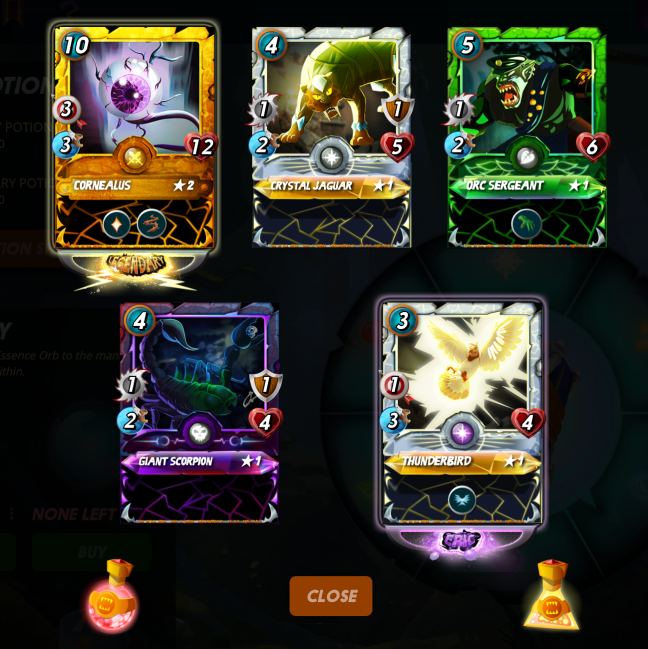 I've opened well over 500 packs so far, most of which with potions. So far, the only gold legendary cards I've gotten were the Chain Golem. While I'm still glad to have those, it's not the same as getting one from a pack. Anyone who supported the Kickstarter to a great enough extent earned those. I still have them, too. I'm getting better about not just burning or selling gold cards immediately.
With the Beta cards and older mana caps and whatnot, I feel like I had a pretty good handle on which ones were the most useful. With the Untamed cards, and now that I see how much things change all the time, I feel like it's in my best interest to just hang onto all of the gold cards, even if they're worth a DECent amount and could help me round out the rest of my deck.
That said, I'm not entirely sure how I feel about this Cornealius card. Before some of the changes, I would've said it was pretty close to useless with such a high mana cap. Now that we have higher ones and even (essentially) unlimited ones, things are a little different. The 99 mana cap battles are so much fun for me because I get a chance to play some of the cards I've been insistent on collecting despite the fact that they don't exactly always get used all that often.
---
I got this regular legendary card as well. In total, I bought 16 packs today and the potions to open them. That was just around $40 or so, maybe a little less.
According to this pack analyzer, what I got was worth several times that!
I have an alt that I send all of my gold cards to now. My plan is to keep them for as long as I can avoid selling or burning them, which is always tempting. I bought all of these packs with a different alt, too. Sometimes, when I think about how snoopy people are with the explorer, I like to just switch it up and make it more confusing. I've sold cards before and then gotten unsolicited messages in Discord saying things like "I would've bought that from you for more, dumbass!" That's cause for an instant block!
Diamond II League Unlocked!
I'm working my way back up. I'm not holding out a ton of hope that I'll even make it into the top 50 or anything, but I definitely want to make it to Champion I this season. I've made it to 7th place before and would love to top that, but the competition gets stiffer every season. That's 15 more days for people to upgrade their cards and get better at using them.
Legendary rewards!
It's been a while since I got a legendary cards in my rewards. I think so, anyway. I guess I don't keep official records. I don't need any more of this one, either, so I'll probably just burn it or sell it.
And that's all she wrote! Time to go finish cleaning up the house before my wife gets home later! Stella T. Dog and I are excited she's coming back. It's been lonely and a little sad around here the last couple of days.

Oh no! Shark Monsters!
Follow me on Twitter if you dare. I post a lot while I'm playing. Sometimes it's insightful, sometimes it's... less insightful.


Posted using SteemPress.
All of this content is also available on my blog at www.sharkmonsters.com