Replay of the AMA with the Splinterlands founders, recorded on February 26th 2021.(Timestamps included)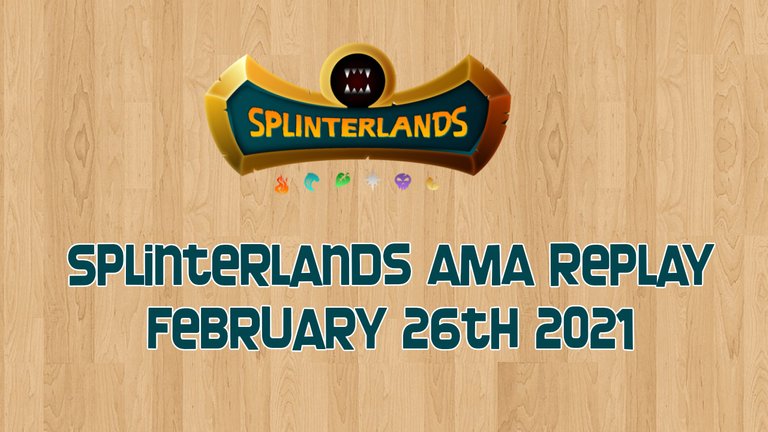 Graphic created with The Logo Creator Software - Source Splinterlands Logo
Replay of the AMA with the founders of the Splinterlands blockchain game, recorded on February 26th 2021.
During this AMA, any questions about the current mechanics or future plans can be asked and they are answered by the Splinterlands founders to the best of their knowledge. The AMA's are a way to share ideas, get updates, give feedback etc. on things that are happening or are going to happen some time in the future.
If you want to join the most popular blockchain game at the moment and become a part of the amazing community, do not hesitate to sign up through this link:
https://splinterlands.com?ref=monstermother
Disclaimer: This is my affiliate link


Note: The size of the video in this post makes the text on Discord a bit hard to read.
Visit the video on YouTube for a more clear view. (Warning: don't use the 'full screen'-option, because the text will be blurry. The regular size on YouTube, however, works just fine. Just click the YouTube logo at the bottom right of the video to go to my YouTube channel to watch the replay in decent quality.)
Timestamps to guide you through the video:
(These timestamps are clickable on the YouTube site for easy navigation.)
0:01 General introduction - Some info on things that are being worked on at the moment and new partnerships that are under development.
6:18 Q: Aggroed, how are the next month of tournaments coming along? When will they up? Will you be implementing the community voted proposals?
8:20 Q: Were there many signups since the connection with WAX blockchain?
9:52 Q: Why isn't DEC listed as an NFT on Coinmarketcap or Coingecko?
10:27 Q: Can you guys consider the possibility of putting out limited "card art cards" exclusively on wax and include then as airdrops in some way to either pack buyers, contests, etc?
10:46 Q: How can Splinterlands compete with other big games crypto games?
12:59 Q: Well is the $$$ amount of prizes fixed? So changing the tournaments (where prize payout is based on collection power) doesn't actually change the total amount of prizes and it just reshuffles existing prize money from one tournament category to another?
14:12 Q: Would you guys consider making the game also play on WAX so that we have 2 separate SPL communities playing? They can be separate leagues, but all use the same cards, but players would have to choose to play their cards on one chain or the other.
18:03 Q: Will we able to see Splinterlands at matic network in the future?
20:40 Q: If you can do a separate battle system, can you have a freemium level 1 version on the WAX chain where they don't earn DEC or cards, but instead win "card art cards" and other non game related giveaways? The reason is because the collectors will have lots of level 1 cards they are keeping for collectables, but they can experience the play of the game and develop a good newbie user experience.
23:58 Q: Will we get another preview of the Guild or Land War graphics? Or maybe both?
25:02 Q: Will there be a mobile update that can play events without login to the web browser?
26:22 S: Show sale history of cards in the UI. This should really help the market pick up with sales. You click on a card, you see the sale history.
You can show in both Hive and USD or w/e crypto you prefer.
28:26 Q: 150 accounts is not my idea of "Strong Numbers" People are greedy by nature. When DEC was first introduced the idea was decreasing DEC supply into a growing player base to drive up the value OF EVERYTHING. This is the exact reason BTC gets hodl. The OG formula that the DEC earned now will be worth more in the future IS STILL THE BEST FEATURE OF SL (if changed back). Earning .0000001 of a penny is not as exciting as earning the same amount today that can grow into MUCH MORE in the future..... Thoughts plz
32:36 Q: What is the latest news about diesel pool on hive engine? And have you decided on the reward structure yet?
35:16 T: I may be in the minority here but I would 100% rather see game features than integrations on other platforms.
35:27 Q: Plans for swap pools and where diesel pool fits in? What kind of risk of adding liquidity on a pool that doesn't have fees?
36:21 Q: Have you considered partnering with Rplanet to Stake the cards?
37:11 Q: I gathered thousands of POTIONS - is there any way to add any ability to burn them for DEC or some other way to get some value out of them?
38:04 Q: Did you consider tying mav status to owning certain amounts of land (say a region :wink: ) as well in the future? I'm not the booster buying person, but I still have a pretty big stake in the game.
41:04 Q: Have you thought about revising or restructuring the Mavericks program? (And some might wonder if there should be a Super Mavericks tier too)
42:06 Q: Do quests reset the same time every day? Should they?
42:45 S: You just need really big DEC sinks
45:50 Q: How does the hive engine diesel reward structure work?
46:44 Q: Next AMA?
47:32 Q: On the point about the quest starting time... The last part of the question wasn't addressed. CAN we change quest time so that they always refresh at a set time. It's so frustrating not having a quest ready for me when i jump in to play every day.
49:06 Q: Do you plan to add a whale card in the future? There are 3 sharks but no whales.
49:47 Q: Can you say that the UNI pools are not going to change over a long time frame I am thinking about getting into the DEC/DAI UNI pool but worried that it could change in short notice.
51:42 Q: Is there a plan to release a governance token or any other in game token?
52:00 I: More info about Hive-Engine diesel pools


I hope you got some interesting info out of this AMA and will tune in again next week.

Graphic created with The Logo Creator Software
Disclaimer: This video and the timestamps were originally published on my own YouTube Channel - (please subscribe) and Lbry.tv


Disclaimer: This post contains affiliate links.