If you play SteemMonsters (Splinterlands), then end of season can be great.
You get some new cards, maybe a Legendary if you are fortunate and then it's the demotion of your rank and the next one begins.
I use level 5 summoners which right now means the Gold league. Occasionally I can edge into the Diamond league when everyone is fighting to gain rank as the season closes.

Source
Last season I failed to get there and Gold I was my final position. This presents some frustrations, as I find myself demoted to the Silver league for the following season.
Level 5 gains you many abilities, these can be called the second tier as you gain access to Commons at (6), Rares at (5), Epics at (4) and Legendaries at (3).
Lord Arianthus - Those Thorns at Level 3 make all the difference between winning and losing
Let's look at the last set of these cards that is Legendaries at level 3. Many use Lord Arianthus as their tank, and he gains thorns at Level 3.
However, he's restricted to using only two of his three abilities when in the Silver league and although I'm playing with higher level summoners it can be frustrating to struggle to the rank of (1900) which grants that prestige Gold level again.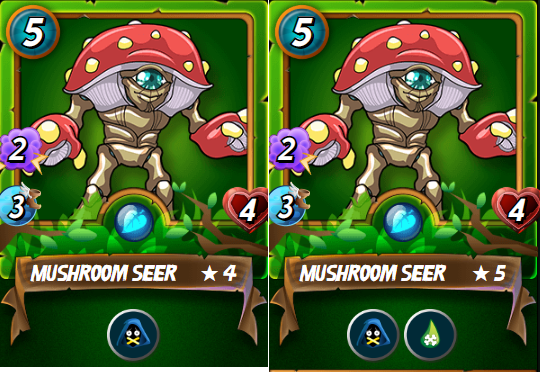 Mushroom Seer's Silence ability is handy for suppressing those aggressive Magic based water decks and a little poison at level 5 is a welcome addition!
Many players below (1900) are using Level 4 summoners so this should be a walkover right?
Not so at all. Many times you are pitted against players in the low 2000's who have already gained their Gold status for the current season.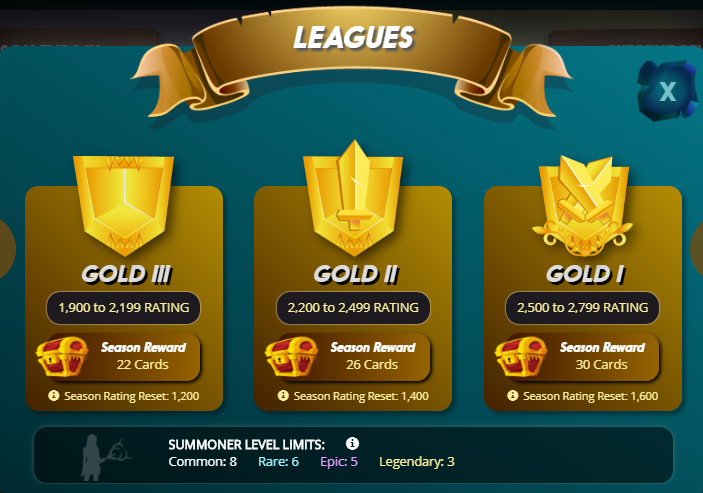 Once you have hit 1900 then you are Gold for the rest of the season. NOTE: It puts you down to 1600 when the season finishes (Gold I). That's 300 ranks worth of struggle!
If you hit 1900 and then go on a losing streak, don't let it bother you.
Likely you will hit many silver players who cannot yet use their second-tier abilities or lack a level 5 summoner and monsters to combat yours.
At Gold, you gain more DEC per win. You also gain more cards per daily quest.

So how do you get in that Gold league if you have level 5 Summoners and suitably levelled monsters?
Just persevere is all I can advise. One trick I have learned is to give it a break for 3 or 4 days after the end of season.
Everyone is so desperate to gain the ranks that it becomes tedious and frustration can set in.
You can always try and outsmart your opponent tactically but it only goes so far.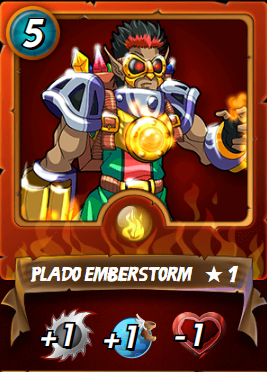 In my opinion, Fire is currently the weakest splinter at levels 4/5, unless of course you can afford a Plado Emberstorm
Don't use Fire, as I consider it the weakest splinter (currently) at these kinds of levels. The rest of them are quite evenly balanced.

DEC Post HF-21
I used to send 1000 DEC to Splinterlands using TheSteemEngine for a vote of between $1.30 - $1.60. It used to be worth it, but is it anymore?
That depends whether you want to give your DEC to curators. You will now only gain 45% of the yield, reduced from 75%.
I will be using my DEC to buy Orbs. It's another form of Bid Bot I suppose that is no longer worth using.
As I write this there are 8 days left until the end of the season. I just managed to escape that cursed silver league.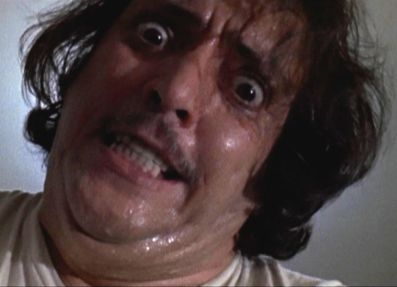 If you found this article so invigorating that you are now a positively googly-eyed, drooling lunatic with dripping saliva or even if you liked it just a bit, then please upvote, comment, resteem, engage me or all of these things.