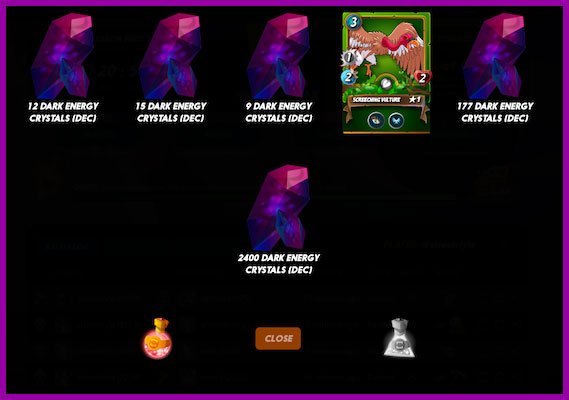 - Give Me the Loot 2 -
In this series about the Steem Blockchain game, which is free by the way, called SPLINTERLANDS, I am documenting my experiences as I play and progress into the higher ranking leagues. Hopefully this will help others along in their journey into the Splinterlands as well.
My last post in this series, Daily Quests are a Must & Now with Loot Chests as Rewards!!, left off asking the question, "Who knows what else the Loot Chests hold?" That post dealt with completing daily quests and receiving rewards for doing so. I also explained that the rewards had recently changed and are now called Loot Chests (as in treasure chests).
The prizes rewarded after each completed quest have also changed. Besides including Splinters/Steem Monster cards, the rewards may include different types of potions that help your chances in receiving an even better Splinter/Steem Montster. Now after my two most recent Daily Quests, the question of what else the Loot Chests hold can be laid to rest. After completing one of my Daily Quests I found 2400 DEC in one of the Loot Chests, and more DEC in the other chests, making for a very pleasant surprise of close to 2600 DEC.
Now, as I have stated in an earlier post, when battling, whether for a Daily Quest or just to rank up higher into the leagues, it is important to pay attention to the time. I seem to have an easier time in battles the later it is in Asia. Of course this will not be helpful in all time zones, but at least it will help those who are able to take advantage of these times as I have. I recently battled my way back into Gold Level 1 during these easier battle periods, and there are still 4 whole days left before the end of the Season. I think with some strategic leveling up of my Splinters using my newly rewarded DEC, some solid battle lineup choices, taking advantage of battling during off peak hours and a little luck, I just might break into the Diamond leagues before the season ends.
For now, I will await my next Daily Quest before any more serious battling. Hopefully by then it will be a slower part of the day in SPLINTERLANDS so I can collect more DEC (Dark Energy Crystals) as well as make a run for Diamond League Level.
Wish me Luck.
Battle Hard, Battle Long, & Reap Rewards from the SPLINTERLANDS.
+++ @streetstyle
Links below to a few of the latest in the series Hooked on SPLINTERLANDS: