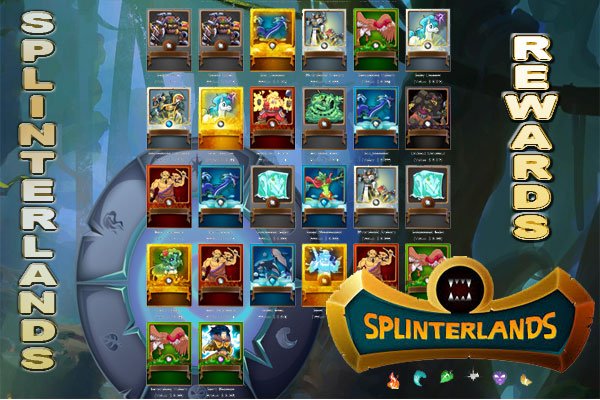 End of Battle Season Rewards
raison d'etre
In this series about the Steem Blockchain game, which is free by the way, called SPLINTERLANDS, I am documenting my experiences as I play and progress into the higher ranking leagues. Hopefully this will help others along in their journey into the Splinterlands as well.
Now that I have a basic understanding of rules of engagement as well as the abilities of the summoners and battle monster, I have done much better in my battles, of which I have quite a few since starting this game in mid-November. I currently have 1866 battles, winning 906 of those for about a 49% win ratio.
As mentioned before, the games has 15 Day "Seasons" in which you have a chance to battle to rank higher. What I didn't pay attention to early on was that if you battled into higher leagues you received more playing card rewards. The more rewards you receive, the more likely you level up your battle monsters with these rewards. The game has other ways to also help you gain more rewards by spending some of the hard battle earned Dark Energy Crystals (DEC) and buying Potions and Orbs. The potions enhance your chances of receiving more rare and/or valuable "Free" rewards at the end of the season in the form of playing cards.
I battled hard in this last season that ended just a day or so ago. If you read my previous Splinterlands' Post, Making Gold II League, you will understand some of the tactics that I used in order to make Gold League II, which rewards with 26 playing cards at the end of the season.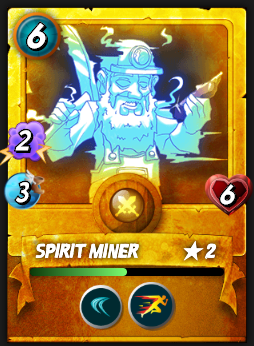 Spirit Miner value = $50 -$60 w0w!
This last season's rewards were amazing, at least for me. I felt like a kid again receiving their wished for Christmas gift. The revealing of each card just seemed to get better and better until I turned over a Gold Level 2 SPRIRIT MINER. I almost fell backwards out of my seat with excitement. The whole 26 Reward cards were awesome.


Hook, line and sinker.
They got me hooked, that's for sure. I can't wait until next season ends already, but before that happens I have to battle my way back up to at least Gold II. I have already made Silver League Level 1 for this season, but will now sit it out a bit until those with higher level cards battle themselves out. I will play in order to complete my quests for now in order to receive those rewards, and pursue higher leagues later when the time is right.
Full Steem Ahead into the SPLINTERLANDS!
+++ @streetstyle
ps. Don't forget that I am giving away two SPLINTERLANDS' Player Cards, one being Gold, for SPUD X, COMING ON FEBRUARY 1, 2020.
img srcs:
splinterlands.io