Splinterlands Monsterpit Account Playtime

So recently @summertooth gave me his prize of 2 seasons with the @monsterpit account. I have been getting better at playing and have already won some crystals. I feel bad because i lost a few games at the beginning but i got some tips from @buggedout and now i'm winning more. I hope to earn more before my time is up but we'll see.
Here's a battle i won recently: https://splinterlands.com?p=battle&id=33750a1759bf20d0c5fe821df0462887af824efc&ref=monsterpit
And here is the first card i won from a quest: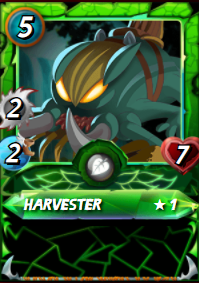 At the end buggedout said i could keep any cards i win plus dec tokens i earn. So i can't wait to win more. After my time is up i hope to play splinterlands a bit more and get more cards. Learning it was confusing at first but hey you can't be good immediately it takes time. If you guys want to see more battles let me know. This is my first splinterlands post so we'll see how it does. I've heard of it before but haven't really played it until now. Maybe a new gaming addiction is ahead.
I would also like your info if you have any tips and tricks on getting better. Or what card pack should i buy etc...
Anyone have a budget they started with?
Thanks for stopping by and reading
Mr.Crypto
---
---