ENG
Heilàààà Steemians, Finally Gold League !!
After meeting the card game Splinterland just over two months ago, I managed to arrive today, for the first time, in the Gold League of the game.
All within a few hours of the end of the season for the complete rewards.
It was a very cool emotion, to see the golden shield achieved was beautiful.
ITA
Ciao steemiani, Finalmente Lega Oro !!
Dopo aver conosciuto il gioco di carte Splinterland poco più di 2 mesi fa sono riuscito ad arrivare oggi, per la prima volta, nella lega Oro del gioco.
Il tutto a poche ore dalla fine della stagione per la rewards completa.
E' stata un'emozione fighissima, vedere lo scudo dorato raggiunto è stato bellissimo.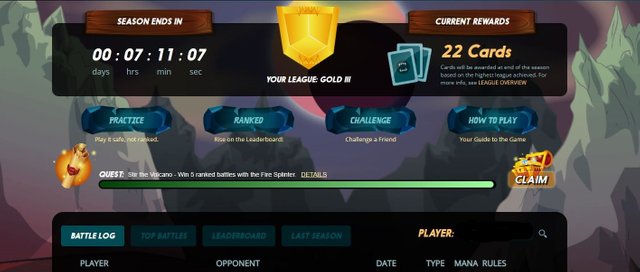 ENG
Meanwhile I also completed the daily quest and for the first time I discarded 6 cards of the reward edition.
Never happened and also the first round of reward cards of the quest did not go wrong, managing to find 2 Rares such as "Prismatic Energy" and "Naga Windmaster".
ITA
Nel mentre ho anche completato la Quest giornaliera e per la prima volta ho scartato 6 carte dell' edizione reward.
Mai successo e anche il primo giro di carte reward della quest non è andata male, riuscendo a trovare 2 Rare quali "Prismatic Energy" e "Naga Windmaster".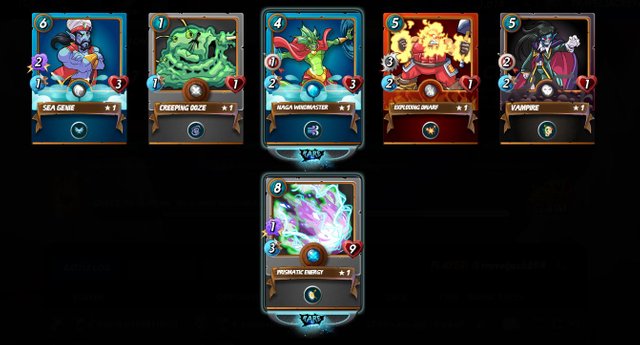 ENG
To reach this level I mainly used the "Death" deck, interspersed in some challenges where it could not be used from the "Life" deck.
In both cases, to reach the Gold level, I had to upgrade the Summoners at least at level 3, otherwise I would never have succeeded. Specifically "Zintar Mortalis", I upgraded it to level 4 and purchased from the Alpha package to gain more DEC crystals during battles. I highly recommend this choice, especially if the price difference is not very high.
ITA
Per raggiungere questo livello ho principalmente utilizzato il mazzo "Death", intervallato in qualche sfida dove non si poteva usare dal mazzo "Life".
In entrambi i casi, per raggiungere il livello Gold, ho dovuto potenziare i Summoner almeno al livello 3, altrimenti non ci sarei mai riuscito. Nello specifico "Zintar Mortalis", l' ho potenziato a livello 4 e acquistato dal pacchetto Alpha per guadagnare piu' cristalli DEC durante le battaglie. Consiglio vivamente questa scelta, specie se la differenza di prezzo non è elevatissima.

ENG
This goal is certainly not a point of arrival, but rather a starting point.
The declared objective is to reach the Champion League as soon as possible.
Keep following me. See you soon. Byeeee
ITA
Questo traguardo non è sicuramente un punto di arrivo, bensi di partenza.
Obiettivo dichiarato è raggiungere la lega Campione il prima possibile.
Continuate a seguirmi. A Presto. Ciaooo