So for a few days I have been unable to battle with my steemmonsters deck. It has been an annoying few days. I have been having series of issues with my devices. It is as if someone has been rubbing a rusty old lamp some place and making a genie make me angry and hot all over. First of, my phone screen went blank and though I could receive calls, I could do nothing else. I had to turn to my laptop for survival.
---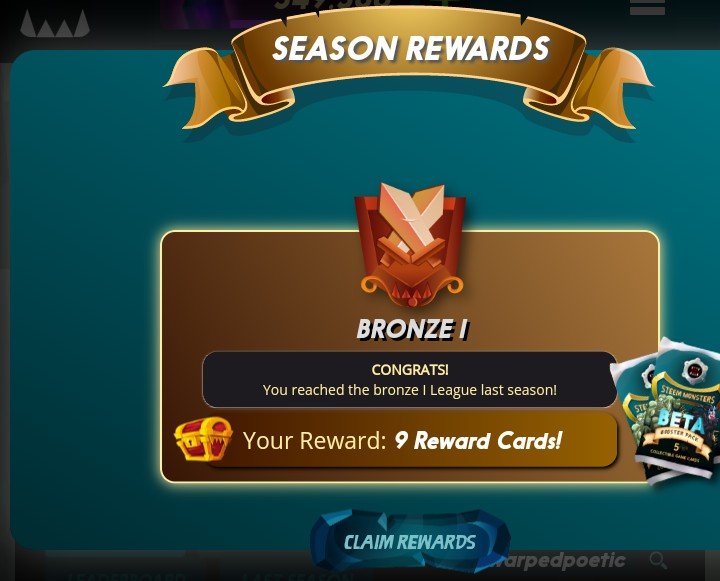 ---
Using my laptop meant I had to spend more on data and that took its tool but it was also good in a way because it meant that I posted steemmonsters with more satisfaction as I didn't get the lagging I experienced when I played with my phone. Then one day, I noticed that my laptop battery wasn't charging properly. I mean it would charge then stop, pick up again and stop. This made charging difficult and considering that power is as rare as father Christmas and tooth fairies (sorry kids) in my country, it helped none.
So I had to go and fix my phone screen so the stupid laptop can take a break from all the banging. Since I fixed the phone and reverted back to using my phone to writing and posting on the chain, I have been unwilling to battle steemmonsters with it too. You know how it is when you have been driving a Ferrari for a while then the Ferrari crashes and you have to use your mom's SUV to go from place to place. You just get real low real fast. I didn't want to think on it.
But then it occurred to me that the season was almost done. If I don't get in, I would find myself falling down to Bronze II league without a single card reward to my name. I could not let that happen. So with just a day and some few hours to go, I got into the game and battled my heart out. I could battle only two quests so I have only two cards. My portion enhanced increase in quest rewards has finished so I could not get more than one card per quest. I do miss those potions though.
I got these two cards for my effort at the quests rewards.
---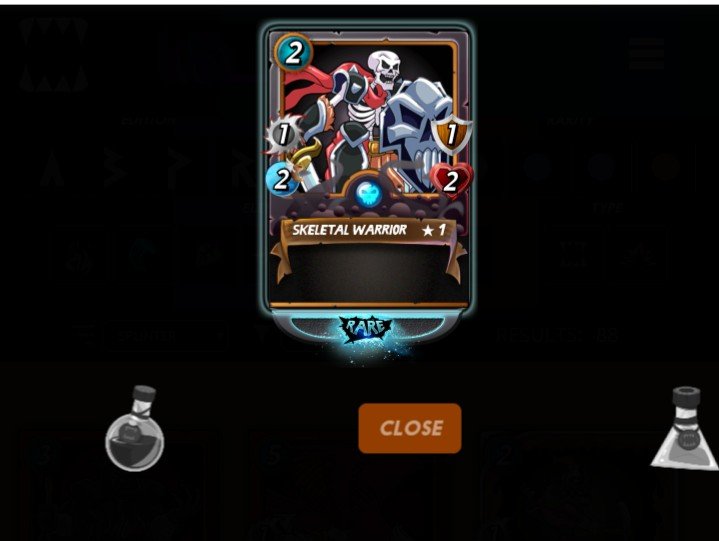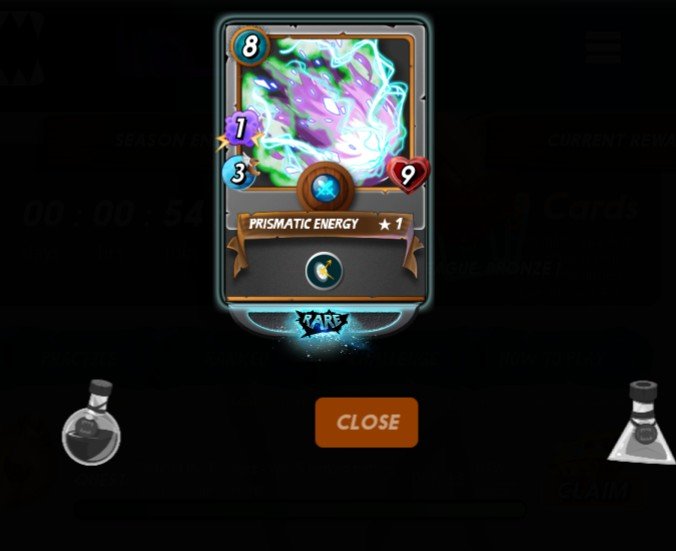 ---
Yeah, two rares I got for the two quests I managed to battle in. I wonder what I could have gotten if I had battled more.
---
THE BIG BANG
---
Now if you have been reading my end of the steemmonsters season posts where I share pictures of my unbroken cards or if you have chatted with me in the splinterland telegram channel at one time or the other, you will know that I have hungered and thirsted for a legendary monster for a long while. Well guess what? Among my nine cards for ending the season on Bronze I league, I got me a legendary monster! I got a Sacred Unicorn. The card is worth $1 and some fractions on its own. I felt so elated on seeing it.
---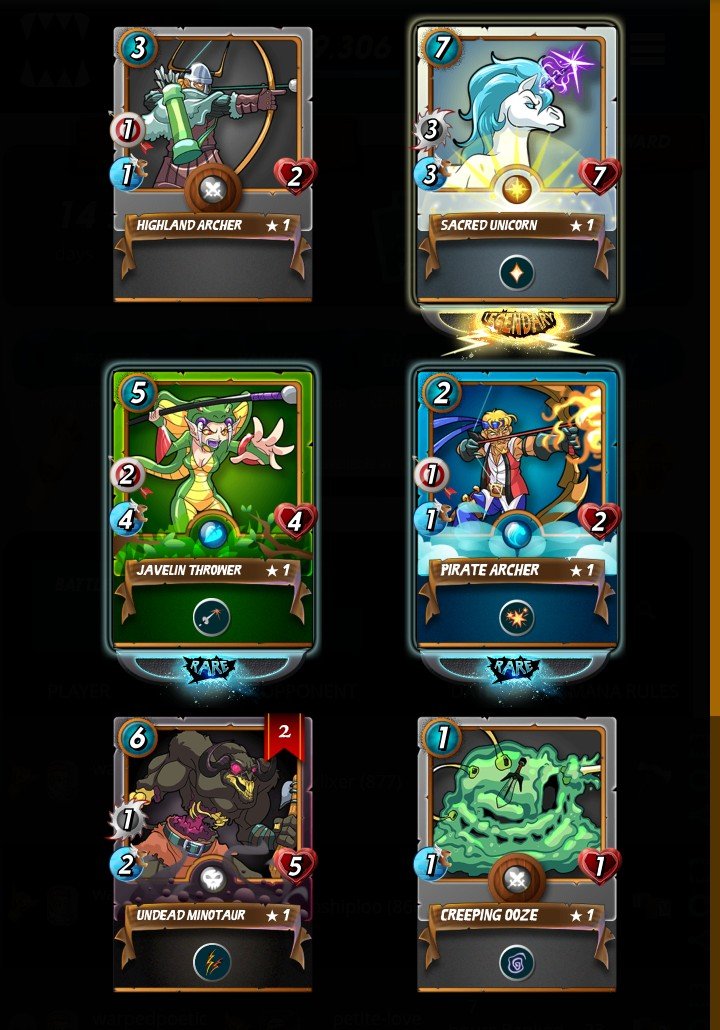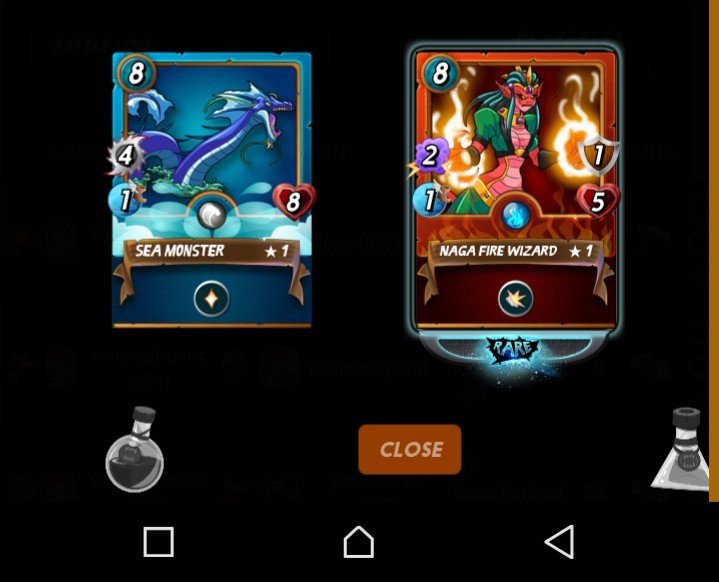 ---
Besides that awesome reward, there were also other new cards added to my deck with this season's reward. I now have a Javelin Thrower, Pirate Archer and Naga Fire Wizard. They are all rares and of different splinters. It is just so awesome! It can be tiresome when you end a season and you get your rewards and they are cards you already have and rarely use, you know? I just think about that legendary and I wonder how the steem chain came to be, the idea that perpetuated this system where without any investment, people are creating a bank balance that is increasing with every interaction on the chain. It is crazy.
See if you have not been battling on steemmonsters, you should try it. It is not as stressful as creating a lengthy post from scratch. It is fun and you still get rewards for it. Your gaming on steemmonsters or any other game that is created on the steem chain will definitely be great in not only increasing your ROI but also give you a more varied look at the chain, ensuring that you have more fun on it.
Pretty soon, I will start renting out my cards so I can make some extra, you know. Or maybe I might just rent some cool cards myself because I think I have the hang of combining my deck for game play, I just need better cards to face off those monsters that creep up on your with huge staying power and damage power. A few more legendaries would be nice. 😂 I am never satisfied. BTW, I got about three gold cards now. Awesome yes? This shit is the illest, I tells you
---
©warpedpoetic, 2019.