Goblin Mechs can cause great destruction around them, but it's no picnic for the seven Goblin Pilots inside the machine either.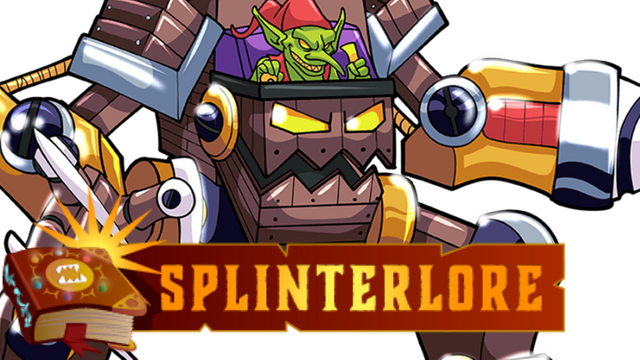 ---
GOBLIN MECH
Splinter - Anumun
Class - Tank
Size - 518 Chickens
Lifespan - These armored tanks are not actually alive, and they require a great deal of maintenance to run smoothly and efficiently. Whenever one is destroyed, the pieces are quickly gathered up and carried off by whatever Goblins remain in the area.
Weapon - The intricate system of gears within the body of a Goblin Mech allow many different types of attacks to be utilized by the Goblins. The Mech's left arm is a giant drill, used primarily for demolition and renovation. The hydraulic-powered teeth of the Mech are excellent at stopping projectiles, and the great mechanical claws can get through nearly any defense, even though their movement is somewhat clumsy.
Habitat - If these patent-pending Goblin Mech warriors are seen outside the city of Gobson, there is going to be trouble. Not enough Mechs have yet been built to march on Mortis as the Goblins plan, but soon the world will see the power of these wonders of gobjineering.
Diet - There are several small blasting chambers strategically positioned around the body of the Mech. These deposits of POWder create tiny, controlled explosions within the gears of the Mech, increasing the force of Goblin Power. So technically, all the Mechs eat is a bit of Goblin POWder. The majority of their operative force comes from the seven Goblins inside, pulling their levers and cranking their arm-bikes.
Allies - Goblin Mechs are not thinking beings, so they are controlled entirely by their creators, the Goblin scientists of Gobson. They are, of course, closely allied with the Goblins inside piloting them. If the Mech is destroyed, those seven Goblins will most likely die a crushing death.
Enemies - The Goblin Mechs were invented recently by the eccentric Goblin scientist, Gurklies Gobson. His one and only purpose was to build an army of warriors large enough to take out the Mortis stronghold of Utopin. It will take years to build up the supply of Mechs, but with some improvements, they should be up to the task.
Pastimes - Some of the Gobson engineers discovered that Mechs could be summoned to battle in the Mount Mox tournaments. It is always surprising when seven random Goblins are suddenly plucked from reality and transported to the cramped innards of a Goblin Mech preparing for battle in the Gloridax Arena.
---