This Splinterlore was posted on https://www.splintertalk.io
Dark Enchantress - Character Profile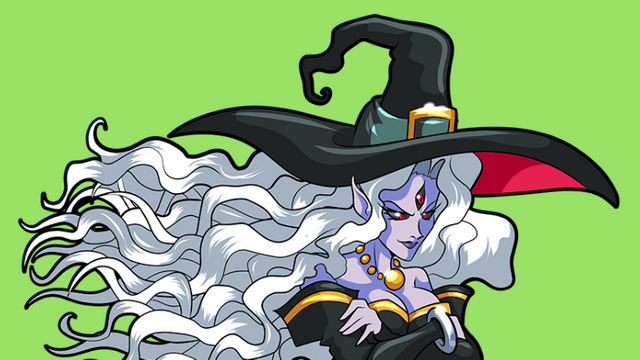 Splinter
- Mortis
Class - Magic Attack
Size - 32 chickens
Lifespan - Alturia Dragonforth, the Dark Enchantress, is suspended in her exquisitely beautiful Dark Eternal form as long as the Lord of Darkness rules over this realm. Only when finally he leads his people into the Dark Eternity will she follow him. For now, she sits by his side, as his queen and companion.
Habitat - The Dark Enchantress has a lavish apartment entirely to herself, deep in the underground portion of the Shrouded Palace of Mortis. There, she receives any materials she needs for her creative work and magical experiments. The Dark Lord protects and shelters her from the chaos of the Splinterlands, and the Enchantress would not have it any other way.
Weapon - The Dark Enchantress has no need for physical weapons, but in her prior life she was an expert marksman with a crossbow. Her targeted magical attacks are always deadly accurate, while still inflicting maximum damage. Her smoldering and captivating beauty is also a weapon that is capable of great destruction, and it works in mysterious ways.
Diet - Though Dark Eternals do not require food, they can still enjoy eating and drinking. Through a special dispensation granted by the Dark Lord, Lyverian food and spirits are constantly brought to the Dark Enchantress. She does not miss her living existence, but Lyverian wine is a nostalgic pleasure for her. It is a gift from her Lyverian ancestors, who are long dead and rotten.
Allies - The Dark Enchantress is loyal only to the Lord of Darkness himself. She has developed close friendships with some other Dark Eternals in the Shrouded Palace (such as the Twisted Jester), but she would destroy them in a second if her Lord commanded. She allows herself to be summoned to battle in the Gloridax tournaments only because the Dark Lord approves.
Enemies - The most orthodox of the Dark Eternal Sorcerers quietly despise the Queen, bickering among themselves that she merely distracts the Dark Lord from his important work of ushering his people to the Dark Eternity. For some time, they have been meeting in secret, discussing how to remove the Dark Enchantress from her position of power.
Pastimes - The Queen of the Dark Eternals spends most of her time on artistic and creative endeavors. She sculpts Dark Matter into hypnotically beautiful shapes, and many of her paintings are sold for small fortunes to the living wealthy of Beluroc.
---