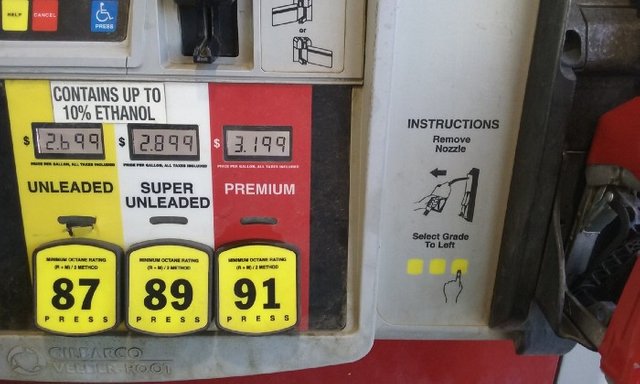 It's Sunday morning and I have nothing to say at great length, so I collected a few shorted works and thoughts and combine them all into a single post. I think this will become a regular Sunday post for me, all those small bits-o-writing I think up during the week but are to small for their own posts. Unfortunately I only have three shorts for you all today. It was a bust week so I did not have much time to write.
Gas station manipulation
I took the above photo a while back. I thought it was funny how manipulative the illustration can be. The most expensive (and not needed unless you have a high end car) Premium gas selection stands out the most with red as opposed to yellow and white.
then the hand in the lower right hand side just happens to be selecting the same square in the same location at the Premium also.
and to top it off (no pun intended) the handle for the gas is also red. like an unconscious connection between the handle and the Premium gas.
Splinterlands
Once again I have fallen from the tips of achieving a new level. This morning I was two points - TWO POINTS, away from achieving Silver one and three bonus cards at the end of the season. I held off playing last night. I always play worse when it is late, and the day has run long. This morning, fueled with sleep and coffee, I logged on the @Splinterlands to battle and claim my prize. And just like the day prior to achieving Sliver two, I lost two battles in a row sending me further away from my goal.
I know this is a temporary setback; I have little doubt I reach my Silver peak soon, maybe even today during the daily battles, and then I will set my eyes on the Gold.
Soon I will need to invest some #Steem into new cards. My summoners need the extra boost to keep up with the growth of my monsters. I want to upgrade my Lyanna Natura first so Rexxie can play to his fullest potential. after that I am not sure who will be next. I would love to upgrade Prince Rennyn but at those prices I could buy many Beta packs and possibly pull some top-notch cards.
writing
I'm not a man of many words, I usually stick to shorter works such as short stories, poems and blog posts. but once upon a time I started writing a novel. For whatever reason (bored, depressed, unmotivated) I stopped writing the first draft. Those ten thousand some odd words sat in a literary coma for over a year. Last night I opened the file and read over what I originally wrote. and it was not all that bad.
The bones of the story shows promise. I can't say the same for the words themselves, those are plain awful to where I would rather set a self-destruct mode on the file if another eyes besides mine were to read this first draft. Those terrible words are my burden to bear alone, it's safer that way. I promise you.
Reading over my old work brought back the feeling of excitement I felt writing them. The story and concept alone is something I've kept in the back of my mind for years. The characters need work but this is a first draft, one could even call it draft zero it that helps get the words down.
I will keep at this. I will not devote too much time to the project because longer works is not my thing, Still I believe completing this book is an important accomplishment.
~meditations~