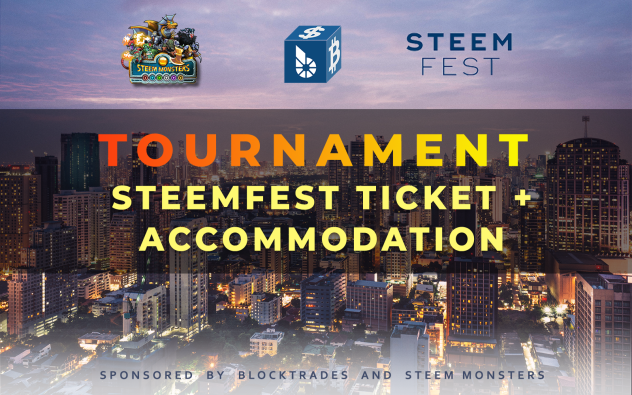 @blocktrades and @steemomonsters have decided to join efforts to send one lucky - and who enjoys playing the game - player to represent them at Steem Fest with accommodation included and enjoy the greatest Steem Event of the year in Thailand, in early November this year.
This contest is open for everyone and anyone who plays - or wants to play - @steemmonsters, so if you already have some cards you better join the qualifier tournaments! If you still don't have any cards don't worry, getting started is very easy, all you have to do is get your starter pack in the official Steem Monsters website and begin playing!
The Tournament
Since the prize is something you don't see every day, the Final Tournament will have four previous tournament qualifiers, and only the Top 8 players of every Qualifier will be eligible to join the Final one.
The qualifier tournament specifications are:
Free Entry
Gold League
No Legendary Cards
Single elimination
The time of the tournaments for this Sunday are as follows:
The Final tournament will be celebrated in August 11th, time to be confirmed.
If you want to attend Steem Fest, all you have to do is join one of these - or all of them - and finish as top 8 in any of them to get an entry ticket for the Final Tournament where the winner will get a Steem Fest Ticket + Accommodation in the offical event hotel.
Important things to mention
The final prize is only transferable to another active Steem monsters player. That player must have played at least two of the qualifiers and the winner of the Final tournament can transfer the Steem Fest event ticket by just letting me know over DM on discord.
The ticket for the Final Tournament - those you earn by winning one of the qualifiers - is non-transferrable.
Anyone can join as many tournaments as they wish. If a player who already got an entry ticket for the Final tournament finishes in the Top 8 in any other qualifier, then the next in line (9th place) will get the entry ticket for the Final Tournament.
The number of entry tickets for the final tournament is 32.
Please, do not lose any match on purpose to give any/a specific player an edge or advantage in finishing in the top 8.
The winner of the Final tournament will receive a personalized Steem Fest 4 event ticket and will receive confirmation of booking in the official hotel in Bangkok, Thailand