Well, I was actually waiting for this moment to open the season end reward cards. Today was a very busy day. I was waiting for the exciting part and opened the reward cards a few hours before and then captured the screenshot. I found time only now to write about the rewards and make a post. When the season rewards are usually there I click on the claim rewards and open the cards one by one to have a great feeling about each card. I don't do the reveal all option to not break the excitement.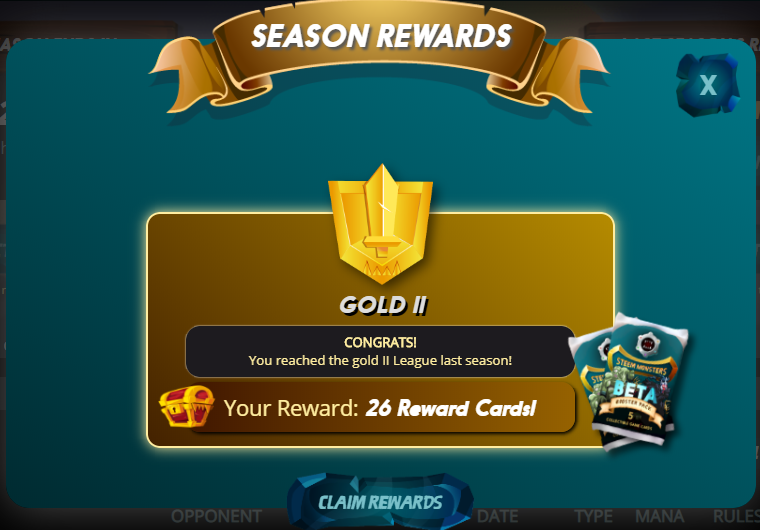 I guess it is quite common for everyone where there is always an excitement to open the gifts we get from others. Similarly, the excitement is always there is open the gift we receive from the Splinterlands game. There are some good updates coming our way in the splinterlands game. I'm really excited to see the new updates and the new cards that are going to hit us. I'm pretty sure that these new cards are going to make the game even more interesting for us.
One other good thing that I noticed in the game was that rewards are sometimes fair and purely based on luck. I received the above reward cards from the season end rewards. I'm really happy that there are more rare cards in the season rewards. There was also one epic card in the quest rewards.
To make the reward look nice, there was also a gold foil card in the center of the screen. There are many common cards as well in there but I'm very excited and glad to have the rare, epic and gold foil card that I received from the season rewards. Along with this excitement, I should also share that I'm happy to be part of the Neoxian Guild. I have been a member of this guild from the beginning. Yesterday I managed to contribute 5000 DEC for the upgrade of the guildhall. The guildhall is almost in the final stages of completion. It can take some time to fulfill all the DEC it requires but I don't think it is too far to reach that stage and complete the full upgrade of the Guild Hall.