I wanted to talk about this for a long time. I'm glad that today I got the opportunity to talk about this. Yes, unfair matchmaking is quite common in splinterlands. Sometimes when there are no proper opponents available to match, low level players are matched with high level players. In such matches, before even the game starts we will be able to predict the outcome of the match.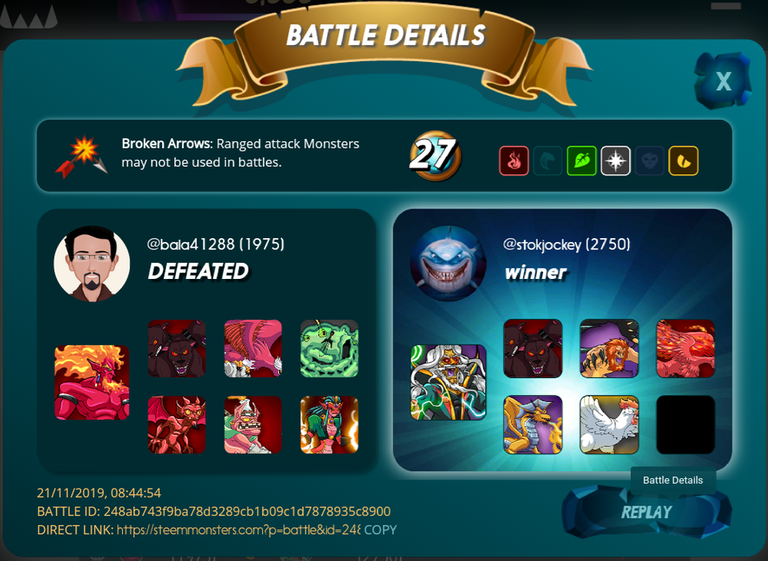 If you take a look at the above screenshot you will be able to see that I was matched against a powerful opponent with a high rating. Before even the game started, I was sure that I'm going to be loosing the game and that is exactly what happened. I think I have wrote about this experience and frustration in the past as well. Today it happened to me too times.
It is usually frustrating when we are in a huge winning streak and then this happens. Our winning streak will be spoiled because of this. I'm not sure if anyone else have noticed this or not but happens to me regularly. I'm not even sure if I should be raising this as a concern with the splinterlands team but for now I'm just sharing the experience/frustration in this article.
Honestly, sometimes it also ends up advantageous because I might even be matched with players who have very less ratings than me in low leagues. But that is also not fair. I still don't it as a concern because though it helps me, sometime else is losing because of that.
I completed today's quest and received the above cards as the quest reward. I'm just neutral about the quest rewards. I know it could have been better but I'll try to be patient to get lucky some day.