It's been a couple of weeks since I got on Splinterlands, and in that period I have had a lot of support from my friends that are already way ahead of me on the ranks.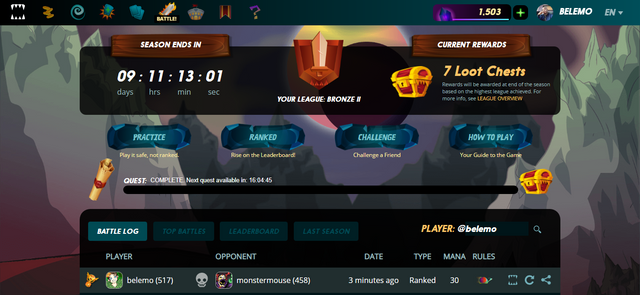 Thanks to support from @penderis, @mistakili, @clove71, and @vcdragon name a few, I have been able to make decent progress in the game so far. I've been kicking ass in ranked matches and have been learning from playing.
I've learnt that;
Each match has it's own special rules like "flying cards get extra damage" and other random scenarios generated for a battle.
Finishing Quests earns you rewards. Some quests are achievable and others, not always so easy. For example, my current quest requires I win 5 ranked battles with a Fire Splinter and my Fire guy isn't badass.

Different cards have a different range of attacks; Melee is for short-range, while Magic and Range fighters can attack cards farther away. I always put a very strong Melee card in front of others.
The point is that I'm learning while playing and the fact that I have a couple of strong cards has made life a lot easier for me. I'm was on 14 battles winning streak that just ended and I'm out for revenge. I am still open to pointers, tricks and