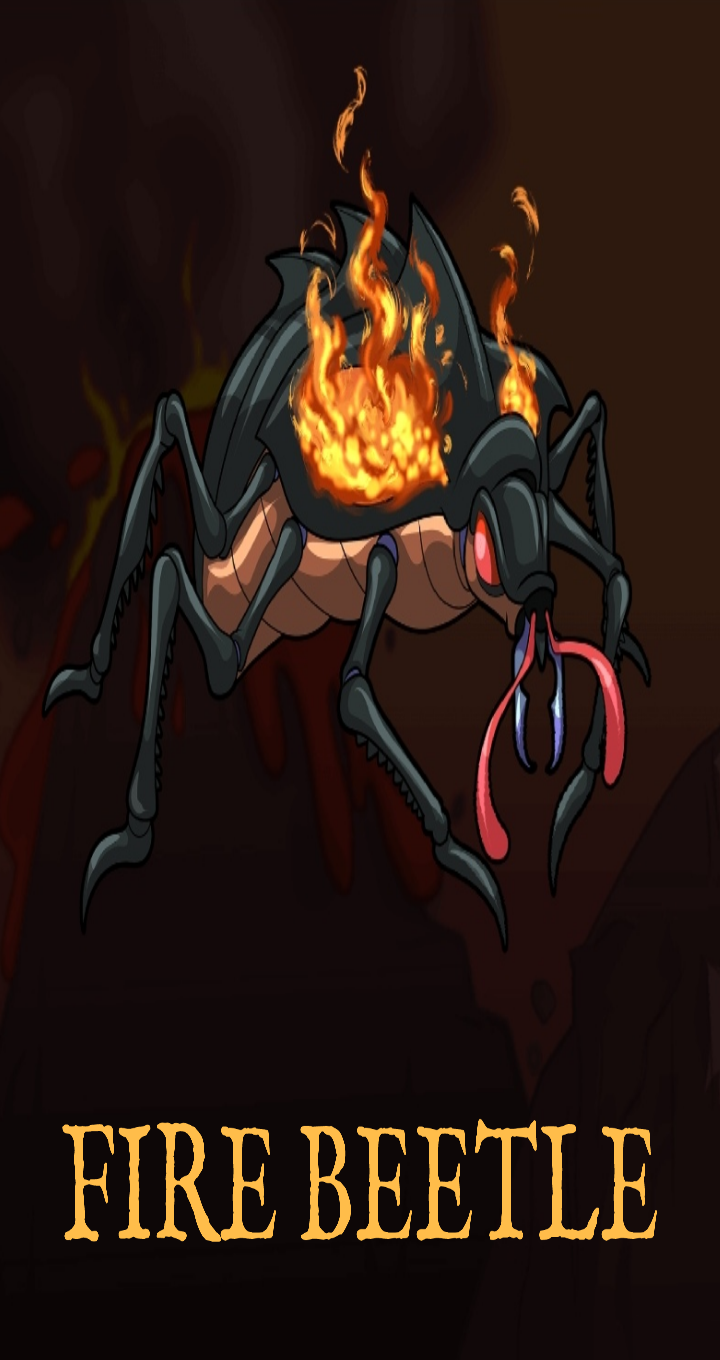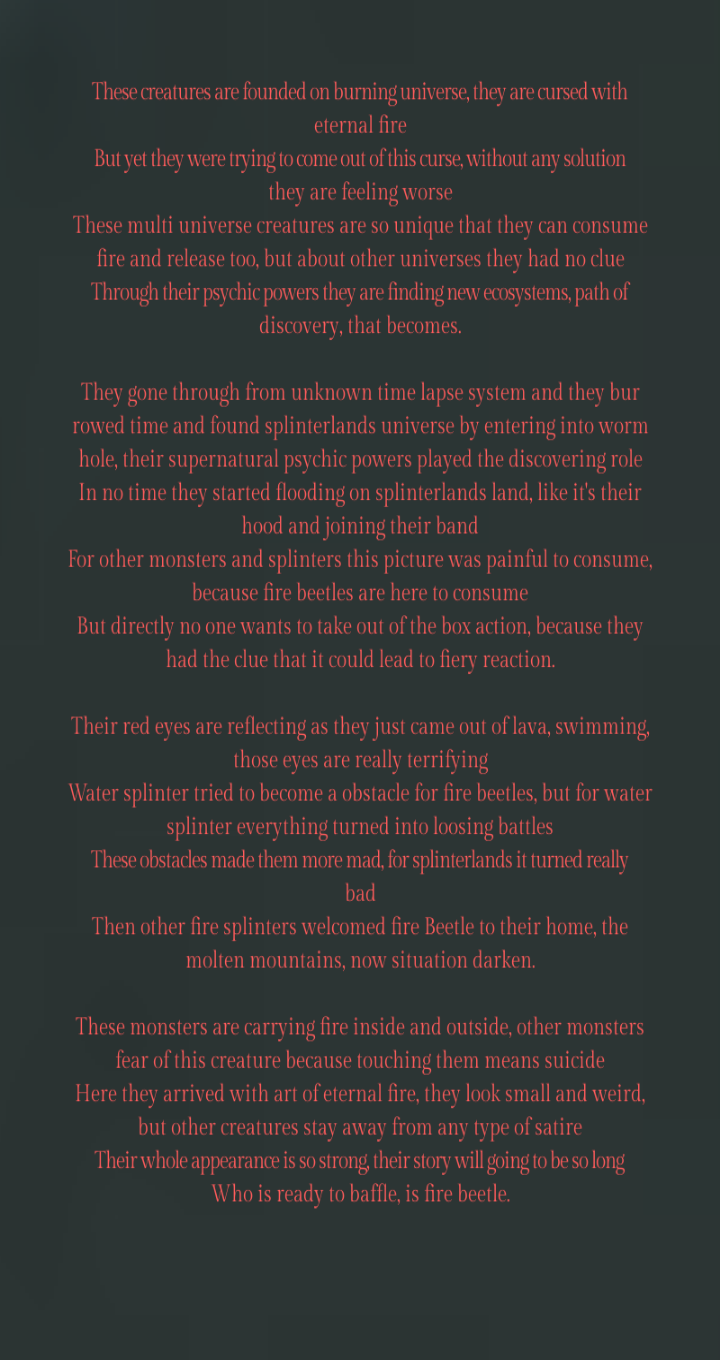 These creatures are founded on burning universe, they are cursed with eternal fire
But yet they were trying to come out of this curse, without any solution they are feeling worse
These multi universe creatures are so unique that they can consume fire and release too, but about other universes they had no clue
Through their psychic powers they are finding new ecosystems, path of discovery, that becomes.
They gone through from unknown time lapse system and they burrowed time and found splinterlands universe by entering into worm hole, their supernatural psychic powers played the discovering role
In no time they started flooding on splinterlands land, like it's their hood and joining their band
For other monsters and splinters this picture was painful to consume, because fire beetles are here to consume
But directly no one wants to take out of the box action, because they had the clue that it could lead to fiery reaction.
Their red eyes are reflecting as they just came out of lava, swimming, those eyes are really terrifying
Water splinter tried to become a obstacle for fire beetles, but for water splinter everything turned into loosing battles
These obstacles made them more mad, for splinterlands it turned really bad
Then other fire splinters welcomed fire Beetle to their home, the molten mountains, now situation darken.
These monsters are carrying fire inside and outside, other monsters fear of this creature because touching them means suicide
Here they arrived with art of eternal fire, they look small and weird, but other creatures stay away from any type of satire
Their whole appearance is so strong, their story will going to be so long
Who is ready to baffle, is fire beetle.

SOURCE
Steem On.

You can support my work through below mediums too.
BTC:
3GJCQPyxQMc5zQasc3EoW7vnV2fKpp9aY9
ETH:
0x514d948ead79d7f8db680173c266a39cd2677c98
LTC:
3DxFQhqaxetpGUciAT5axAdztVVr9QowEb
BAT:
0x193ce1410d4acefd0ee24577d575f087f164ed48
DASH:
7aNhxUxH8NbYDL9TciuGHHERwjL143NCUo

Discord Channel Links:
TEARDROPS: https://discord.gg/wC7H4Rt NATURALMEDICINE: https://discord.gg/wQnDNpv

(Cover picture is the screenshot taken from the Steemmonsters platform and edited with the Canva and Artecture Applications).
"This is my original work."
Stay Blessed.
Spread love and spread kindness.
Thanks and regards, Chiranjeevi Sarikonda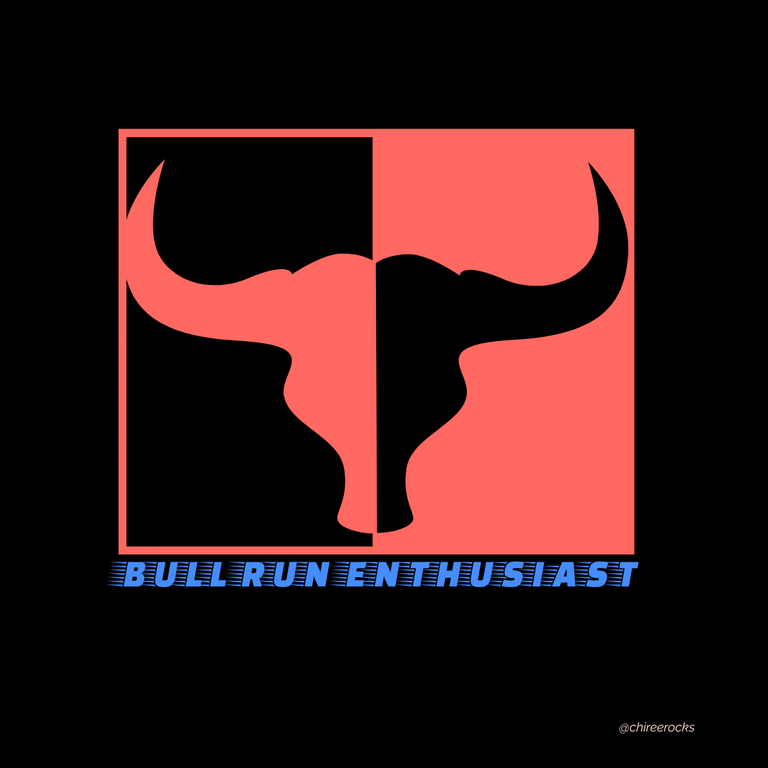 (If you want this logo, let me know in the comment section.)