Hey guys! With certain reward cards running out soon, I was inspired by @aggroed to do another expected value of reward cards!
Price History
Below is a graph of the price history. It'll look more like a graph as more info is added!

How it Was Calculated
Before calculating, I had to use the assumption that you can sell your card at the lowest price per BCX. The drop rates used were from @yabapmatt so we know that it's accurate.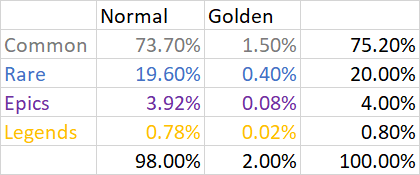 Firstly, I calculated the average cost of cards per rarity, then I multiplied it by the chance of it being opened. I added these up for all the rarities and then we have the expected value of each reward card earned. After that, I just had to simply multiply that value by how many cards you earn from each rank!
Today's Data
The data is sorted in rarity, from lowest to highest. Then the average value of each rarity is calculated, which is multiplied by its chance to drop. This is all then added together to form the expected value of each reward card.
Today's Average Value: $0.1264
Expected Value of Each Rank
Note: this is assuming you stay at the same rank for the whole season, each season has 14 days and you complete all daily quests in the 14 days. Therefore, this estimate is quite high and realistically you aren't going to earn this much.

Price History
04/02: $0.0941
07/02: $0.1051
11/02: $0.0939
17/02: $0.0699
11/03: $0.0906
16/03: $0.0874
19/03: $0.0842
21/03: $0.0884
23/03: $0.0883
31/03: $0.1018
22/04: $0.0698
22/06: $0.1141
25/08: $0.1264
Should I use Potions (EDITED)
As requested by @aggroed, I have done some basic analysis on whether or not potions are worth it.

Using a price of $1/1k DECs, each card costs an extra $0.09 to reveal with max potions and increases the EV to $0.2395. Therefore, potions are worth it at the spot price of cards. However, before you invest in potions to get some more of those gold foil legendaries, consider the future prices as liquidity is low and it's often hard to sell one at market price.
In my previous version, I declared potions are NOT worth it. However, I think it was because I forgot to multiply the gold drop rates for the common, rare and epic cards. That has been fixed and upon fixing it it's clear that it IS worth having potions for reward cards.
Should I buy reward potions?
Yes, absolutely! As long as the expected value of a reward card is above $0.1, you should buy them, this doesn't even take the DEC discounts you get from guilds into consideration.
Happy Questing!