If I had to guess the answer to that question, I'd say 0.

Splinterlands is here to stay. With over 2000 daily active users and 100,000+ daily transactions, this game is in the big leagues when it comes to something as new as Blockchain-Gaming.
You're never too old to start!

Gaming in general certainly isn't everyone's cup of tea but you might be surprised at how fast you can get hooked on this one, should you decide to give it a try! (wanna give it a shot? DM me on Discord (crystalhuman#9543) if you don't already have a Starter Pack, I may be able to provide one for you).
I'll be the first to admit, it can be a little challenging to learn all the basics of the game, DON'T GIVE UP!!!
Whether you're deciding what cards to add to your collection first, or how to build the best teams, there are plenty of helpful people throughout our community who are happy to walk you through pretty much any issues you may be having.
All you have to do is ask! There's usually someone patiently waiting to answer your questions, but give it a minute for a reply, as we might be busy battling! After all, we're all monsters humans too (mostly, I think).
Except for @yabapmatt and @aggroed, I know they're aliens because there's no way a human could accomplish so much in one day. But that's a story for another post.

Anyhow,
On to
You may not have even heard yet but, Splinterlands has it's own frickin' blogging platform now!
Yes, that's right! This post right here, that I am writing right now, is being written on Splintertalk.io, a nice new frontend for the Steem-Engine token SPT.
If you're like me and many other people I know, then you probably love getting paid more for doing the same amount of work, right? Who wouldn't..?
Well, things are starting to get pretty interesting when it comes to "cross-posting" nowadays on STEEM. Now you can get multiple rewards, in multiple forms of digital currency, from just one click!
Thanks to Steem-Engine, not only do we have the all-new Splintertalk but there's even PalNet.io (which I love) and WeedCash for all the Cannasseurs out there who love WEED tokens

So here's my next big announcement I mentioned in the last post "ya know, the one about SMPT".
I haven't made it very clear what my intentions are for the token I will be creating to replace SMPT, and that is mostly because I am not completely satisfied yet on the utility of the token. Unfortunately, this may not be exactly what you want to hear, but I will probably need another week or two to finalize some ideas I've been toying with.
All that I can say for certain right now is that the rewards for SMPT holders will be adjusted slightly with the release of the new token. There will still be rewards, but what is given out will be changed and the amounts of required tokens staked will change as well. (Yes, I said staked.)
You can now stake tokens on Steem-Engine. Just go into your wallet on Steem-Engine, look on the far right and you will see these icons, click the padlock and it will bring up a window that will allow you to choose how many tokens you would like to stake.

To remove your stake:
Just do the same thing, click the padlock, and remove the amount of stake you choose.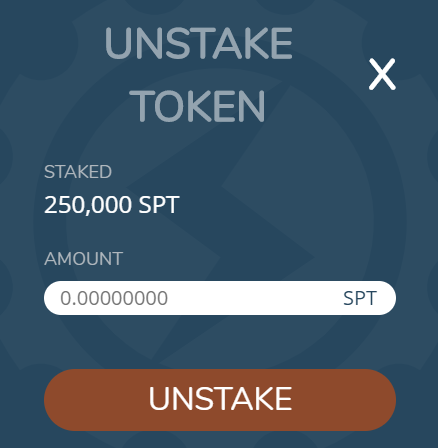 It's so simple, a child could figure it out. But if you still want help, just to make sure you do it right, please feel free to let me know here in the comments, or send me a message on Discord and I will be glad to assist you.
You can also stake SPT inside your wallet on Splintertalk.io.

So, now you have some SPT staked, what do you do next?
For starters, make sure you don't let your voting power go to waste, get out there and engage with the community, make comments, upvote and resteem posts. Participate in giveaways, contests, create your own, whatever!

If you're not familiar with STEEM already then it might take some digging to find out exactly how everything works but again, I am always willing to do what I can to help new users get settled in, so remember, just ask!
Did you know there's a Splinterlands Forum now too? Check it out!
make sure to follow me on

Keep a lookout for my next post which will have info about another sweet Splinterlands tournament!