A lot of people missed out in the beginnings of Steemit and I know how it feels, I am one of those people. In fact, I just got into crypto a little over a year ago. Up until recently, I had been feeling like I was late to the game and didn't imagine I would ever be able to achieve "Whale Status" on any major platforms.
This all changed with the inception of Splintertalk! Since SPT is so inexpensive on the market, even I can afford to buy some up and stake it! Luckily, being a Splinterlands Team Member has landed me a fat chunk of SPT to start off with so I won't have to climb my way up from the bottom! Thanks @aggroed! You rock!

Did you know, you will soon be able to turn any account with Steem Engine tokens staked into an upvote bot? Read more about it in @aggroed's post
If you haven't already noticed, there's a new filter on Steem Bot Tracker


When you select the Steem-Engine Tokens filter you will see the new bots available that you can get SBD/SP upvotes from. For example, if you send PAL to @minnowsupport with your link in the memo, you will get upvoted for SBD/SP.

On another note, I've been talking to @yabapmatt about having my personal @crystalhuman account automated and he is working on some modifications so that the bot will be able to differentiate between SP and SPT power.
As for right now the voting bot currently uses the SP in the account to value the vote, so sending SPT for an SPT upvote wouldn't exactly work since the vote value calculations are based differently.
It will take a little time to get worked out but I know how hard Yaba works and he seems to have a way to make things happen, much faster than expected. crossing my fingers Would love to have this running within the next week or two but I guess we'll just have to wait and find out.
Once that happens, anyone who is making posts with the #spt tag will be able to send their SPT to my account with a link to their URL in the memo and get upvoted!
Currently, my account has an upvote value of roughly 430 SPT, which is about $1.20 USD! Keep in mind, this is SPT at a very low price! Once SPT goes up in value (and I believe that it will) this vote will be worth a lot more!

Needless to say, I am pretty happy about having all this SPT power!
What's even better is knowing how hard @aggroed and @yabapmatt are working to make my stake on this platform worth even more! Along with the rest of the Splinterlands Team of course!
There are so many exciting things coming up for Splinterlands, and Splintertalk. Did you know? Steem-Engine has partnered up with DTube and will be bringing you ScotTube! (AKA Splintertube) while on Splintertalk.
As @aggroed shows in one of his latest posts you can see that he was able to not only earn SBD from his video, he got DTC and PAL too! All for one post! too bad he didn't use the #spt tag ;) he would have earned EVEN MORE!
This is crazy! Thanks to Steem-Engine, and all the badass wizards on the SE Team, earning cold hard crypto for your efforts has NEVER been better! And it'll probably just get better from here!
My last post normally would have only been rewarded in Steem power and SBD, but thanks to ScotBot, and Steem-Engine I am earning PAL and SPT too! TAKE THAT, DAY JOB!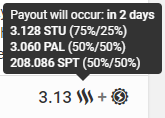 I'm earning more than ever making posts, there are more new and interesting topics to make posts about now than there were before, and I have more stake than I thought I would ever have! Life is good on STEEM!
Come and join the fun, get yourself some SPT and stake it! Start earning more from your posts by using the #palnet and #spt tags!
If you haven't already, get over to Splinterlands.io and start playing today!
Make sure to follow me for future updates/information regarding Splinterlands and other topics of interest!