The new Splinterlands packs were realized on November 30th. After a crowdfunding campaign on Kickstarter and Fundition players were finally able to open their packs, just after the season ending.
How does this affect the DEC burn rate? Are there any changes?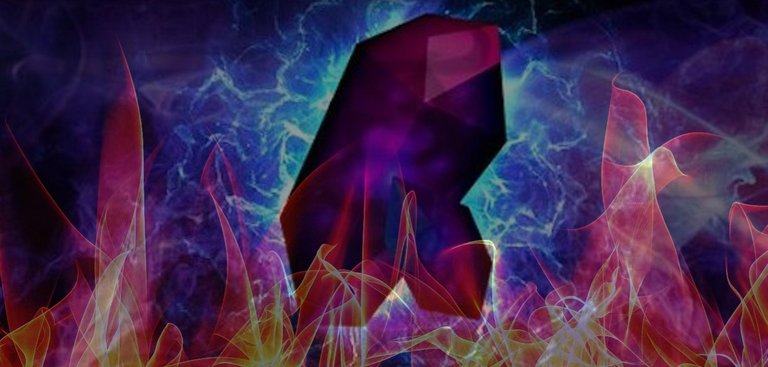 A lot of players expected that when untamed will be here and players will start opening them, many of them will buy potions to increase the chance of getting better cards. To buy potions you need DEC. DEC for potions is getting burnt.
The DEC token is non stackable token so to speak. There is no benefit to hold it (except speculative 😊). This means that it requires a lot of use cases and burns for it to maintain its value. Burning tokens or creating sinks is essential.
The DEC token was launched starting from 05/20/2019. An overview will be made on the tokens burned starting from that day until today. All transaction to the @null account will be presented on a daily basis.
All time DEC Burned
Here is the chart for the all time DEC burned vs created.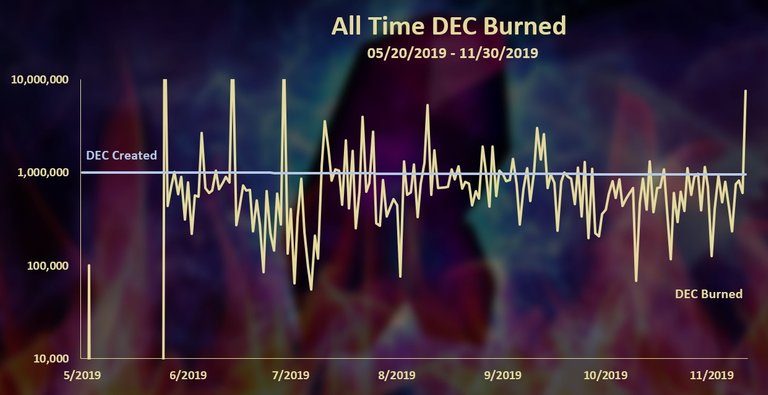 A sharp jump at the last day of November!
Clearly the untamed series had made a significant impact on DEC purchase and burns. On November 30th there was 7.47 million DEC send to null. That is a major increase having in mind that average for November is around 630k DEC burnt daily.
Notes:The vertical Y axis is on a logarithmic scale for better readability. There are few days with more than 10M burned and those are cut from the chart.
The DEC Created line is the daily reward pool according to the anouncment from @steemmonsters a 1 million per day and going down 1% each 30 days. It doesn't include the DEC created from burning cards.
The DEC Burned line is the DEC sent to the @null account. All the transaction to @null are made from the @steemmonsters account and they are executing the burns from all the buys and sinks.
Let's see then monthly chart.
Monthly burns
Here is the monthly chart.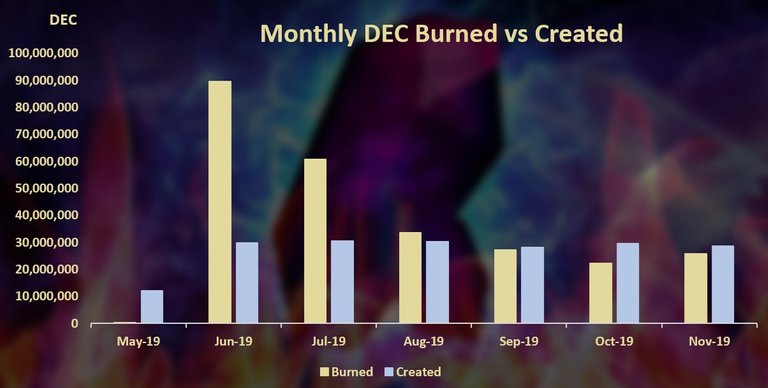 The first months, June and July have a significant amount of DEC burned and I guess those are months of stabilization. Starting from August things are stabilized around the 30M mark with very close numbers of DEC burned vs created. In November there is slightly more DEC created than burnt.
| Date | Burned | Created |
| --- | --- | --- |
| May-19 | 100,000 | 12,000,000 |
| Jun-19 | 89,642,994 | 29,848,000 |
| Jul-19 | 60,712,100 | 30,544,000 |
| Aug-19 | 33,522,372 | 30,240,000 |
| Sep-19 | 27,148,858 | 28,012,000 |
| Oct-19 | 22,242,350 | 29,651,000 |
| Nov-19 | 25,746,043 | 28,575,000 |
November has around 2.8 million more DEC created than burnt. Maybe people are starting to stack DEC more 😊. The inflation is dropping, and the new untamed cards have less DEC in them, so it expected the value to go up. Also, once again to note here that DEC created from burning cards is not calculated in the report.
Daily DEC burned in November 2019
Here is the chart for daily DEC burned in November 2019.
The sharp jump on the las day is even more noticeable here. Actually, the chart is cut of a bit, for better visibility, since on November 30th there is mo7.47 million DEC burnt.
| Date | DEC Burnt | DEC Created |
| --- | --- | --- |
| 01.11.2019 | 395,255 | 952,500 |
| 02.11.2019 | 1,307,053 | 952,500 |
| 03.11.2019 | 372,320 | 952,500 |
| 04.11.2019 | 683,432 | 952,500 |
| 05.11.2019 | 688,576 | 952,500 |
| 06.11.2019 | 1,079,841 | 952,500 |
| 07.11.2019 | 385,157 | 952,500 |
| 08.11.2019 | 117,939 | 952,500 |
| 09.11.2019 | 599,327 | 952,500 |
| 10.11.2019 | 294,284 | 952,500 |
| 11.11.2019 | 624,189 | 952,500 |
| 12.11.2019 | 386,447 | 952,500 |
| 13.11.2019 | 1,104,665 | 952,500 |
| 14.11.2019 | 572,783 | 952,500 |
| 15.11.2019 | 899,695 | 952,500 |
| 16.11.2019 | 962,593 | 952,500 |
| 17.11.2019 | 395,098 | 952,500 |
| 18.11.2019 | 1,139,676 | 952,500 |
| 19.11.2019 | 704,127 | 952,500 |
| 20.11.2019 | 126,231 | 952,500 |
| 21.11.2019 | 410,671 | 952,500 |
| 22.11.2019 | 917,896 | 952,500 |
| 23.11.2019 | 478,216 | 952,500 |
| 24.11.2019 | 795,138 | 952,500 |
| 25.11.2019 | 423,943 | 952,500 |
| 26.11.2019 | 233,990 | 952,500 |
| 27.11.2019 | 748,861 | 952,500 |
| 28.11.2019 | 814,858 | 952,500 |
| 29.11.2019 | 605,814 | 952,500 |
| 30.11.2019 | 7,477,970 | 952,500 |
All the best
@dalz