In today's post, I am going to walk though my favorite battle of the day. I was playing with my @pallas-gull account . Click here to watch the battle.
Observation #1 - Same Monsters
My opponent and I were playing with the same summoner and monsters, but the position of our cards and the level of our cards were different.
The rules for battle were Silenced Summoners and Keep Your Distance. One of the biggest challenges the Keep Your Distance is determining which monster should be placed in the first spot. Lord Arianthus is a solid choice - both my opponent and I thought so.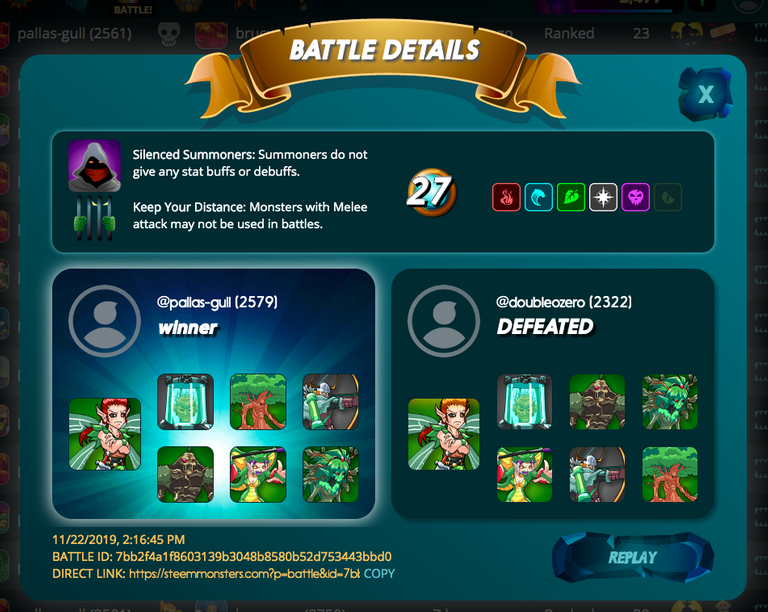 Observation #2 - Different Positions
If you were to ever battle an opponent who has the exact same cards as you with the exact same levels, how your position your monsters will be the deciding factor.
| Position | Me | Opponent |
| --- | --- | --- |
| Summoner | Xander Foxwood | Xander Foxwood |
| #1 | Lord Arianthus | Lord Arianthus |
| #2 | Earth Elemental | Swamp Thing |
| #3 | Highland Archer | Spirit of the Forest |
| #4 | Swamp Thing | Javelin Thrower |
| #5 | Javelin Thrower | Highland Archer |
| #6 | Spirit of the Forest | Earth Elemental |
If I had had the same level of cards as my opponent, I still believe I would have won the battle.
The main reason? After my opponent's Spirt of the Forest attacks, my Earth Elemental heals (basically negating the attack).
My Spirt of the Forest attacked my opponent's Swamp Thing. Once defeated, I regained +1 health and +1 speed for all of my monsters. As a flying monster in the last fighting position, my Spirit of the Forest would have been more more resilient to avoiding sneak melee attacks (had my opponent chosen a sneak strategy).
I believe Earth Elemental is an excellent choice as a player's first non-melee monster (especially at Level 4 when healing kicks in). It defends great against snipe attacks and can take a beating if/when it falls into first fighting position. Now granted it can not attack from the first fighting position, so the goal at this point is to last long enough for your other monsters to deliver strong attack blows.
Observation #2 - It Never Hurts To Have Better Cards
One of the cool features of
Splinterlands
is leveling up cards. Developing a strategy (where to play monsters) must be balanced with developing a purchase plan (how to invest in better cards). It takes 505 cards to max out a Beta Common Card. At 10 cents a card, we are talking about a $50 investment in just one card to reach max level. And there are common Betas that run higher than that, which requires a carefully executed plan, if you ask me!
It is important to note that I started the battle with some higher level cards than my opponent. I have seen a few battles where lower level cards defeated higher level cards. This is more common in some of the lower leagues, but to compete at the higher levels, it seems that both a solid strategy and a solid deck are required.
| | Me | Opponent | Difference |
| --- | --- | --- | --- |
| Range | 13 | 10 | +3 |
| Speed | 19 | 17 | +2 |
But those differences do not accurately described the situation, as Lord Arianthus has shield ability. My opponent's Swamp Thing +1 range attack on my Lord Arianthus was negated, given me another advantage in the battle.
Lord Arianthus is a great first position monster. He can take a lickin' from any type of attack and keep on tickin'. He is a defensive powerhouse who deals back some blows once attacked.
Final Thoughts
I highly recommend taking some time to become a student of
Splinterlands
. If a player really wants to win and gain rewards, that person will need to evaluate their gameplay and the strategies of other players. The
Top Battles
is a great place to watch the battles of the highest level of gameplay in the
Splinterlands
Battle Arena.
Did I miss anything? After watching the battle, what observations did you notice? Feel free to share!
Thanks for stopping by!