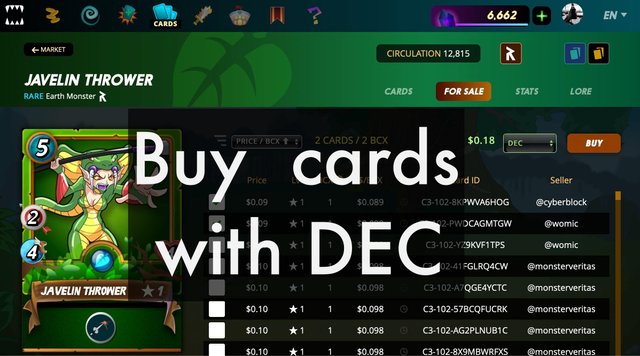 Buying Cards with DEC is now here!
This feature has been announced a few days ago by SteemMonsters' Dev Team. Recently it just implemented into the game.
I've been waiting for this, and excited for its positive drive to encourage active players to build their decks with their hard earned DEC.
I noticed its implementation when logged in this morning and saw a huge addition to my DEC balance. I don't believe there's a random Samaritan sent me thousands of DEC just for showing his kind heart 😅
So, I checked my sell queue, then I confirmed some of it been purchased using DEC! Wow!
But, I still struggling to find the details of it. It's a bit different when others bought your cards using Steem/SBD or using Peakmonsters platform. I usually get notified when the transfer happened along with a memo of the sold cards (with the purchaser id).
Anyway, I'm happy with it!
It's finally here, and I'm eager to tell some of my friends who've been actively playing and earn DEC like crazy. I hope this will encourage them to play more.
I tried to buy some cards with DEC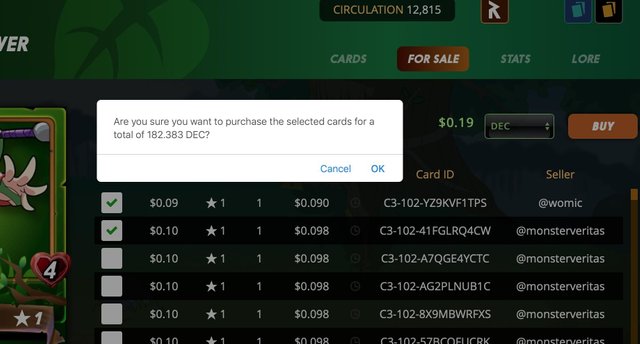 I'm a curious guy, so I gotta tried it myself! 😂
I tried to buy two cards of Javelin thrower (about $0.19) and I only have to pay 182 DEC, sweet!!
The exchange calculation were smooth and reflecting current DEC price on Steem-Engine Market!
This is a huge step on SteemMonsters history!
I believe this would be a gamechanging (if not lifechanging 😅 ) update that SteemMonsters ever did until today!
I can't wait to see more great updates and features like this to come.
Salutes to SteemMonsters' Dev Team!
Cheers! 🍻