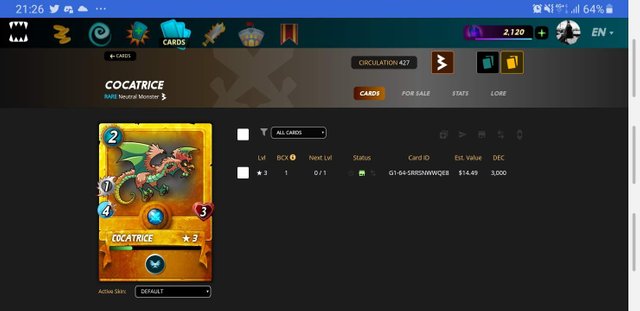 Contemplating whether to Sell or Keep My Gold Foil Cards
Yeah, I got some nice stacks of Gold Foiled Cards (Yay! Lucky Me! 😂🍻) which obviously bumped my Total Decks value to more than $300!
Yet I still struggling on Gold III league 🤯
That's because I only maxed my cards according to my Summoners level, which is only at Level 4.
So, now I'm contemplating about to sell my Gold Foil cards for now, to gain some decent amount of money to upgrade my Summoners and monsters card.
As you see on the picture above, one of my Cockatrice Gold Foiled Cards worth almost $15 which is enough to raise a few of my Summoners to Lv. 5!
And I still have a few Gold Foiled cards which I already had their non-Gold (standard foil) counterparts with better level.
So, It's might be a good idea to sell them and use the money to upgrade my deck.
In the future, when I reach higher league I could save the rewards and buy more Booster Packs and Brilliant Potions to get those Gold Foiled Cards back.
Or, is this a bad idea?
Since Gold Foil Percentage is so low, and I might be never find those Gold Foiled Cards again in the packs!
Tell me what do you think!
Posted using Partiko Android