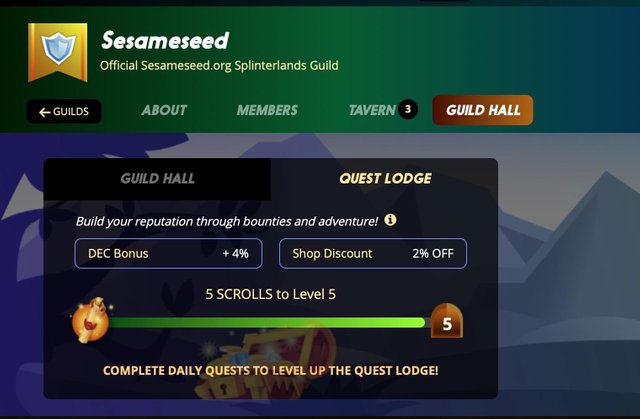 Splinterland Guild Feature
A few seasons have passed since the Guild Feature been announced. Many guilds sprouting and more players joining.
Some of you may already know the benefits that Guild provides for its members. DEC bonus (additional percentage bonus) and Shop Discount.
The Guild Won't Level Up By Itself
This bonus requires certain level, which means the Guild need to level up to gain more significant bonus. And this leveling need a lot of work. Hell, it needs tons of work actually.
That's why I want to encourage every players in any guild to actively contribute to their Guild. At least, don't be a freeloader, I know it's harsh, but it's true.
We don't expect low tier players to contribute as much DEC as higher tier players, BUT all players can contribute the same QUEST LODGE no matter what league they are in.
Anyway...
That's it, I want to close this post before it turns into a rant.
So, keep grinding my friends, at least finish a Daily Quest everyday, contribute to your guild.
Cheers! 🍻