I have been playing steemmonsters/splinterlands now for a while and I do put in some FIAT from time to time. Yesterday I went a bit bigger and got the 100 packs with 10 bonus.
This turned out to be a financially very good decision since I got a really nice beauty out between all the other cards:
my first gold legendary card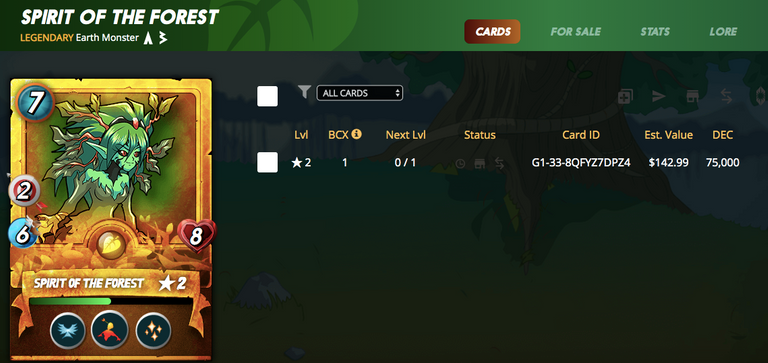 So all in all this card is worth 3/4 of the money I invested in the first place. My cards total are also approaching the 1000 dollar mark (depending on the stats used)
And the total invested is about 2/3 that if I am not mistaken so there is a very healthy ROI here.
But the most important is that I am really enjoying the game and really look forward to reaching beyond gold league at some point...
@nealmcspadden hosted his contest recently and I won 10SBD that also went into DEC to a gold potion that might have made the difference. The video with the stats really helped on the decision to invest a bit more. Now its just about getting some more orbs and potions through DEC.
This might seem like just a game to a lot of you but if you look at the top players and the whole sum of things there is a lot more going on.
Top accounts are worth thousands of dollars.
I will take @exyle here as an examples since he is already quite a public persona but his account is worth anything between 8600 and 17000 dollars. NOT steem, US Dollars.

@nealmcspadden who is doing a lot of analysis of Splinterlands is making about 350 dollars on rentals alone in a splinterlands season (around 2 weeks) so thats 700 dollars per month for something that does not take days and days per month to manage. (it does take a bit of time though). But this goes to show that there is actual money to be made here as an income if you wanted to.

the total marketcap of the game has hit 3 million dollars going by @aggroeds numbers ,which might be a bit enthusiastic as 2.5 seems a lot more reasonable. Still that is 2500000 Dollars for an online card game in a reasonably obscure (for now) corner of the internet. https://steempeak.com/steemmonsters/@aggroed/boom-splinterlands-season-ends-in-a-bang-usd3m-market-cap-breached
I figure I am doing good for myself by stacking more cards and playing the game both as an investment long term and for the fun moments that it is providing.
All the proceeds of the post will go to buying more DEC and more cards, I cannot help myself :-)
Are you splintering the lands??