For a long time (on Steem) I have been participating in early projects and Steemmonsters was one of them which entitled me to this little guy through the Kickstarter sponsoring I did.
That was an amazing investment if I look at what those cards are worth now.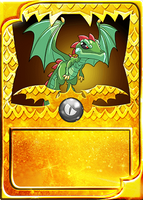 But I also bought some alpha packs back then. This gave me a bunch of cards but then I kind of lost track of the game. I played a few times and that was it (such a shame)
Lately I have gotten back in the game and regret not keeping playing back then. But that regret does not really stop me now from trying to build a nice collection. Since all the Alpha cards are gone and a lot more expensive now and my cards are low lvls I decided to rent them out as passive income and get a bit of ROI on my investment.

getting that blockchain ROI
I finally dug into how to set up the rental process and got all my Alpha cards for rent and now the first few have been taken up and are giving me the super massive income of 0.005 USD per day.
That does not sound like much but its more then what I had before. So hopefully there will be a few more and that income can be used to buy a few more cards and create that Splinterlands compounding card interest...
If you have some cards laying around that you do not use, then just put them up for rent and create some more extra income for yourself