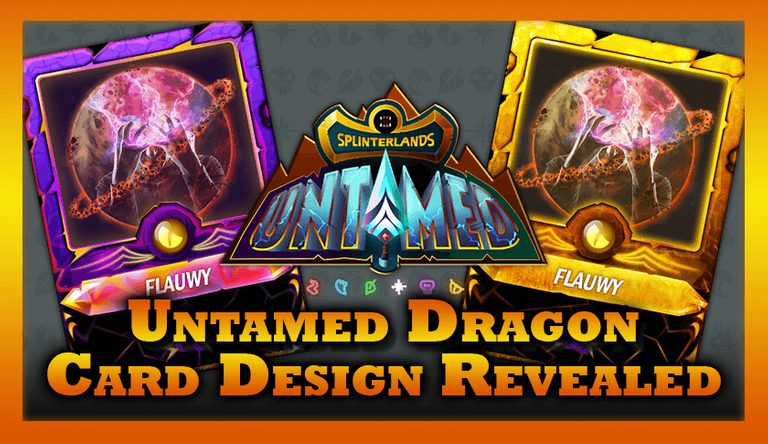 We are getting now new revelations of the @Splinterlands Untamed edition every day, as the Kickstarter campaign is bringing in more and more money, stretch goals and popping eyes. We have unlocked the first 100,000 booster packs from the new cards and with that the first out of fourteen airdrops: The Diamond Dragon - and with it the new amazing design for the Dragon splinter cards, created by no other than the head designer of Splinterlands, the legendary @nateaguila.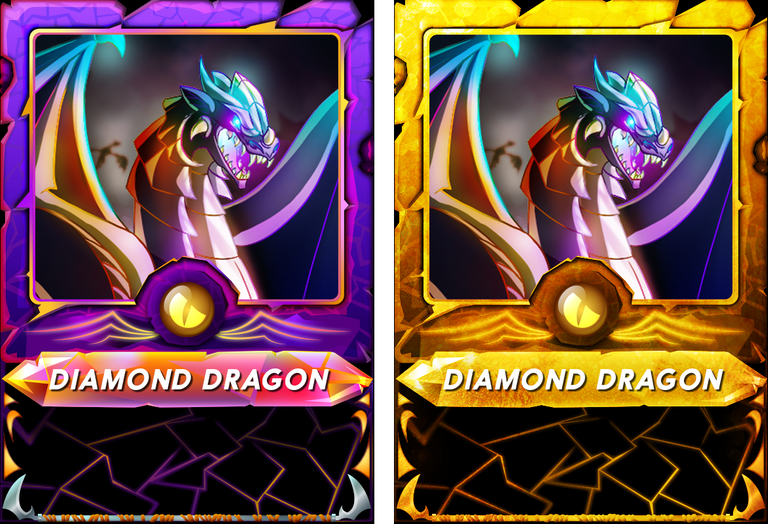 What can I say other than WOW? This new dragon frame design is simply amazing!

New Death Card Frame
Yesterday we have already seen a sneak peak of the new Death splinter, which I immediately started to play with for @kayrex and my new dedicated Splinterlands account @mushroom-monster, putting his latest fanart into the new Death frame. Check it out, you also get a template for the Death splinter for your own fanart and avatars.
This account is supporting @kayrex to get out of Venezuela, where the current political situation is making his life and work incredibly hard. Your help in any form is appreciated!

New Dragon Card Frames
Ok, so since we got this new design in a fantastic high resolution and with both regular and gold foil variants, I was able to use my Photoshop skills to temper with the Diamond Dragon and create an inofficial template for it.
The tricky part was getting rid of the text, so I used the Patch, Stamp and Smudge tool from Photoshop to create a decent empty space without text, that kind of looks like the real deal. It turned out a bit "smudgy" but should serve the purpose well, to put new text on top of it without looking weird. You can judge the result yourself below.
| | |
| --- | --- |
| Regular Foil | Gold Foil |
| | |
| Regular Foil Template | Gold Foil Template |

Above, I have included a design with myself, using my current Steem avatar, to give you an idea how this could look like when we use YOUR avatar. Yes, I am still offering to create free personalized Splinterlands graphics for you, now even with the new Untamed card frames from the Dragon (regular and gold foil) and Death splinter (only regular foil).
Personalized Examples
I have already created a few personalized designs. Check them out to get yet another idea of what I can do for you.
Fleshy Divider
@mattclarke, the largest owner of Flesh Golem cards, has asked me to create some fleshy dividers. He wanted to have the three main colors from the monster and the classic stitches, that hold together the creatures flesh.




YOU are Legendary!
@stealthtrader has asked me to make him a cartoonish legendary summoner with +2 Mana. That was easy for me! I just downloaded a free app that transforms images into cartoons and then transformed his avatar photo into a pseudo-illustration. He got the old Beta Dragon gold foil frame for that, which I had already finished before he even asked me.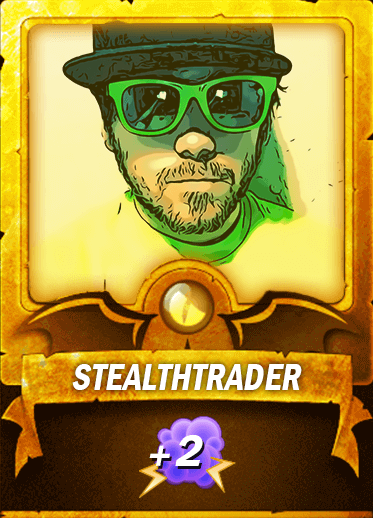 So, what do you think? About everything? Send me your design requests and I can get to work. I am living and breathing Splinterlands, what can I say?