I need a LvL 3+
I am trying to get a level 3 at least... and I am willing to negotiate with my tokens. I mean, I would be willing to delegate SE tokens to you for the duration of the business. If I fail with the contract, then I am eligible to be downvoted by anyone you may think I did no fulfil with my agreement.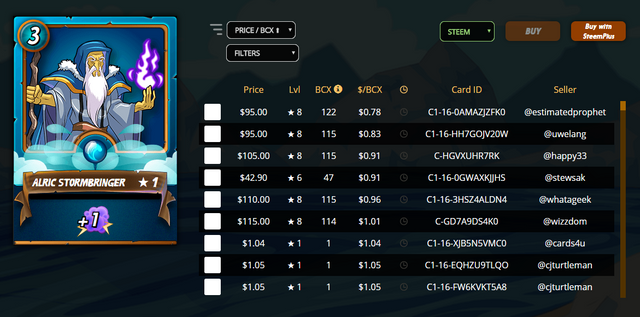 The amounts here should be considered in an equal amount of value. Let's say, you are willing to sell me 3$ dollars of a card... you can only ask for 3$ or less of delegation. The delegation will be "promised" for 2 months (which should be more than enough for you to recover the value transacted).
Alternatives? (SBI)
If you don't wish to receive a delegation, SBI is also eligible (max of 20). The one that requests less SBI for the card (LvL3 min) will get the sponsoring. This can only be worked out with separate bids like if 3 or more people offer me simple cards. Basically, drop your bid, and I will evaluate.
DEC for Upvote?
Ok, to enhance the exposure of this request, I am going to make this even more appealing... I can also upvote any of your posts for a DEC donation. Send me the DEC amount with your post link and I can make it happen. Please be aware that I will only upvote relative to your donation, at the current market price (more or less). I will give a bit more than taking... just to cover "my market reading errors".
When I have enough DEC to buy my LvL3 ALRIC STORMBRINGER, I will announce it here in the comments below so everyone stops replying to this. It can happen that I reach the amount sooner, due to playing and getting my own DEC.
About this post!
Because this is a personal request and I don't wish to get any value for the post. Just that I get to the right people quickly... I will be burning 50% of this post curation and giving 45% to people I like to thank the work in STEEM. I keep 5% for logistics (I don't think it's unfair).
Tags!!!
I am a great fan of tags... but I like don't like abuses too. So, hopefully I will use the right ones. If not, please let me know and I will remove.