The opening of 10 BETA booster packs!

Well it was time for another investment round into Steemmonsters. I decided to buy 10 Beta Booster packs on the market to see it was my lucky day today!
I know that buying the cards individually is most of the time cheaper but hey we only life once!
The total investment is 170 steem. Let's see what we did for this! Hoping on 2 epics or higher and 2 summoners.
Pack 1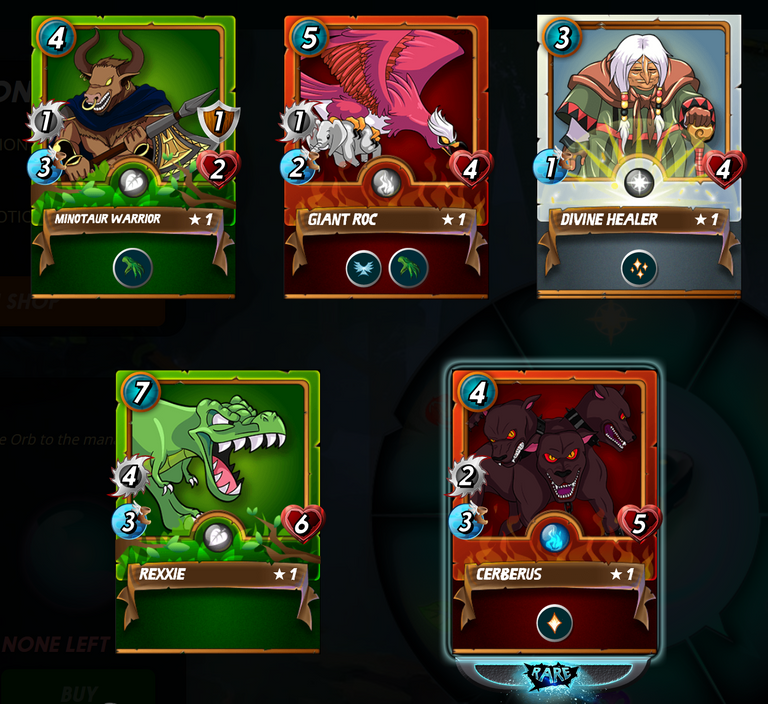 Okay we do start with an awful opening. I already have my Cerberus at Gold League max level. The other cards come in handy, but it would have been much cheaper if I would be purchased them on the market!
Value: $0.65 or 5.249 steem. So still 164.758 steem to go!
Let's see if the second one is better!
Pack 2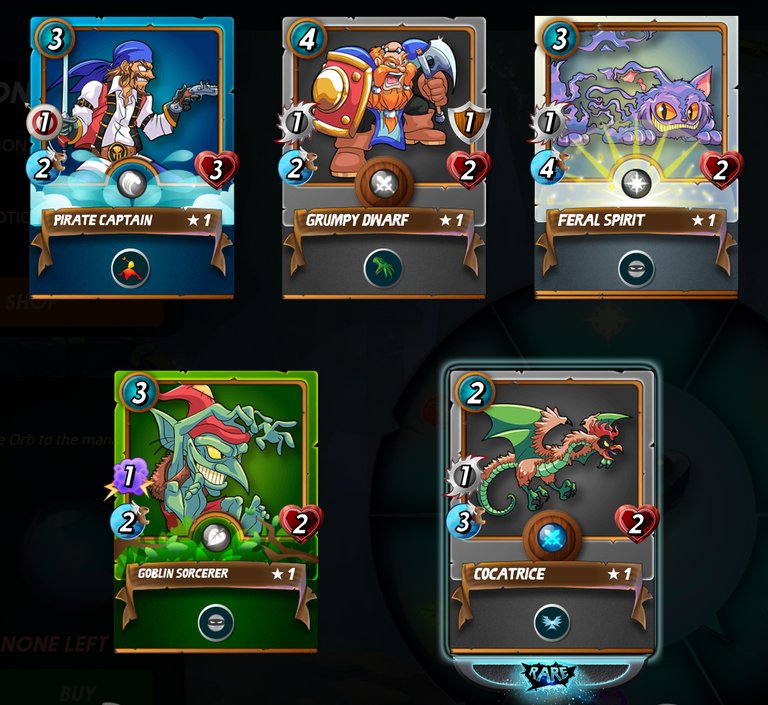 Not really! Another disappointed. The Cocatrice is nice but the Pirate Captain is obsolete. This pack only has a value of $0.59 or 4.758 Steem.
Still: 160 steem to go
Pack 3
This one has to be better!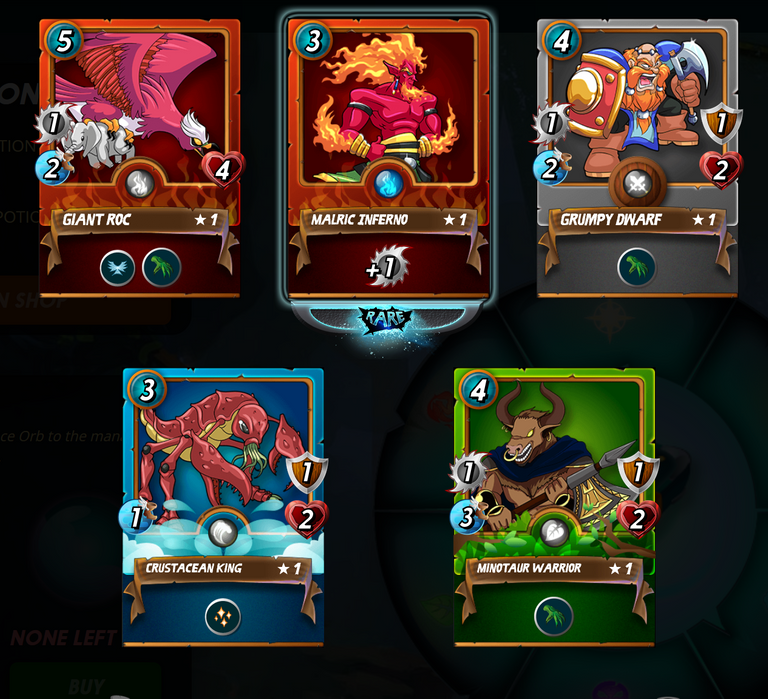 Aha, my first summoner. I do use the market prices, but if you would have buy them as a single card it would be more valueble. The king is also a nice one to pull, because I still dream to lift it to level 8.
The value of this opening was better with $1.04 or a whopping 8.387 steem.
To go: 151.612 steem
Pack 4
At this pace I am getting nowhere, let's hope things do improve drastically!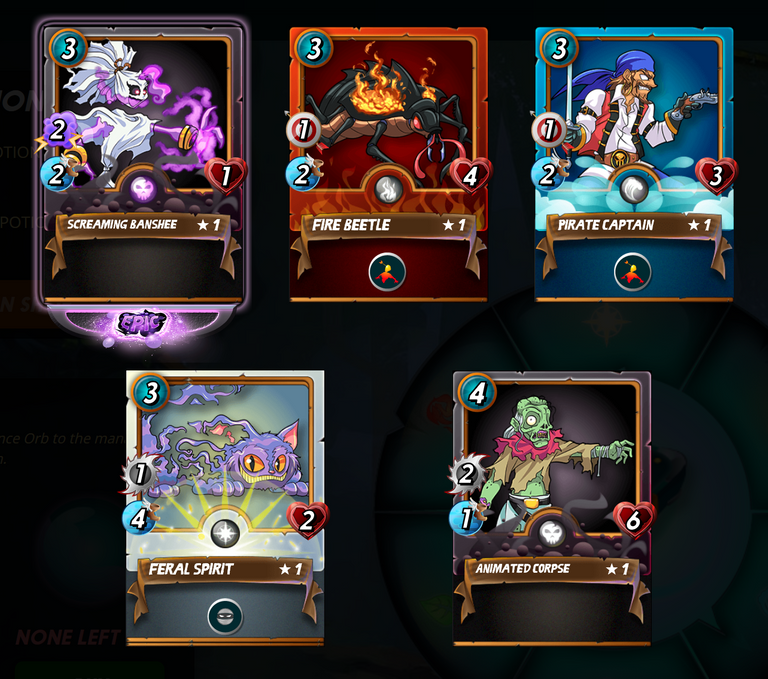 With the Screaming Banshee I did score my first Epic, but the other cards are a let down! Not alone another Pirate but also a Fire Beetle, which is also already maxed out!
Still me best opening so far with $1.08 or 8.709 steem.
Steem down: 142.903
Pack 5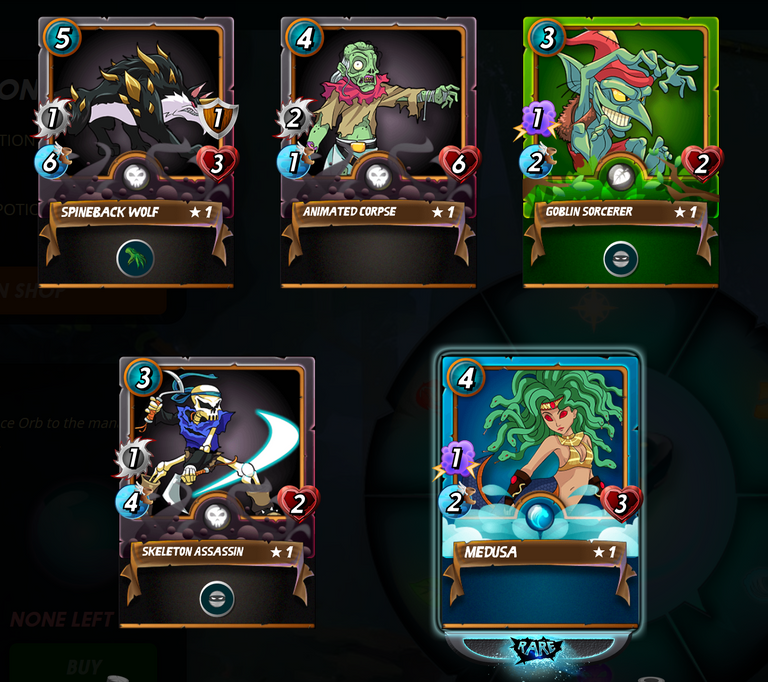 Mhh, the worst opening so far. Bad common cards and a Medusa, which actually isn't the best rare card to pull. $0.41 or 3.306 steem!
So half way I only did recuperate 30.4 steem from my investment. Which pretty bad half way!
But Steemmonsters always does has something hidden in her sleeve, let's see if it pops out!
Pack 6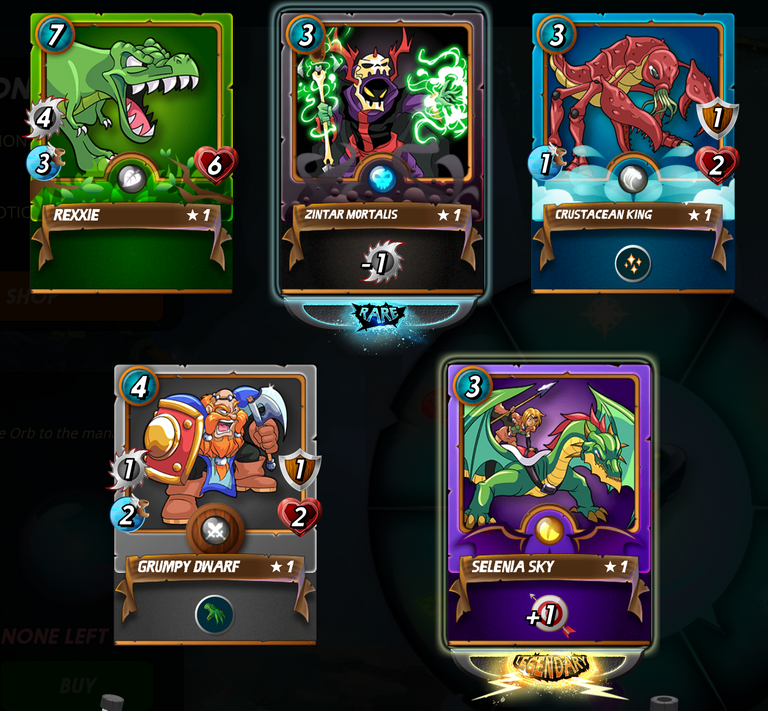 Now we are talking! A Legendary dragon: Selenia Sky worth $9.09. This card alone is 73 steem!
And not only a legendary but also a summoner as extra!
Probably I will sell the Selenia and just that steem to further upgrade my deck. But this time with cards from the market :)
With a total opening value of $10 or 80.645 steem the recuperation of my investment got a boost!
If the next 4 pack do have a value of 50 to 55 steem I am a happy camper!
Pack 7
Probably a let down after such a great opening!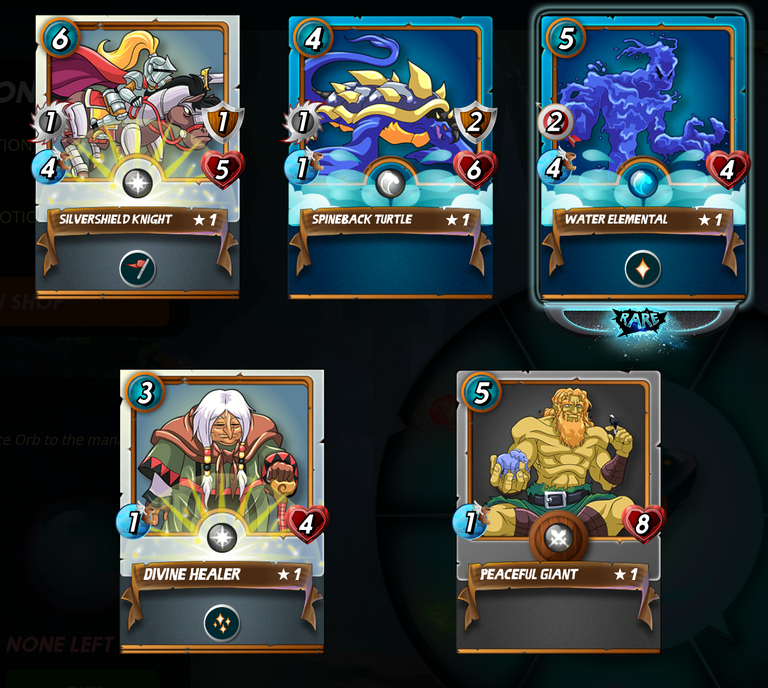 Mhh, not so bad! The Giant is a card which I would like to have on a higher level but I can't force myself to buy them on the market! So very happy with that one! The Water elemental will probably go back to the market!
But the value of this one was only $0.59 or 4.758 steem!
Still 54.193 steem needed!
Pack 8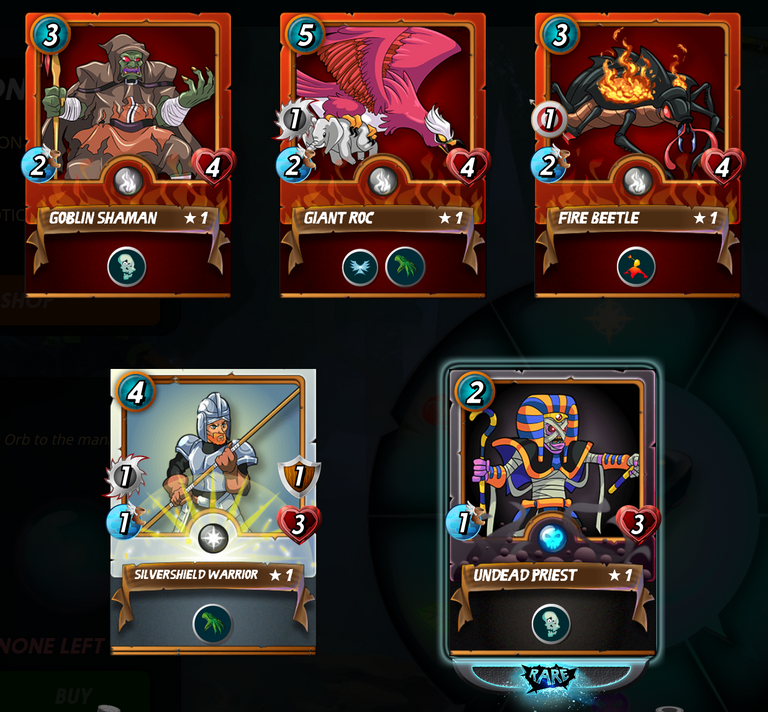 Another normal opening with nothing special after the cards revealed themselves to me!
Still it add some value to the total with $0.4 or 3.225 Steem. I do hope that this was my lowest pack!
Still 50.9 steem to go!
Pack 9
I could use another good opening, to get close to break even!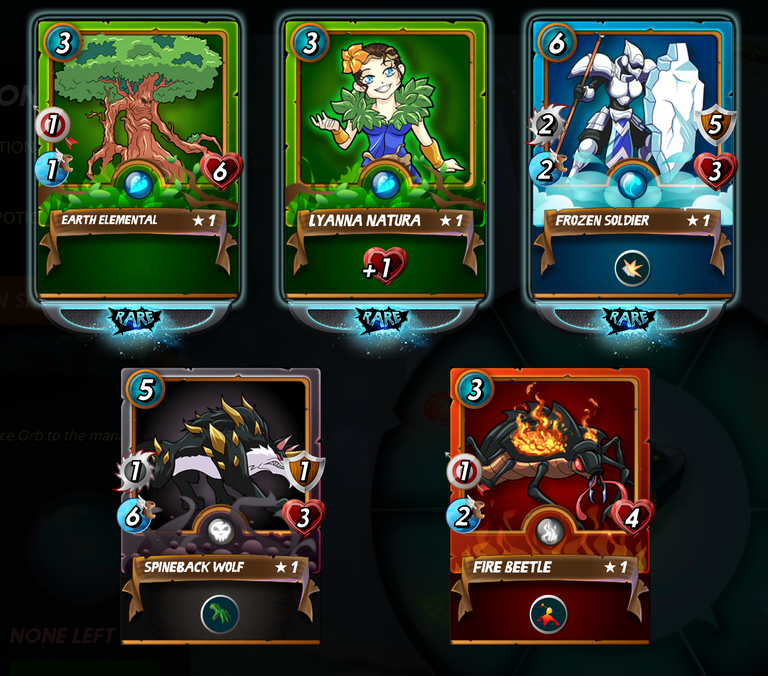 That is good enough! Another summoner and a very welcome Earth Elemental! Still need to improve my Earth cards to the level of the other elements!
With a value of $1.47 or 11.854 steem we are getting closer to break even!
Probably I would reach break even mark, but with the Selenia I can sell, it is already a great investment!
Pack 10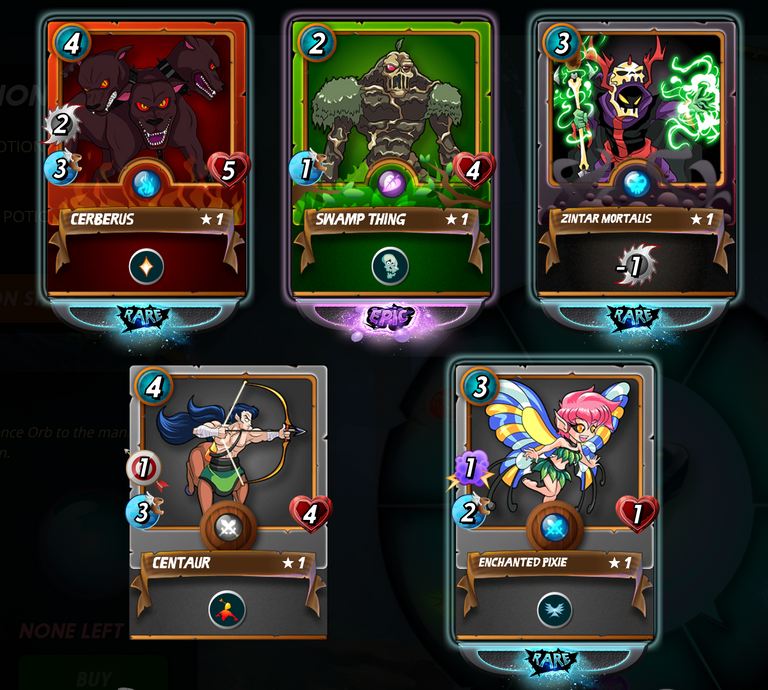 Last but not least!
3 Rares and Epic and an expensive common card! Did I mention already that this was my third summoner?
This one has a value of $3.19 or 25.725 steem.
Bringing my loss on 13,387 Steem.
But I can recuperate some of my steem with selling some obsolete cards! And investing into Steemmonsters is at the moment safer than investing into Steem!
Step by step my collection is getting closed to be max out for Gold Level!
Will I do this one again? Hell yeah!
Cheers,
Peter
---
---