The ranked league format is a one bag for all system that maybe made sense at the beginning when player base was very small, but now is causing several problems, like easy harvesting DEC for low card levels bots. In the previous article, I have proposed a multi league system, which would solve several problems:
bots playing level 1 cards would not be able to progress to Gold I / Diamond Leagues and mass harvest DEC, potions, and cards
human players without thousand of spare $$$ can get achievable goals and sense of achievement
provides the opportunity to reward good human players with not maxed out cards
does not penalize good players for good skills (currently, a player who has summoners lvl 5 decks and plays very well will quickly have to face players with maxed out decks facing little to no chance to win against them)
Is dividing players into several leagues feasible? I have had a look and estimated battle waiting times based on the last season.
On average, the top 10 players played 29 games a day, with one at only 10 games and three at more than 40 a day. Almost exclusively they played against players ranked in the top 100. There are a few accounts in the top 100 playing more than 100 games a day.
I assume an average human player requires 3 min. or more per game, including waiting time.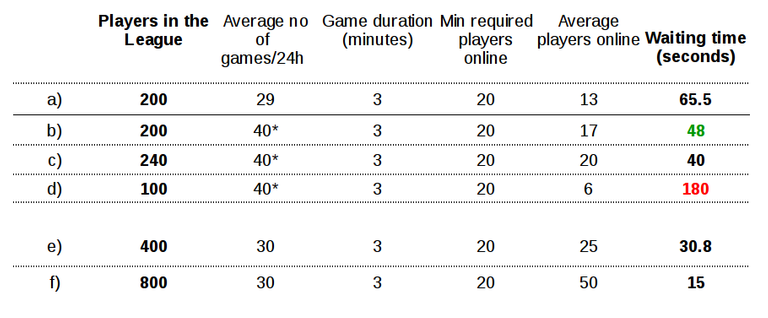 Assuming Champions League would have 200 players a), with on average 40 games played per player per day, there would be always (on average) ~17 players online battling or ready for a battle. To satisfy 3 minutes spent on a game, we would need on average around 20 players online (to play against different players in each battle), but only 17 would be available. Despite this, I have estimated that only 48 seconds of waiting time would be needed, while it might be required up to 180 seconds for the top player as of now d).
With larger numbers of players in Diamond, Gold (rows e) and f)), and lower leagues, waiting time would be even shorter.
I have made calculation using Splinterlands gaming interface, using developers tools would allow for a more precise analysis.
Conclusion
It seems feasible to change ranked league format into multi leagues. The game would become more entertaining for players on each level, rewards harvesting bots limited, and top-ranked players would have reduced waiting times. The game could become more challenging for players currently ranked between 150 - 250, though.