Another Splinterlands season will end on 16th March 2020. There are over 6000 accounts active, over 1000 accounts will finish in at least the Diamond III 'league'. It's getting much easier to advance to higher leagues and get those extra chests, but it leads to DEC and cards value depreciation. In a few seasons over 1000 players will be able to reach Champions league, including some low (maybe even level 1) accounts. League format needs a reform.
Below I propose a new league format in more detail than in previous posts.
I have taken into account:
the current number of players
the current number of chests rewarded (estimated)
I have tried to accommodate players in the league they currently reach to avoid disappointment from relegation, i.e. to keep all players happy
As far as playability is possible, I have tried to keep naming of the current 'leagues'
Divisions
Leagues can operate separately, i.e. no promotion or relegation is possible during the season. At the end of the season, each league will have its champion. Best performing players in lower than Champion leagues will get extra rewards. A number of top players at the end of the season will be promoted to the higher league, and a number of bottom players at the end of the season will be relegated to the lower league.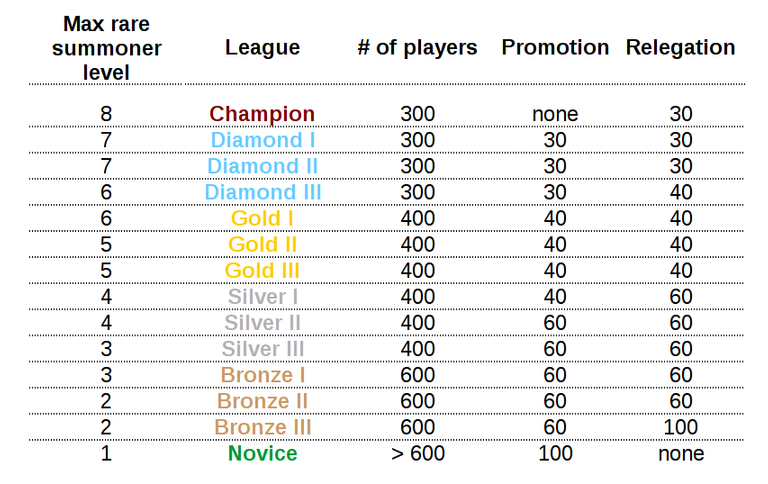 Rewards
In the table below there is an example of the possible end of season rewards. For example, each Diamond III participant will get guaranteed 35 chests and Diamond III champion will get 100 chests on top of that. It's also possible to reward top players with Orbs or Untamed packs.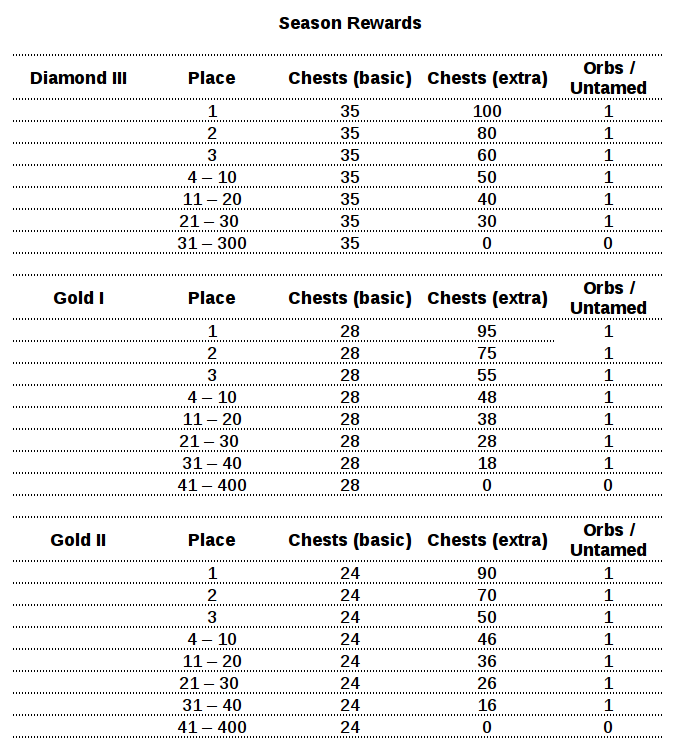 Tournaments
Restrict most tournaments such that they can be played only by particular league members, i.e. Gold II only tournament, Silver III only tournament. Currently, there is an outcry that a few players win tournaments at all levels.
Ratings & Winning Streak Bonus
Each player in the given league starts with 1000 points.

Winning streak bonus is removed, as it brakes the 'Elo rating' based Splinterlands rating system and allows for pushing all players up, favors bots playing thousands of games each season, and results in DEC & cards values depreciation.

Min 10 points winning value should be also removed, although it doesn't skew the ratings as much as winning streak bonus.
The new rating system will allow genuine players to outplay bots despite ~10X lower number of games played, as long as they play better or have better cards.
Discussion
I invite players and developers to discuss the above proposal. If you have posted a related article recently, let me know and I will update the section below.
Related posts:
https://steempeak.com/spt/@hotbit/solution-for-preventing-bots-playing-level-1-cards-from-farming-rewards-and-diluting-dec-and-cards-value
https://steempeak.com/spt/@hotbit/multi-league-format-proposal-for-splinterlands-battles-feasibility
https://steempeak.com/splinterlands/@hotbit/new-league-format-proposal-for-splinterlands-battles
https://steempeak.com/hive-167922/@rentmoney/suggestions-for-splinterland-leauges-tournament-suggestions-as-well
https://steempeak.com/splinterlands/@j6969/the-incoherent-ravings-of-a-mad-man
https://steempeak.com/splinterlands/@mattclarke/splinterlands-suggestion-changing-up-gameplay-hampering-bots
https://steempeak.com/steemmonsters/@hotbit/league-format-improvement-proposal-and-discussion