Splinterlands Untamed | All 5 Rare Summoners Evaluation
This one is going to be an easy breezy report, because I'm not overly impressed with the Untamed summoners for the most part. I also didn't get enough drops of these from the Kickstarter to make them useful at all. This report will probably be of little use if all you have is Untamed cards. If you are considering picking up some Beta summoners, you might want to do so before you are priced out of the market.
Having all of the Rare and Epic Beta Summoners, I have to think harder about how to approach this. For this list, I will be going in order from those I see as least useful, to most useful. My opinion could change about any of them when they are brought to bear against me, as there are plenty of more clever players out there than me!

Cards 1763-1787/2500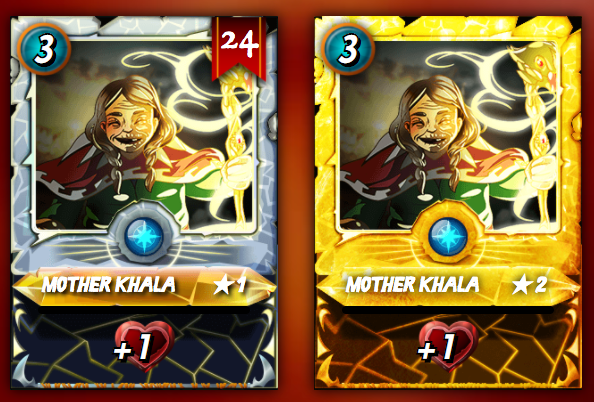 MOTHER KHALA from the Life Splinter the weakest of the lot and a non-starter for me. Compared to TYRUS PALADIUM of the Beta edition, this one falls flat. Currently, the only corner case it might be useful for me, is during an Unprotected match where the Beta's armor buff gets nerfed and I have extra mana to spare. Under those circumstances I will normally use the epic beta summoner, KIARA LIGHTBRINGER, and put that extra mana point towards offense. Unless there is a compelling reason to use an Untamed life summoner, I have no real use for this card. I am going to hang on to the individual cards in case a strong use case comes up, or in hope they go up in value when the supply of TYRUS dries up.
Verdict: Keep and don't combine the regular cards. Sell the gold foil.

Cards 1788-1812/2500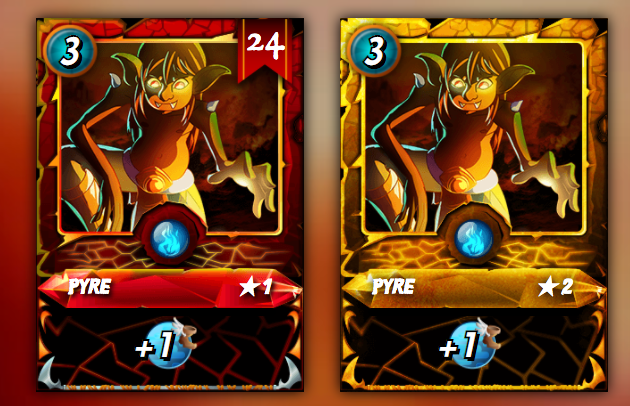 Next up we have PYRE. This one seems slightly more useful, but not much. I could see using this card for the Keep Your Distance rounds where the melee attack bonus of MALRIC INFERNO is useless. Aside from that, at this point I'd rather have more punch than be quicker to the punch. We'll see if that holds true over time, or if I end up getting trounced by holders of this card. I am slightly more friendly to this card than the Life one, but my strategy will be the same.
Verdict: Keep and don't combine the regular cards. Sell the gold foil.

Cards 1813-1837/2500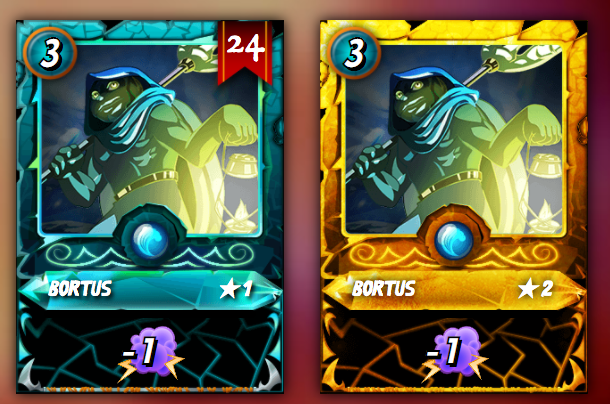 The last three summoners we will go over all offer debuffs. The first is BORTUS of the Water Splinter. His magic debuff is the polar opposite of ALRIC STORMBRINGER, the equivalent Beta summoner. Traditionally when people use the Water Splinter, they are doing it for the magic nuking power. If I'm anticipating that same nuking power being used against me, sure this card may be useful. Is that a compelling enough reason to upgrade this card? Not really at this point. This is currently the most expensive Untamed summoner on the market, so maybe I'm missing something.
Verdict: Keep and don't combine the regular cards. Sell the gold foil.

Cards 1838-1869/2500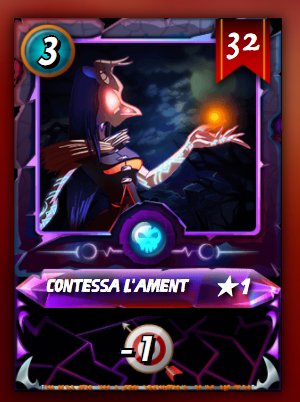 CONTESSA L'AMENT of the Death Splinter is the ranged debuff equivalent of ZINTAR MORTALIS of the Beta edition. Sure this summoner might be useful if I don't anticipate my opponent being strong on melee, or do anticipate them using using a lot of ranged monsters. Is that enough reason to spend resources on this card?
Verdict: Keep and don't combine the regular cards. Sell the gold foil.

Cards 1870-1903/2500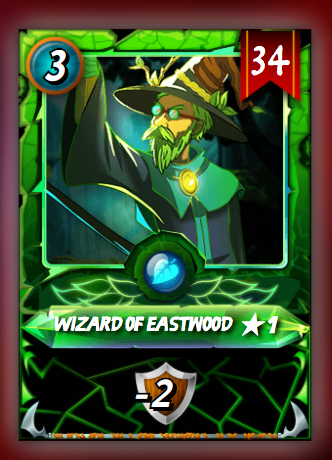 Finally we have the strongest of the Untamed summoners. It is mostly the strongest, because I consider the equivalent Beta edition card, LYANNA NATURA the weakest. Because so many cards rely on armor as a first layer defense, this card seems much more valuable than LYANNA's health buff. The market price of this card supports this notion.
Verdict: Look at upgrading this card in the medium term.

I had similar feelings about the epic summoner, CAMILA SUNGAZER. You can read about it here.
If you also have maxed out rare Beta summoners, let me know your thoughts on these Untamed summoners compared to them, and if there's an angle I'm missing.
---
---