Splinterlands Untamed | Legendary Cards Evaluation
Finally, the last 18 cards from my Kickstarter packs. They are all Legendary this time around, but regretfully, not one gold foil in the lot. Most of them are 10-mana cards, which leaves me wondering why, since you can only use them 20% of the time in my estimation.

Cards 2483-2485/2500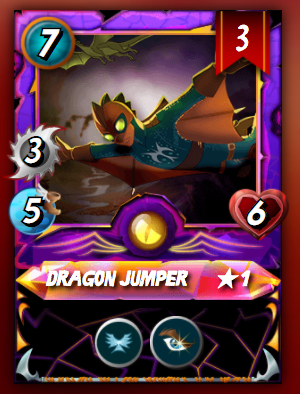 First up we've got the DRAGON JUMPER from the Dragon Splinter. It's hard not to like this 7-mana card.
---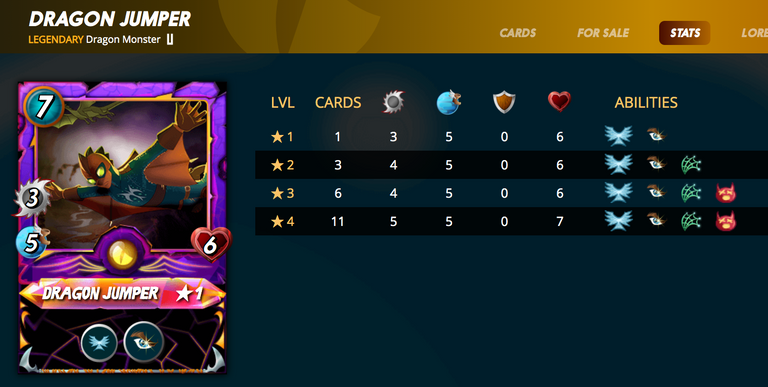 Right away this card does decent damage, flies, and will attack your weakest opponent with the Opportunity ability. At level 2 and at level 5, it does an additional damage respectively. At level 2 it gets the Snare ability, and at level 4 it gets stun. It's also fast, and will do a number on those weak unprotected cards sitting behind your tank in short order. If you're expecting to run into this guy, better armor up!
---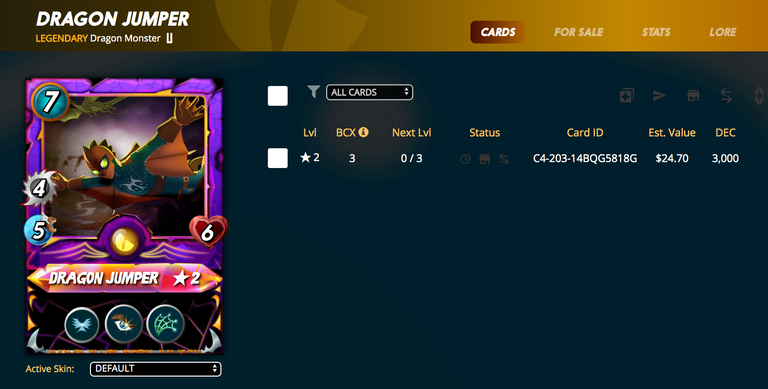 My drop of 3 cards gets me right to level 2, and I can already put this one to good use in some high mana matches.
It would be really cool to upgrade him eventually, but the opportunity cost is going to be too high for a long while. It's just not versatile enough for me given the expense.
Verdict: Stay put for now.

Cards 2486-2487/2500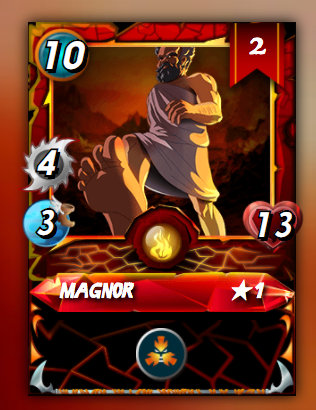 Our second Legendary card is the MAGNOR from the Fire Splinter, a very meaty 10-mana tank card.
---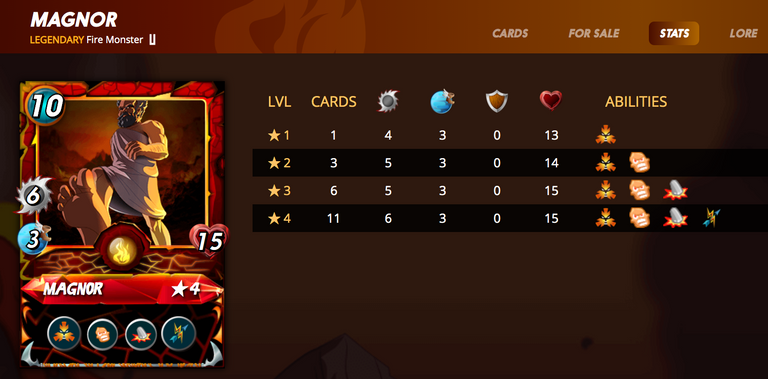 Despite being so meaty, this card is a damage magnet due to getting the Taunt ability right away. Unless you have multiple quick healers and a Shield buff, he's going to get cut down pretty fast against a good team. In the rounds with very high mana, you might want to pair him with some sort of secondary tank.
He's definitely a brute, and he gets some brutish abilities. At level 2 he gets Enrage, at level 3 he gets Trample, and at level 4 Return Fire.
---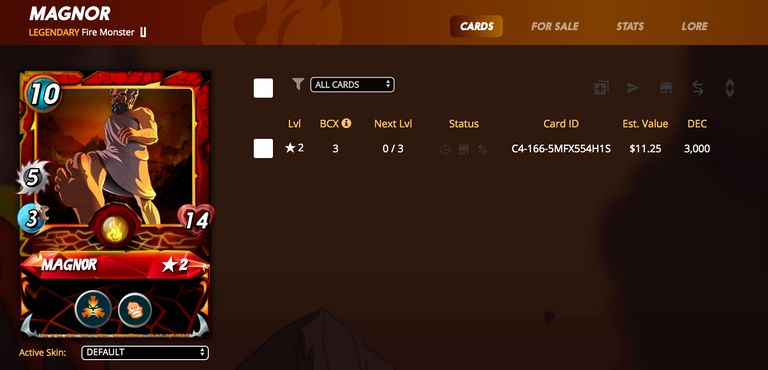 My 3 cards gets me to exactly level 2. This is just another one of those cards. While it's cool, I just don't have a burning desire to spend a bunch of resources on it. A 10-mana card isn't useable in 80% of matches. Still, I will hang on to him and plug him in here and there.
Verdict: Keep and revisit later.

Cards 2488-2489/2500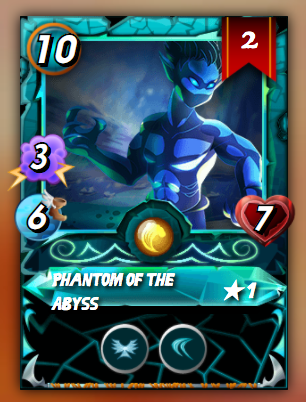 Next up we've got the PHANTOM OF THE ABYSS from the Water Splinter. While this card isn't ABYSSmal, he also costs 10 mana.
---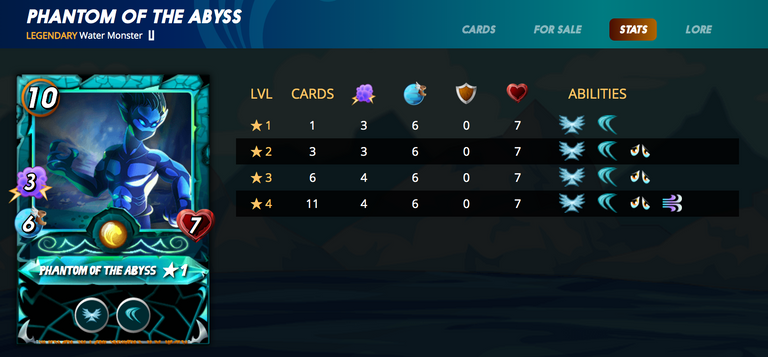 This card is alright, don't get me wrong. The prospect of doing 5 magic damage paired with ALRIC STORMBRINGER (Beta) is tempting. Here's the thing, for 6 mana I can do that with the RULER OF THE SEAS (Reward). He's fast, so probably useable right away in high mana Back To Basics matches, where the only boost comes the summoner. I only got two of them, so really not even worth combining them.
Verdict: Hang on to the cards, but not on my radar.

Card 2490/2500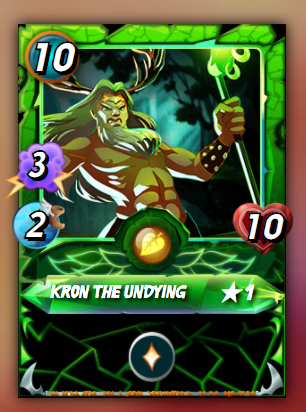 Next in line is KRON THE UNDYING from the Earth Splinter. Yet another 10-mana card (I detect a pattern here). He does have some decent abilities in the concept is cool. Unfortunately I only received one of them.
---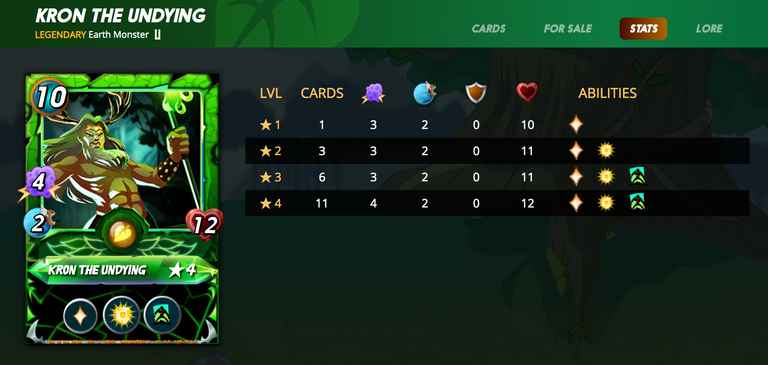 As a meaty magic caster with some resilient abilities, he is aptly named. He can self-Heal from the get go, and has Divine Shield at level 2. At level 3 he gets a cool new ability called Last Stand, where he gets bonuses if he's the last card left in the match.
Sure this card is cool, but he's expensive in more ways than one, and I only received on of him.
Verdict: Hang onto the one card and imagine the possibilities.

Cards 2491-2492/2500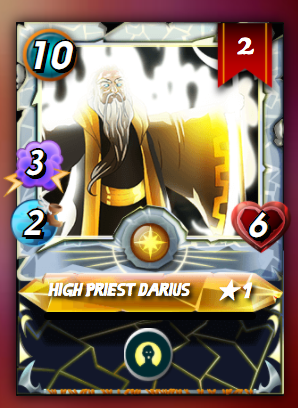 Counting down we've got HIGH PRIEST DARIUS from the Life Splinter. Another 10-mana magic caster.
---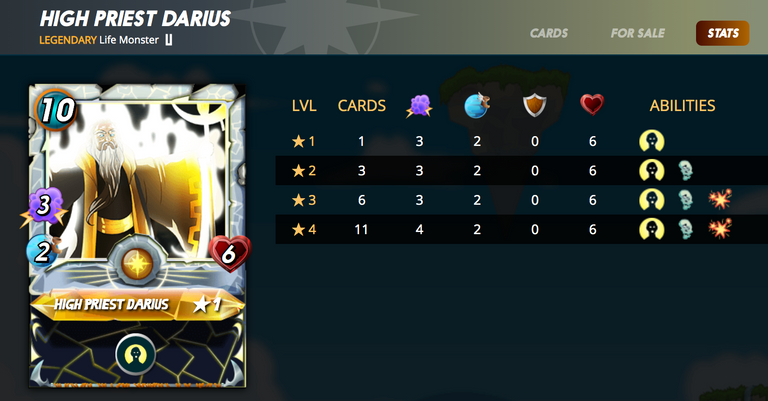 With 3 damage starting out and 4 when maxed, this is the most powerful magic caster of the Life Splinter so far. It can also Resurrect a dead card right off the bat. It can weaken at level 2, and gets the blast ability at level 3.
I think this is a niche card. It has some good stuff going for it, but it's so far off my radar. There might be some instances where I have extra mana to spare, but I'm sure there are combinations of cards for under 10 mana that would outperform this one. DEFENDER OF TRUTH (Beta), and LIGHT ELEMENTAL (UNTAMED) are one such combination. I can do 5 magic damage, get some decent abilities, and only spend 8 mana.
Verdict: Hang on to the cards and see what happens.

Cards 2493-2495/2500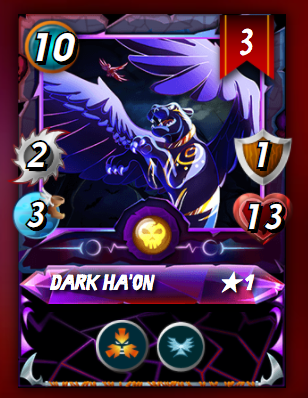 The DARK HA'ON is what I would consider an excellent anti-magic tank. It is of course 10 mana like the previous Untamed legendaries.
---
It starts out with the Taunt ability, and maintains 13 health throughout the levels. At level 1 it can fly, but despite that it's going to be cut down pretty fast. Luckily it has at least a small amount of armor to absorb a melee hit. At level 2 it gets the scavenge ability, so if you have some quicker ranged attacks, you can beef him up more earlier in the fight. At levels 3 & 4 is where this card really shines as an anti-magic tank. At level 3 it gets the Void ability, and at level 4 it can reflect.
I can't imagine this card getting much use out of my deck given available alternatives. Even though I was dropped 3 cards, I can't really justify leveling it to 2 at this point.
Verdict: Keep the individual cards and revisit later.

Cards 2496-2497/2500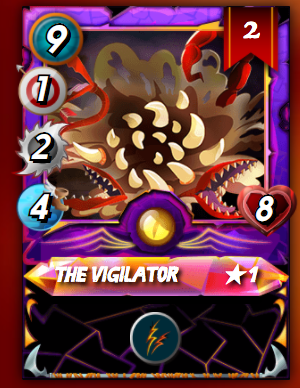 Moving right along, we've got another Legendary Dragon card called THE VIGILATOR. While its name sounds like an adult toy, it's a 9-mana combo card that has both ranged and melee abilities.
---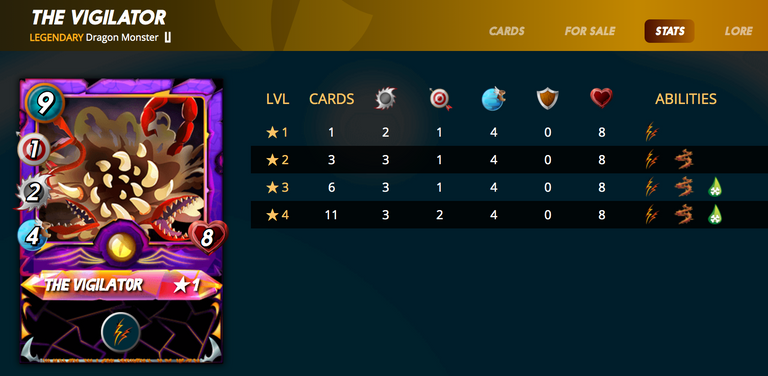 I stated in a previous post, that I prefer the Epic cousin of this card from the Neutral splinter, called the WAR CHAANG. It's both cheaper, and I can use it with any summoner. The WAR CHAANG's maximum ranged damage is actually better, but the Double Strike ability means this guy hits twice! That doesn't mean this card is bad. It's actually pretty good for a lot of the same reasons the WAR CHAANG is. You can basically place this card at the rear of the pack, and he can plink away at the enemy until he gets to the front. If he actually makes it to the front, he can start in with the melee attacks. At level 3 it obtains thorns, so it has a natural defense against sneak attacks. At level 4 it gets the Poison ability, so for Melee Mayhem type rounds he can place additional pressure on the tank.
Unfortunately, I only have 2 cards, and I can't really justify putting any resources into this card any time soon.
Verdict: Hang on to the cards.

Card 2498/2500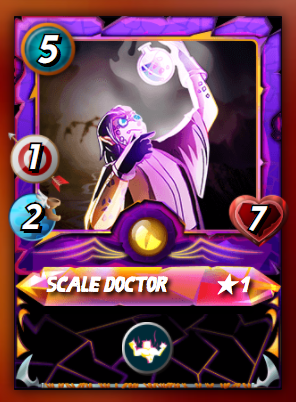 Our penultimate Legendary card called the SCALE DOCTOR, is also from the Dragon Splinter. It has low mana cost compared to other Dragon cards, at only 5 mana. This makes it more versatile than other Untamed Legendary cards.
---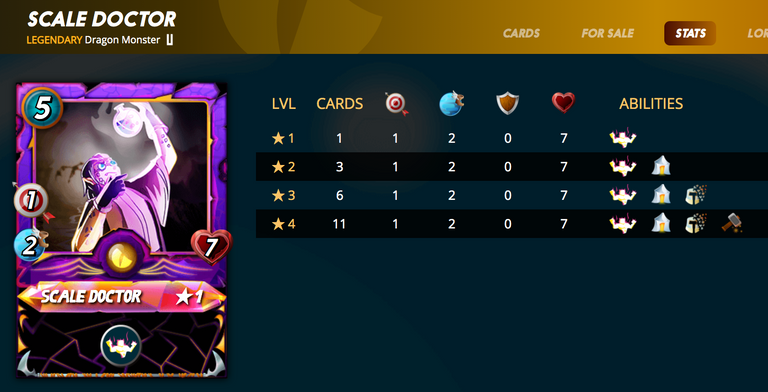 I only received one of these cards, and at this level it's pretty worthless to me. Even when paired with SELENIA SKY (Beta), it's only capable of 2 damage throughout the levels. At level 2 it gets the Triage ability, still not worth it. Rust at level 3 helps a little bit. It's not until the Repair ability comes at level 4 I would consider this an all-around useful card for the Dragon Splinter, where its support abilities make up for its lack of offense.
Verdict: It's only one card. I might sell it to satisfy a burning need.

Cards 2499-2500/2500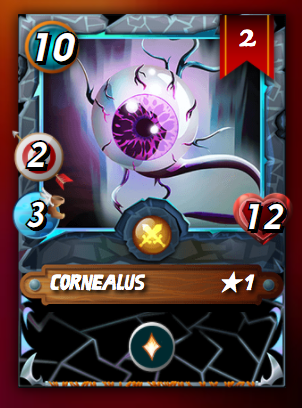 You've finally made it to the end. The final card from my Kickstarter campaign cards. It's another 10-mana (shocker) Legendary Neutral card.
---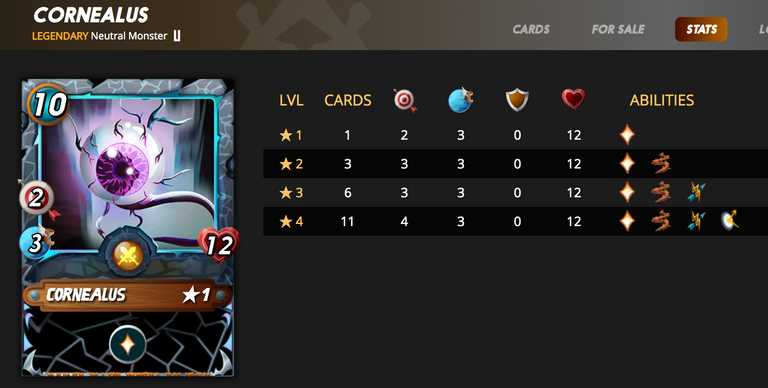 Self-healing at level 1 with 12 health, this card is perfect for that first ranged spot vulnerable to snipers. It does a modest 2 damage however and has average speed at ever level. It gets a damage boost and Thorns at level 3, making it potentially useful in the rear against cards with Sneak. At level 3 it gets the Return Fire ability, and it level 4 gets the Reflect ability, making it even more useful as an anti-sniper. At level 4 the damage goes up to a decent 4 points.
This is a cool card. I'd love to have a maxed out one at some point. But in terms of practicality, it just doesn't fit the bill. I only received 2 of them, and they are already expensive on the market. Maybe I'll get lucky opening some packs, but beyond that I can't see buying another one to get to level 2 any time soon.
Verdict: Keep and let hope spring eternal.
---
That's it for my Kickstarter drop! Thanks to all who followed this series, and a shoutout to
@michealb
for his consistent support of these posts.
---
---