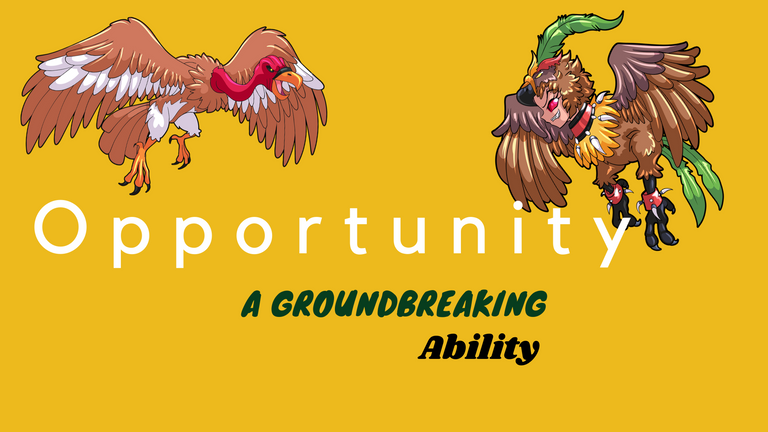 What's up Splinter Addicts!
This your fellow warrior mango-juice with another Splinterlands share your battle weakly challenge post!
Well, It has been over 2 long months since I have locked down myself and prohibiting ourselves from going outside unless it's too important. My family is with me too. I hope all of you are safe too and please follow all the procedure unless you are in a green zone.
Meanwhile, I am quite active nowadays and hustling at the Neoxian server with friends. I am also posting every day and playing Splinterlands a lot. Not to mention I am spending all my nights after Tv shows on Netflix and Amazon Prime. What a lazy year it is!
This week I got surprised when I saw the new Splinterlands share your battle weakly challenge post. This time It was not about any particular monster like we use to watch in the previous ones. Instead, it is focused on abilities! This time we must play with a monster that possesses the opportunity ability. Unique move I would say and I am very interested to write about this awesome ability.
Unlike any other ability, opportunity ability is sort of a next-gen sneak attack. With this ability, the monster can attack the weakest monster of the opponent no matter which place it is residing. Yes, you read it right. No matter where you put your Exploding Dwarf with the big monsters or your Brownie, The opportunity monsters will find it and kill before attacking the giant ones.
The first opportunity monster that came into the world of Splinterlands was FIENDISH HARPY. It was an epic Promo Dragon card that got released with the Tron collaboration project. I really liked the new ability back then for its bizarre behaviour of attacking. I still often use it in melee decks to kill opponent's exploding dwarf, brownie, Ooze or other small health ones. Sometimes the chicken too as a bad luck sign. ;)
---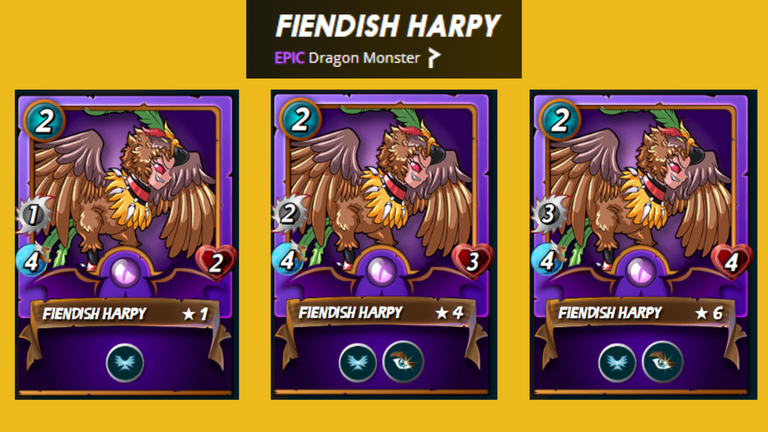 ---
Now there are a few monsters out there with opportunity ability. Among them, my favourite is Screeching Vulture. I made myself a level 8 gold foil Vulture as, under 3 mana, this is a helpful buddy in mini mana games. My other favourite one is Serpentine Spy. I have made it gold foil level 7 already as its performance is remarkable!
---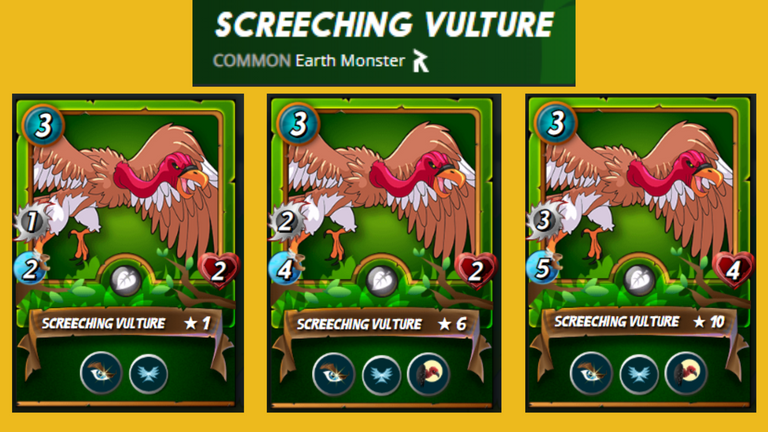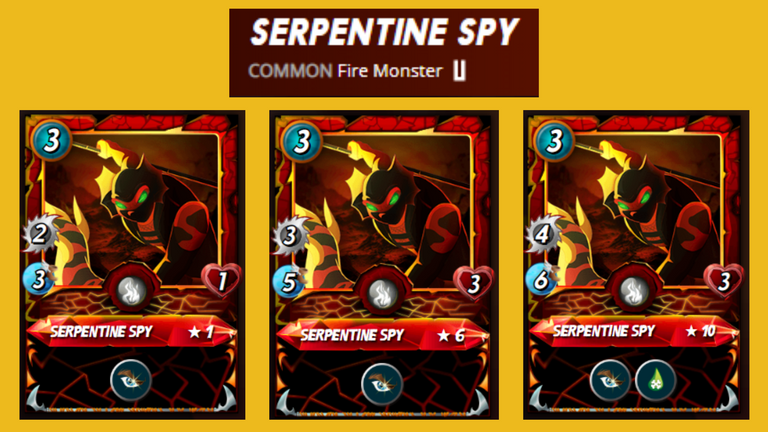 ---
Today I am going to use anyone among them as I do not any other cards updated at the moment. I will use my own account to play today as @red-dog doesn't have them. Let us find the opportunity to win on the battlefield!
Opportunity Ability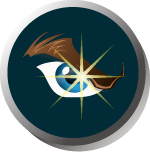 Monsters with Opportunity ability can attack from any position (like a sneak monster) and will target the enemy monster with the lowest health.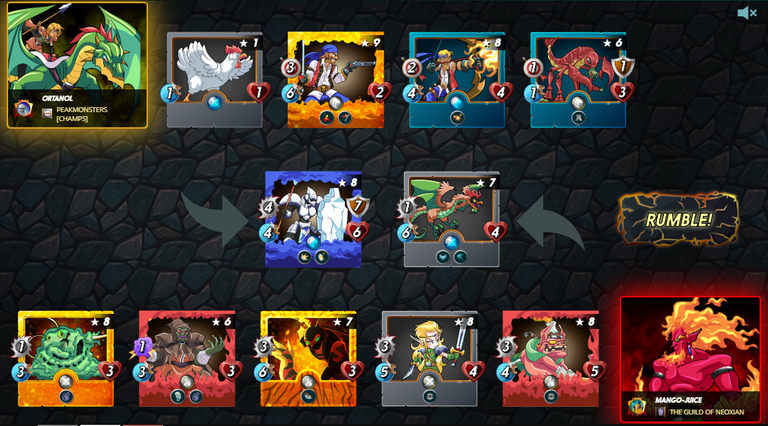 Ruleset Of Batte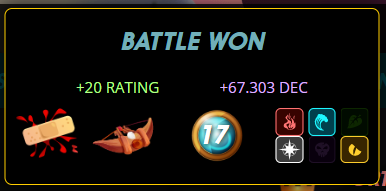 Opponent @ortanol
Ruleset So, It was a Close Range (In this rule, Range monsters can attack from the first position, so they will behave like melee sneak monsters that will not quit when even at the first position.) + Healed Out (Monsters can't be healed in this match). Clearly, my Serpentine can be used in this battle for its low 3 mana cost.
Mana count It is a micro mana match with 17 mana cap!
Summoners This battle supports Fire, Water, Life and Dragon summoners.
At this much mana cap, after using the summoner and the Serpentine Spy I will be left with only 11 mana. Then let's go for all back attack!

Line-Up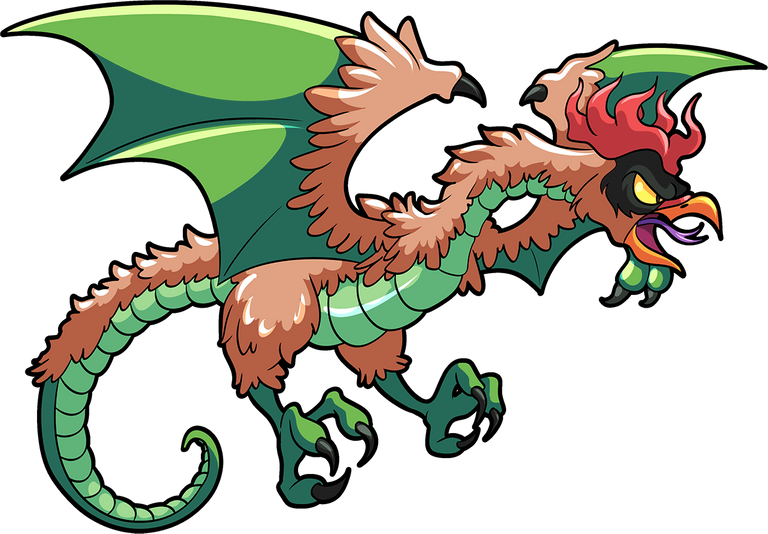 Cocatrice
At the first position, I chose Cocatrice, the most magical monster you can get at 2 mana. My coca is level 7 providing me 1 melee attack at 6 speed and 4 HP with 2 fantastic abilities, Dodge (has increased chance to evade and incoming attack) and Flying (Increased chance of evading melee or ranged attacks). This will save my front and I hope if the opponent uses direct melee or ranged attack, it will evade some enemy attacks before getting down and give me some space to kill the enemy monsters.
Kobold Miner
At the second place, I used Kobold Miner. My miner is level 8 and he has 3 melee sneak attack at 4 speed with 5 health. No doubt he is a mini beast at 2 mana cost and will defend the second position.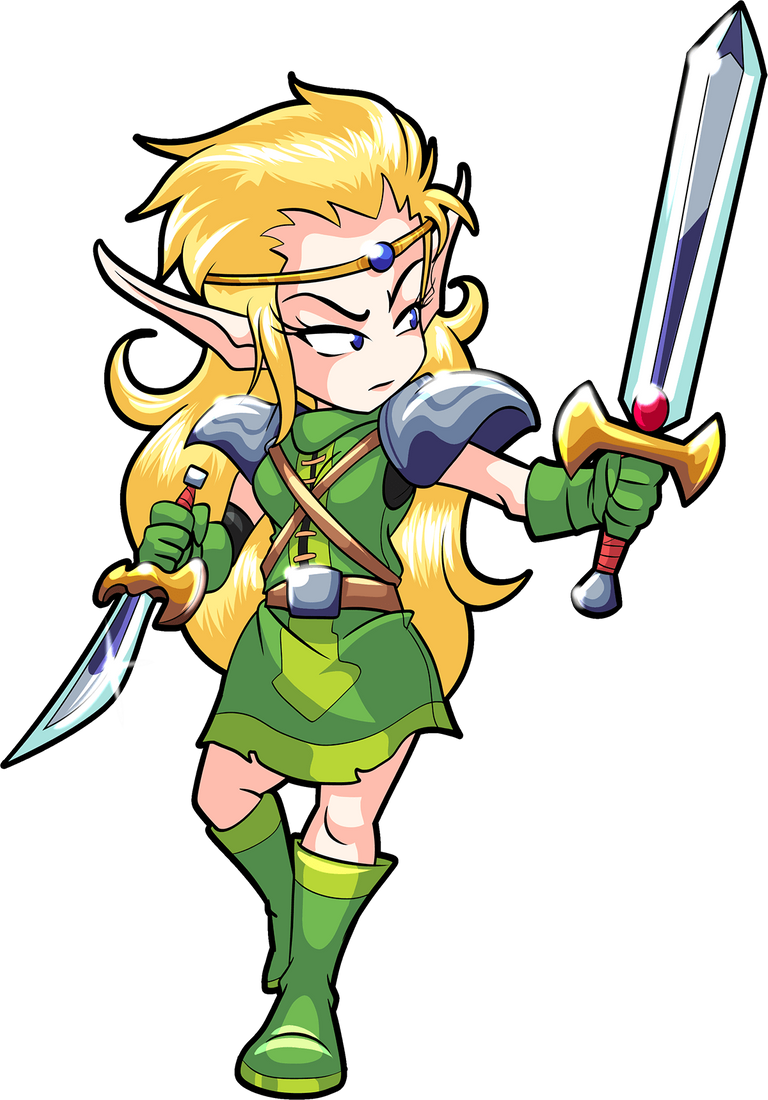 Elvin Cutthroat
At the third place, I used Elvin Cutthroat. My Elvin is at level 8 and he has 3 melee sneak attack at 5 speed with 4 health with sneak ability just like Kobold.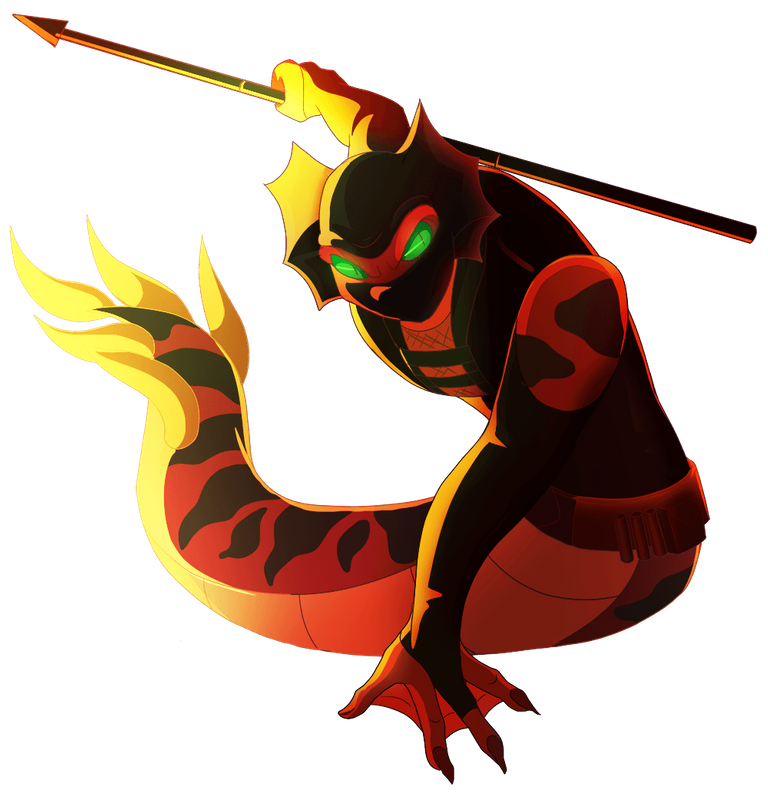 Serpentine Spy
At the fourth position, I used the hero of this battle, Serpentine Spy. I think this place will probably the most secure place for him. As level 7, he possesses 3 melee opportunity attack at 6 speed with 3 health.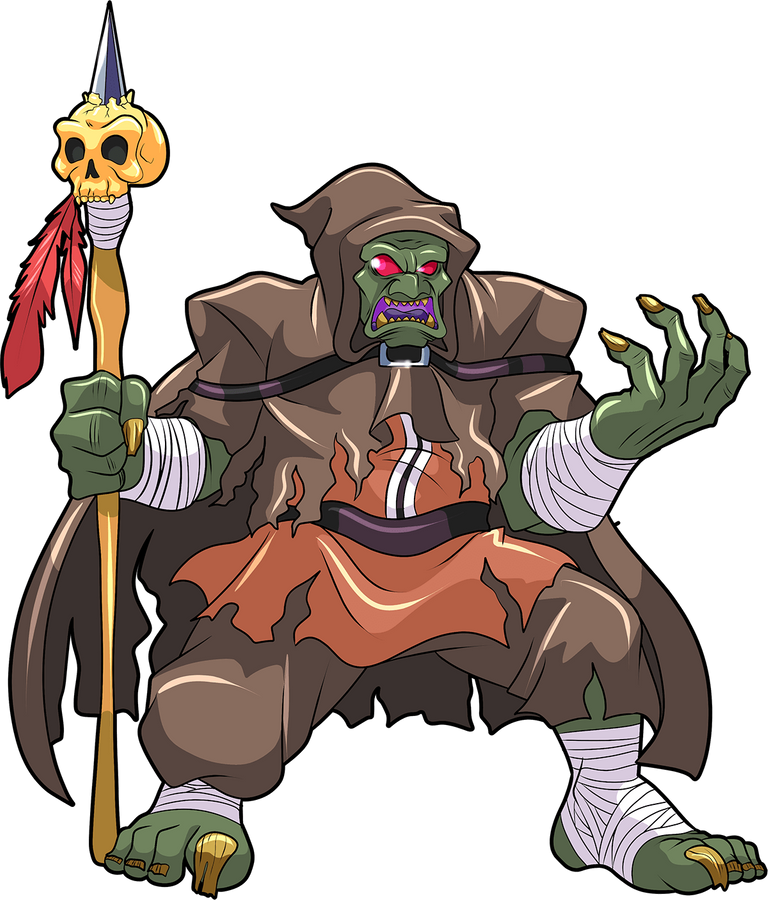 Goblin Shaman
At the fifth position, I used Goblin Shaman with the sole purpose to make the Cocatrice more untouchable. He has two abilities, Slow and Weakens which will benefit me by slowing down their monsters by -1 and also they will get weaken by -1 health.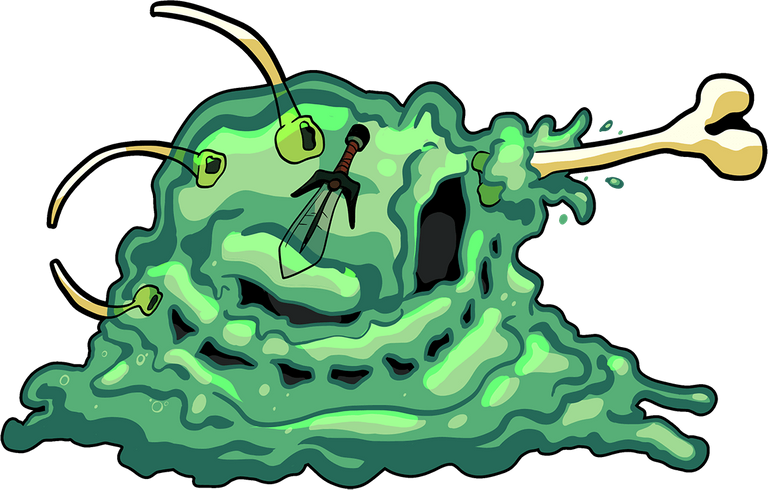 Creeping Ooze
At the last position, I used Ooze as It has only 1 mana left. It will help me by soaking 1 enemy sneak attack and by its slow ability.

Result
---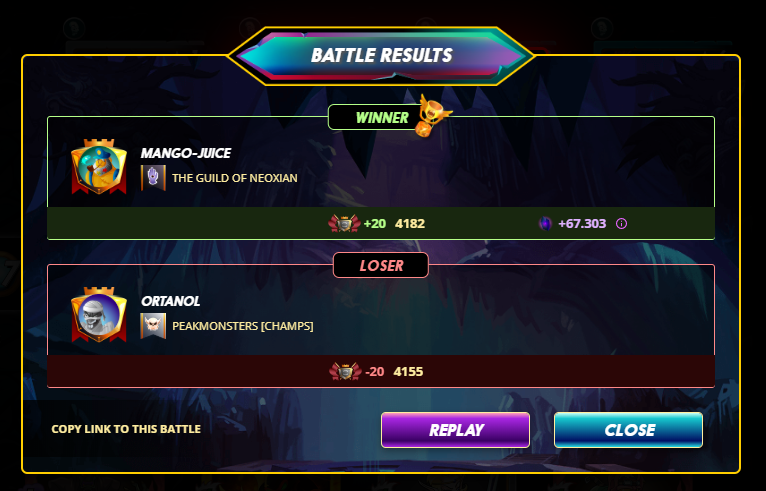 ---
First, let us follow the opponent's line-up...
My opponent @ortanol used Selenia against me.
At the front position, she used Frozen Soldier lev 8. Clearly, a big monster is defending his front but for slow speed, it may miss some attacks against my coca.
At the second position, chicken to soak up 1 attack.
At the third position, he puts Pirate soldier.
A fourth position, he put Pirate archer. Lot's of small archers with Selenia is a nice combo for mini mana matches!
At the last position, he chose Crustacean King to protect his deck with +2 shield. But his healing ability won't work out because of the ruleset.

Battle
---

You can directly view the battle. Just click the hyperlink below.
---
The first advantage I got here is by using my Cocatrice. Opponent's Frozen Soldier got a lot of misses while my sneak and spy were doing their job. With the blazing speed my Serp. Spy was untouchable but it wasted its attack on the chicken. Thou his Pirate captain was able to kill my Shaman at the initial stages, both my sneak monsters killed his archers really fast. It was really a nice match. If I would have used ranged attack I would have lost surely cause of the Frozen Soldier. That monster's Shield is very powerful and a death note to range attacks.
I hope you have enjoyed reading my post. Please let me know your feelings by leaving a comment below.
I also wanna tank to @aggroed @yabapmatt and the entire @splinterlands team for their continuous and tireless effort on this game. You guys rock!!
---
Haven't joined this awesome game yet?? now is the time dude! Follow the link below and get yourself in the amazing world of Splinterlands. Link
---
All the images in this post are screenshots taken from the site below:
Cover picture is made with - Canva

Monster Market:
Want some cashback while buying packs and cards just like I do?
Then Visit Monster market now! It gives instant cashback on card and pack purchases. It is owned and maintained by @zaku and @reazuliqbal, feel free to ask in need.

That's it for today! See you soon in my next post...
---