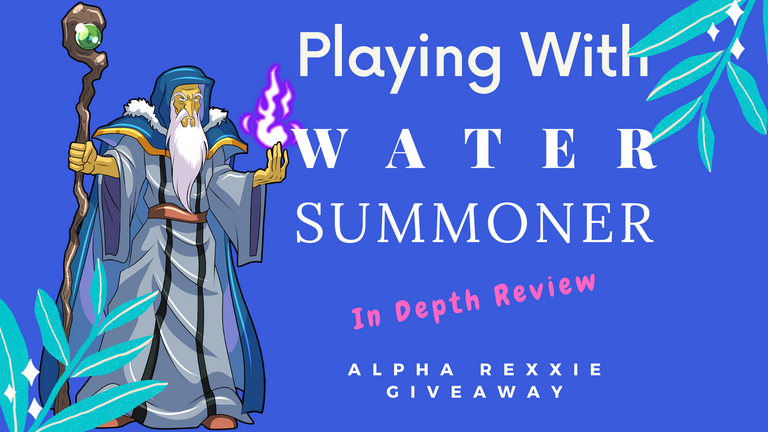 Hello Splinterland Players!
I hope you all are doing well and enjoying Splinterlands
This is my 3rd edition to the Summoners series and today we will talk about WATER! Last week I posted a blog about Life summoner and I hope all of you have liked my post. I received some thoughtful interactions regarding Life splinter. So this week I thought to come up with a new summoner and to continue with my summoner series. We have already covered Death and Life, now I think WATER time has come!
Water is shapeless, it can't be blocked by rusty wooden shields. When Tyrus, the Life king with his army of brawl warriors chose to attack and dominate the water realm, old wizards got awaken by the sea creaturs to save them from this war. Alric, king of the Water world and apprentice os Merlin, gifted the Hydro fighters with magic attacks. A fierce power that directly effects the enemy monster's health and can't be blocked by their useless armours.
If there is fire, there is dark (death) also. Same goes for life it seems as water summoner is purely the anti-power of the Life summoner. While Life summoners give Shields during combat, water summoners provide it friendly monsters with more magic power! To be honest, I am telling that you will not always win with water when fighting against Life summoner. A paladin + Prisma combo can surprise you anytime. On the other hand without any reflect monster Life seems a bit weak against water, especially in high mana matches where you can take your beloved Ruler of the seas, Prisma, Lord, Mermaid or the Kraken!
As for me, I am a big fan of Water decks! They are fast and goes straight for the health. Generally, they ignore shields until it is an xxxxxxxx rule match. Yes, there are some vulnerabilities as no one is perfect rule, but most of the time water works great in the battlefield.
I will be using my heron account @red-dog to play with water summoner as it contains the max beta cards and some reward cards. Thanks to @netaterra for this opportunity to let me play with the deck. Let us see the Water collection first.
WATER COLLECTION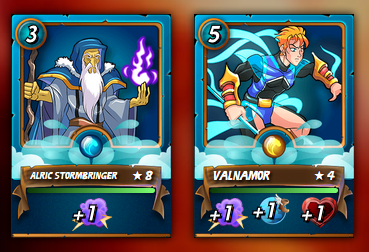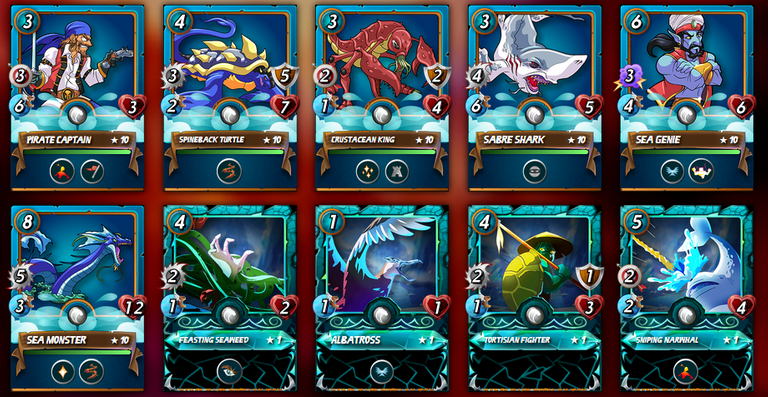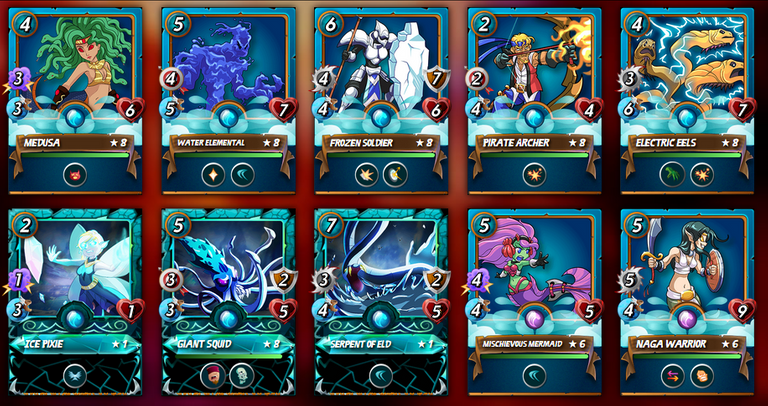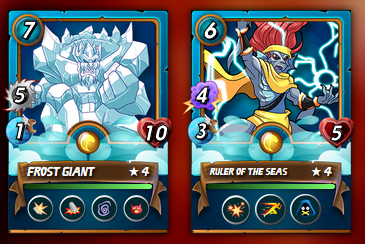 Here, luckily I have legendary Water summoner Valnamore with Alric Stormbringer. Now it's time to take a deep dive in the battleground. Let's see what can I possibly do with the Water Squad!
Battle Link: Click Here
Opponent: @maryincryptoland
Ruleset: Armored Up (+2 Armor to all friendly monsters) + Close Range (Range monsters can attack from the first position)
Mana count: 27
Active Summoners: Fire, Water, Earth, Life and Dragon.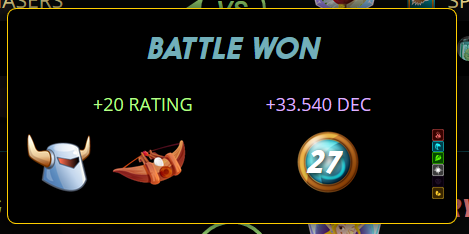 In this match, my opponent was maryincryptoland who is the among the few good players at Splinterlands. I am having a feeling it will be a great match, so let us start thinking now!
Armored Up: If we focus on the ruleset, Armored Up gives your enemy monsters +2 shield each hence they are durable against melee and range attacks. But, they are pretty useless against magic attacks so using water summoner will be my advantage.
Close Range: In this rule, Range monsters can attack from the first position, so they will behave like melee sneak monsters that will not quit when even at first position.
So, we have 27 mana to use, after choosing the Alric summoner and the Lord, I would be using 8 mana and have only 17 mana left. I have to carefully choose the cards so that I can outrun the opponent. My opponent may either use a magic deck or even a range deck. So let's make our deck.
Battle Line-up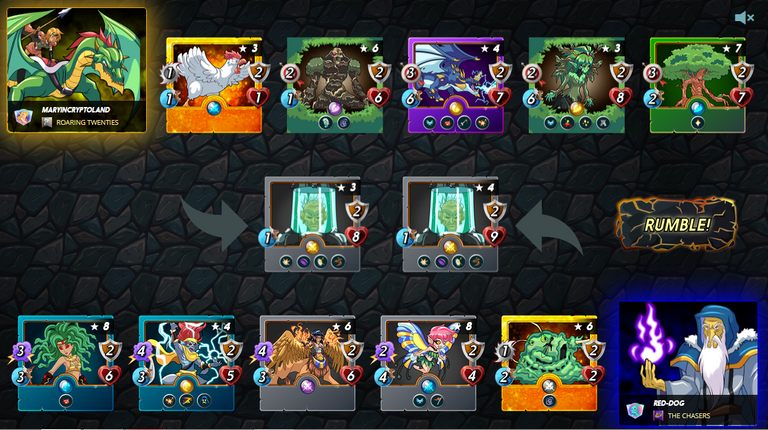 I chose Lord Arianthus level 4 at front defence. At max level, it carries 9 health at 1 speed. It's one of the best tank cards out there and we all know it's reliable. It has 4 abilities, Shield (Take reduce damage from melee and ranged monsters), Void (Take reduce damage from magic attacks), Magic Reflect (When hit with magic, reflects a portion back to the attacker and damage his health) and Throne (whenever got hit by a melee monster, does return damage).
At the second position, I chose Creeping Ooze level 6. Just to defend my next monster in line, I place the ooze. My opponent may use blast attacks so this ooze can help me by taking 1 or 2 attacks. Also, it will help me with -1 speed to opponent monsters.

In the third position, I used Enchanted Pixie. At 3 mana cost, it may be a good option as a water monster with 2 magic attack with 4 speed and 4 health. It has Opportunity ability but I will not use any sneak or brawler melee monster in this battle so this ability will not be used. I generally hate this situation where any ability is not in use but the mana count is low so that's my best option for this match.

At fourth place, I used Magi Sphinx level 6. It offers a giant 4 magic attack at 3 speed and 6 health with no abilities. Clearly, at 5 mana cost, 4 magic attack with 6 health is a good deal right!

I used Ruler of the Seas in the fifth position as it is a gem in the water world. I especially like it for its attractive abilities. At 6 mana cost, this monster offers 4 magic attack at 3 speed with 5 health. It carries 3 abilities - Blast (does additional damage to the monsters adjacent to the target monster), Silence (enemy monsters get -1 magic attack) and Swiftness (all friendly monsters get +1 speed)

At the last position, I chose Medusa. I have only 4 mana left and medusa goes best in this situation. At only 4 mana cost, she has 3 magic attack at 3 speed with 6 health. It carries Stun ability which has a chance to knock out an enemy monster for 1 round!
My opponent here chose Selenia Sky, the Dragon summoner which increases all friendly monster's range/arrow power by 1. Clearly, the Close Range ability will be in his favour. He chose Lord at the front, followed by Furious Chicken, Swamp Thing, Lightning Dragon, Spirit of the forest and Earth Elemental at the least position.
Battle Result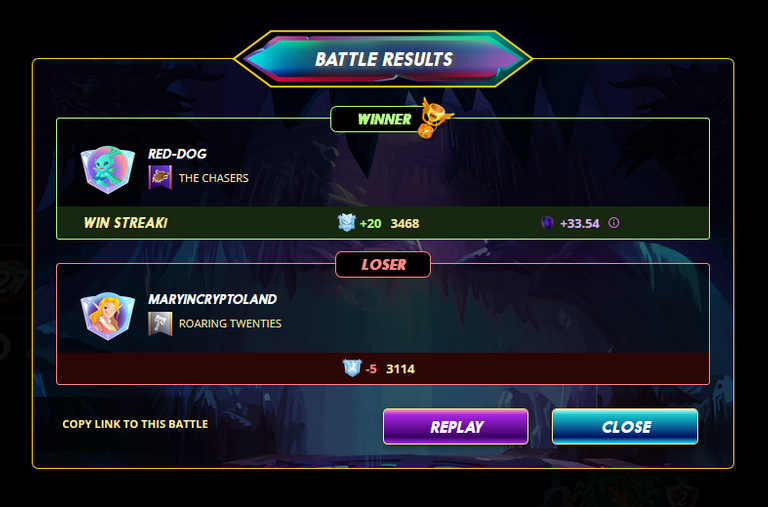 Well, the luck of this match was on my side and I managed to win this battle. My opponent used some of the best range monsters such as Spirit of the Forest and Lightning Dragon etc. But my Magic Deck was fast enough to get them down 1 by 1.
At the first round, his Chicken got killed by my Ruler's blast attack and his Lord got killed by my Magi.
At the second round, My ooze also got killed by his lightning dragon's blast and then my Pixie. But meanwhile, I was able to kill his Swamp thing.
At the third round, most of the monsters got killed leaving behind only my Ruler and Medusa and the opponent's Earth Elemental.
At the last round, both my monsters blow the last enemy out and I scored a win from this one luckily.
It was a high-level match, most of my monsters were half dead after the first round because of the opponent's Lord. But they managed to stand back and took down the giant rangers one by one.
Undoubtedly, the Armor up rules has helped me a lot from those fierce range attacks while my magic warriors were doing their job. I really liked the battle and I hope you all have enjoyed too.
I really enjoyed writing this post and I will be pleased to know all of your feelings.
Do you like Water monster, if not then What is your favourite monster?

What summoner Do you want me to use in my next post?

What is your best Water monster and why?
Please let me know your feelings by leaving a comment below. I am putting a little gift for the best comment on this post. I will give one alpha Rexxie card to the best comment according to me upon the payout of this post.
Winner of Alpha Goblin Shaman
---
I am very happy with the heartwarming replies from all my friends from my previous post Playing With Life Summoner - In-Depth Gameplay Review : Alpha Goblin Shaman Giveaway

Thank you @hydrodino @carrieallen @comule @sayee @xabi. I have decided to randomly pick a comment winner using Wheel.
---
---
---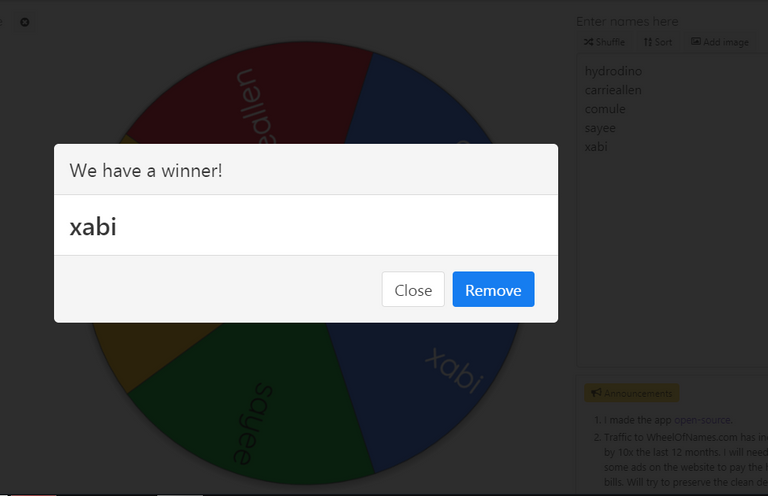 ---
---
Congratz @xabi! I have already sent you the card!
---
Last but not least, I really wanna cheer @aggroed @yabapmatt and the entire @splinterlands team for their continuous and tireless effort on this game. You guys rock!!
---
Haven't joined this awesome game yet?? now is the time dude! Follow the link below and get yourself in the amazing world of Splinterlands. Link
---
All the images in this post are screenshots taken from the site below:
Cover picture is made with - http://canva.com
#POSH - You can check my twitter handle at the comment section of this post.

Monster Market:
Want some cashback while buying packs and cards? Visit Monster market now! It gives instant cashback on card and pack purchases. It is owned by @zaku and @reazuliqbal.

If you like my post, please do leave a reply.
That's it for today! See you soon in my next post...
---