**# Starter Pack Expirament Status Update 27 | Daily Rewards | Card Sales | League Status |
Into Post, Update 1,Update 2,Update 3 Update 4, Update 5, Update 6, Update 7, Update 8, Update 9, Update 10. Update 11, Update 12, Update 13, Update 14, Update 15, Update 16, Update 17, Update 18, Update 19, Update 20, Update 21, Update 22, Update 23 Update 24, Update 25, Update 26
This project is to see what is possible from a starter deck only, with no investment other that what is earned in game. The project was started on 1/9/2019 and is still running strong.
Recap of prior season ending
TLDR
Season Status: Gold 3 - the end of the season keeps sneaking up on me
DEC Balance: 6500?
Potions/Orbs: None
Daily Rewards from last season 68 cards
Highlights - High value cards
LEGENDARY Lord Arianthus
LEGENDARY Gold Dragon
GOLD Wood Nymph
5 EPICS!!!!
Holy Smokes, two legendary and a Gold in the regular season. This is a massive hit for me and will really help now that my Lord A is a level 3! Harder to upgrade with the price increase! You can't find these for less than a dollar anymore! I killed it for 68 daily quest cards!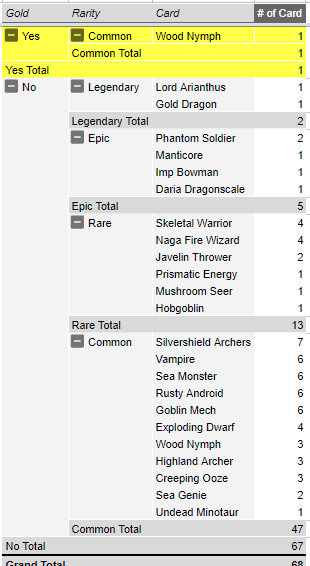 Season Rewards from 7/1/2019: 22 Cards
Highlights - High value cards
LEGENDARY Ruler of the Seas
GOLD Goblin Mech
EPIC Divine Sorceress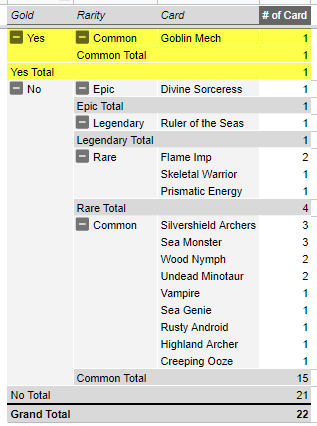 My luck continued - another legendary and a gold foil. While the EPIC cards used to be a non even, they push about 1 STEEM these days and are great to sell for more beta cards.
Life Time Deck Hit Rate

Legendary rate is creeping up towards 1%! Gold rate is just under 2% - bring more on - and lets combine the two!
Sold Cards | 0 STEEM | 0 SBD
I didn't list or sell a card.... I already had more STEEM than a plan - and still do. My biggest struggle is with the new costs, where do I focus. I was going to be buying some of the rare beta cards that would help like Earth Elemental, but that would require to level up my summoner before I get heal...
Not selling for a few seasons leaves me with a lot of cards....
Purchased Cards 0
Like I mentioned above, I feel a bit lost... but I have a war chest of STEEM
Total Bought/Sold and Balances
#Cards Sold:628 (back out SBD and DEC exchanges)
STEEM Balance:19.56 (Missed a DEC exchange last season)
SBD Balance: .676
DEC Balance ~8500





Total Award Cards
Cards 876
Legendary 9
Gold Foils 15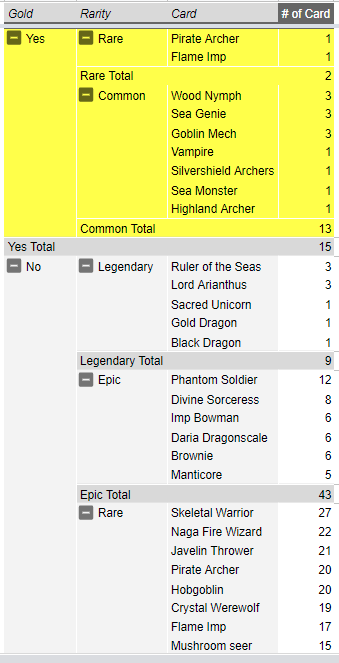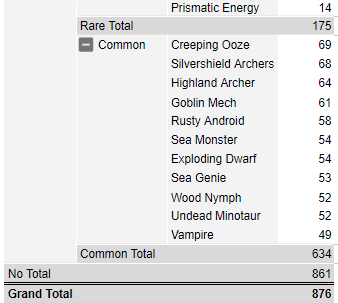 Dark Energy Crystals
DEC is giving me a tremendous amount of STEEM to upgrade with. This really shows just how much you can grow your deck or power up!!
Summary.
DEC keeps building, I am close to 8500 at the time of this post, that is about 24 STEEM ,and while cards have gone way up, I think I am still way ahead! This will give me over 40 STEEM to shop with... KA BOOM. Time to upgrade.
If you want me to write something about playing from a starter deck let me know.
If you know someone new to SM / Splinterlands feel free to show them this series to show what you can do over time to a deck if you focus on it.
This give me a deck with a value of around $100... plus over 40 STEEM liquid Not bad for a $10 investment and 6 months worth of grinding. The best part is as I play, it will just keep going up for now!
Check out my primary account @senstless progress - constant investment and hoping for glory!!
Want to get in the game - join via my link!
https://steemmonsters.com?ref=senstless
Monster On!
Follow me on Weku
Follow me on Steemit
Follow me on Whaleshares
Follow me on Trybe