**# Starter Pack Experiment Status Update 28 | Daily Rewards | Card Sales | League Status |
Into Post, Update 1,Update 2,Update 3 Update 4, Update 5, Update 6, Update 7, Update 8, Update 9, Update 10. Update 11, Update 12, Update 13, Update 14, Update 15, Update 16, Update 17, Update 18, Update 19, Update 20, Update 21, Update 22, Update 23 Update 24, Update 25, Update 26, Update 27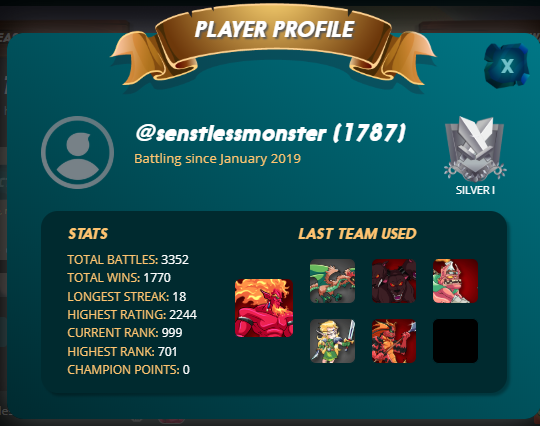 This project is to see what is possible from a starter deck only, with no investment other that what is earned in game. The project was started on 1/9/2019 and is still running strong.
Recap of prior season ending
TLDR
Season Status: Gold 3 - the end of the season keeps sneaking up on me
DEC Balance: ~0 I think I cleared it out
Potions/Orbs: 1 - finally got my first
Daily Rewards from last season 57 cards
Highlights - High value cards
Gold Foil Creeping Ooze
Epic Phantom Solider
I knew a fall back to earth was due after the prior season full of Epics and Golds. This wasn't bad, just not very moving! I also took longer to hit Gold, and had a dozen less cards this season.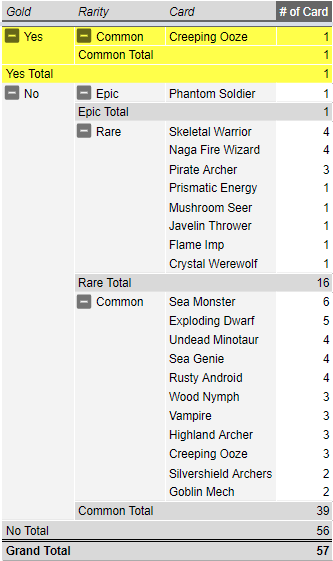 Season Rewards from 7/15/2019: 22 Cards
Highlights - High value cards ~ None ~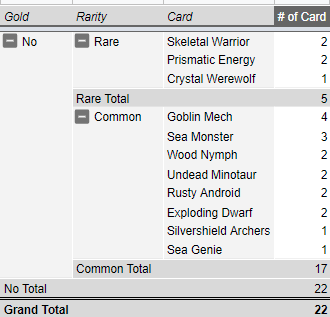 I will take the Rare cards, and I guess they all have value but man, the Daily rewards and DEC are way more important to me than the season ending rewards.
Life Time Deck Hit Rate
Looks like I am tracking right on target and can't wait to catch up on Gold!!! As I get more and more cards, these could pull even closer to the averages. So far so good!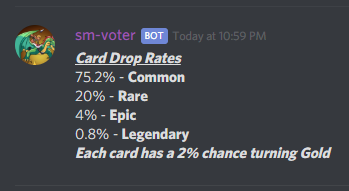 Sold Cards | 0 STEEM | 0 SBD
I did not sell. The price of STEEM plus lack of direction. I want to look into leasing, and will see what I can get for possibly 2 Summoners. My only concern is to overplay my other Splinter and not get a few dailys in.
Purchased Cards 0
Like I mentioned above, I feel a bit lost... but I have a war chest of STEEM
DEC - Sales
I sold 10k in DEC for 28.44 STEEM, this has added to a crazy pile of STEEM I can't seem to decide what to buy. Do I pull Death up to the same level, or start making the push for Earth and Water to go to level 5 summoners!
ORBS
I finally bought my first ORB! Not too bad, although I may just buy the cards going forward with STEEM.


Lifetime Total Bought/Sold and Balances
#Cards Sold:628 (back out SBD and DEC exchanges)
STEEM Balance: 47.716 (Missed a DEC exchange last season)
SBD Balance: .676
DEC Balance ~0






Total Award Cards
Cards 938
Legendary 9
Gold Foils 16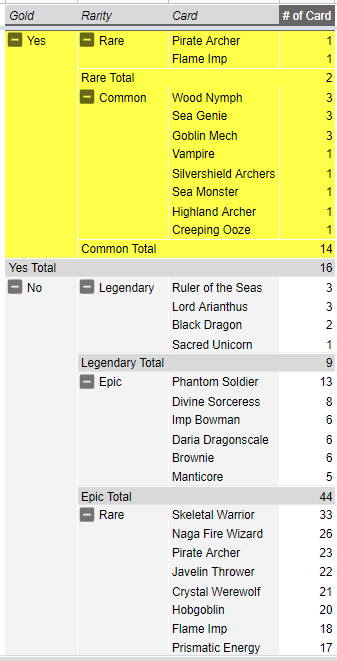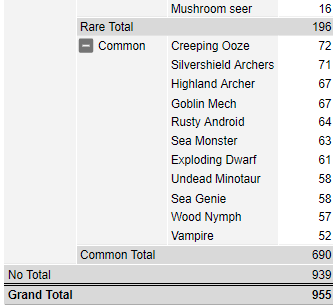 Summary.
DEC is giving me a ton of STEEM. Only problem is cracking more growth. I need to figure out the rental market, but I when i have looked there is not much out there outside of Max. I need to find a way to keep moving up, and I might just have to buy a few summoners. I hate spending so much STEEM since prices just keep falling, but if I stand still, I will get passed and not even make GOLD soon. I need to get level 5 summoners and then work on the BETA cards to help.
If you want me to write something about playing from a starter deck let me know.
If you know someone new to SM / Splinterlands feel free to show them this series to show what you can do over time to a deck if you focus on it.
This give me a deck with a value of around $100... plus over 40 STEEM liquid Not bad for a $10 investment and 6 months worth of grinding. The best part is as I play, it will just keep going up for now!
Check out my primary account @senstless progress - constant investment and hoping for glory!!
Want to get in the game - join via my link!
https://steemmonsters.com?ref=senstless
Monster On!
Follow me on Weku
Follow me on Steemit
Follow me on Whaleshares
Follow me on Trybe