Nothing ventured, nothing gained...
My dad would often use that phrase. So I figured I would go ahead and make a submission to the Splinterlands' Art Contest! There has not seemed to be much participation so... maybe I might win a prize!
I just recently won some really nice stuff from the Basic Attention Token (BAT) Community during their Twitter contest:
A nice gaming laptop backpack
A water bottle with the BAT Logo
Some BAT stickers
A gray T-shirt (XXL of course) with their logo!
Well, enough about that, let's make sure I have completed all the entry rules...

✅ Post your creation on your own Steem account...
This is my original creation, a neat little gif. You can access the file by clicking on the gif below and right clicking your mouse to copy the address of the file or download to your device.

Source:   @sgt-dan's account on giphy.com
Uh oh! I forgot to add the movie file! Had to update this post! Here is the mp4 version...
https://oldsargememes.tumblr.com/post/188741329663/splinterlands-created-by-me-using-blender
ANOTHER UPDATE:  Just wanted to mention, if you use the gif above, would you give me attribution for its creation? This is an attention economy afterall!
---
✅ Please describe and show some steps of your process...
Well, to begin my process I had to have two cheese sandwiches...
Being as I have limited financial resources, I use a great deal of open source software.




By clicking on the images above, each will link to that softwares website where you may download the applications for free! All three applications; blender, gimp, and inkscape have a GNU license.
Below are some screen shots of my work...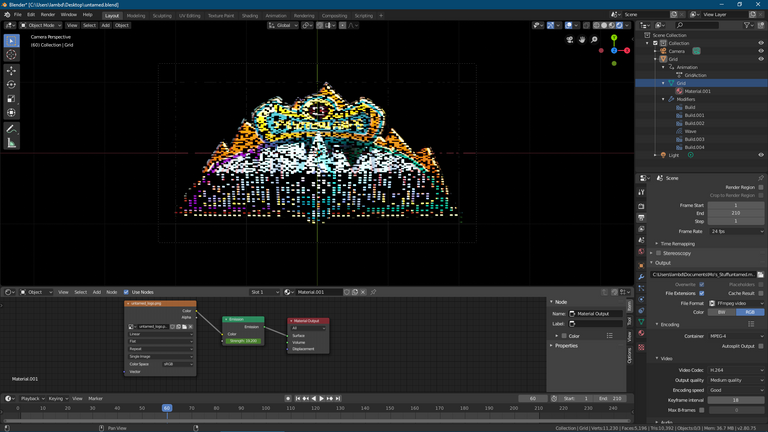 It would take a great deal of time to explain what I am doing in this shot working with different types of nodes, grids, modifiers, constraints and stuff.
Although I did have some educator courses in seminary, I tend to be long winded and not a very good teacher, the earmarks of any successful Baptist Preacher. There are many videos explaining the use of CGI software, that is how I learned!
I have been using Blender for a quite some time and even helped @molovelly by animating her stop action animation video using this outstanding (did I mention free?) software.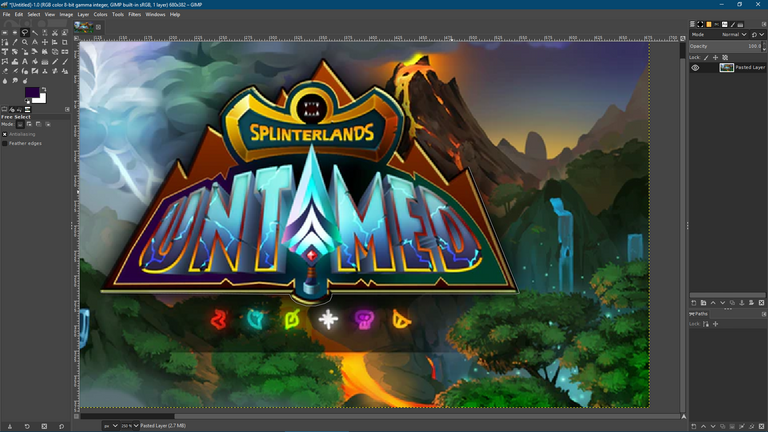 In this screenshot I am using the lasso tool in the GIMP software to modify an image I found on the Splinterlands Kickstarter Campaign page. This is the image I manipulated in the above Blender screenshot.
✅ Link your post in the comments of the Splinterlands' Art Contest submission post
As soon as I am finished this post I will do the above. I just checked it green for continuity.
✅Upvote/resteem this post
I resteemed it today and gave a 100% upvote. I wonder if that will get me points with the judges?
✅ The Deadline for submissions is Saturday, November 2nd at 10:00 PM CST
I am a day ahead! Not bad for this infamous procrastinator.

I hope you enjoyed this post and that it was helpful. I am looking forward to see who wins the prizes! As always, here is wishing you and yours...