Although I have not built-up a strong Fire Team, whenever I call them to battle I often use the Rare Fire Monster PIT OGRE!
In the battles below, he is at Level 4 with two abilites- Stun and Enrage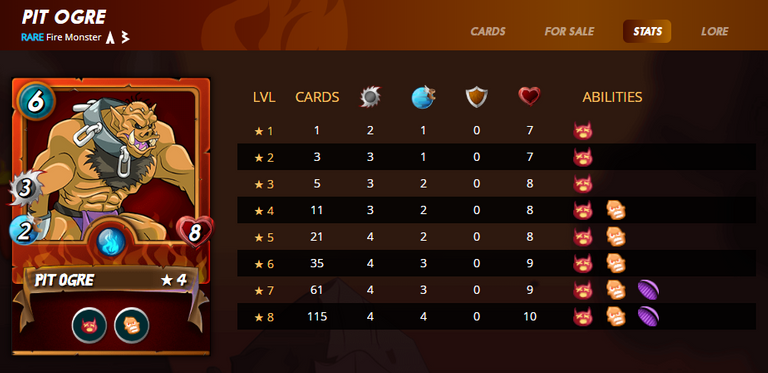 ---
* * * * *
General strategy
I have used Pit Ogre in all Manas, from a low 13 mana battles to average mana battles of 20s & 30s, as well as high 99 Mana battles. I've included three battles below to show that.
1. In all three batles, Pit Ogre is in the first position. However, I have used him at the second position as the immediate replacement Tank, in the middle back position, as well as at the last position of battle lineups. It is my experience that Pit Ogre is most effective as a Tank or as an immediate tank replacement such as when Furious Chicken or Gelatinous Cube or any similar strategy is being utilized in a battle.
2. A Special Note: Pit Ogre has Melee attack and his abilities, even at the maximum level, do not empower him to attack from the back positions. So unless the Ruleset is or includes Melee Meyham or Super Sneak, Pit Ogre is powerless in the back. His Stun ability is usable only when he attacks. At Level 4, he does have the ability to increase it's Melee attack if he gets damaged (Enrage), but in so far as being able to hit any target from the back position, he is powerless.
3. For Pit Ogre's longevity in battle and when there is sufficient Mana available, I always include in the line up the RARE Fire Monster Beetle Queen, which at Level 5 has the Heal ability.
4. A good winning strategy for any battle is to have in the second position a strong replacement tank, and one that has the ability to attack from the second position. In battles 2 & 3, I used Manticore. In battle 1, I used the Imp Bowman (crossing my fingers that my team wins the battle without losing Pit Ogre!). Some may say that I should have used a low mana Monster with either a Melee attack or a Magic attack. It wasn't like I did not think of using Kobold Miner or Cocatrice. I chose the Imp Bowman in battle 1 for both his power 2 attack his fast 4 speed.
* * * * *
Did my strategy work?
Of course it did 💪... the proof is in the win, 😜 LOL!
---

Okay... let's get to the battles! Please click the photo or the battle description to view the battle. There is also a link provided on the bottom of each photo.
This is my entry to @splinterland's SHARE YOUR BATTLE Weekly Challenge which you can read about HERE.
Enjoy!!!
WATCH PIT OGRE in THREE BATTLES!
* * * * *
Battle No. 1: Mana- 13; Ruleset- FOG OF WAR/EVEN STEVENS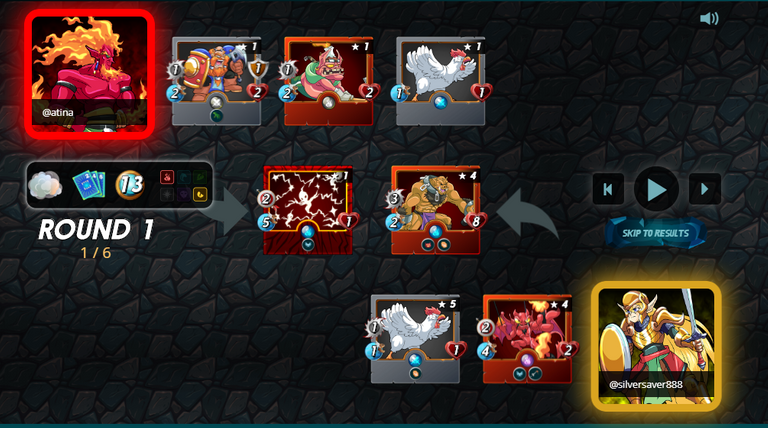 Link to above battle.
---
* * * * *
Battle No.2: Mana- 22; Ruleset- SILENCED SUMMONERS/MELEE MAYHEM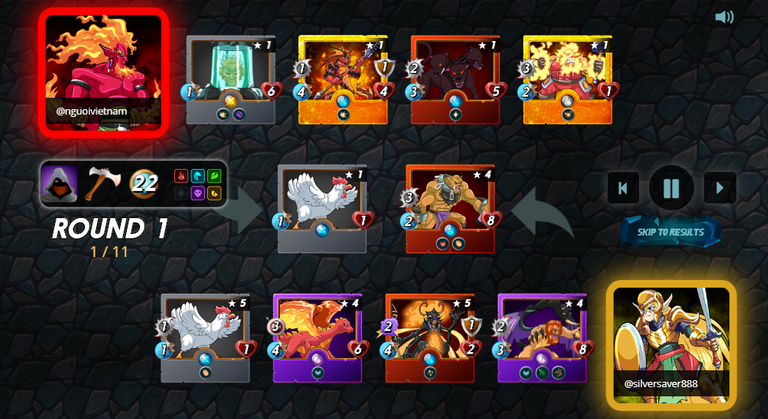 Link to the above battle.
---
* * * * *
Battle No.3: Mana- 99; Rule- WEAK MAGIC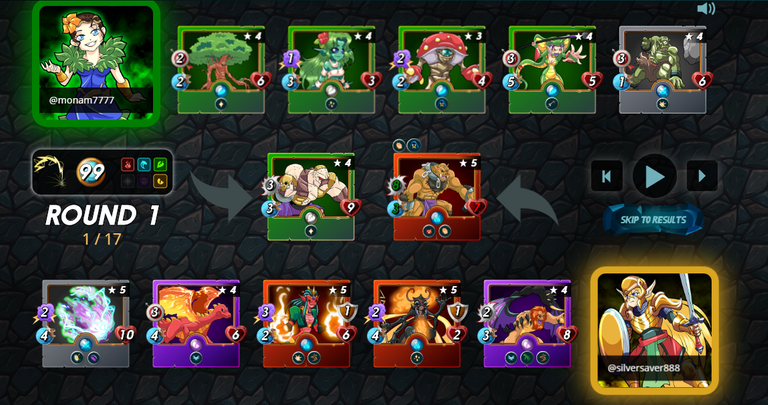 Link to the above battle
---

I am a visual learner and understand better about how the cards behave and perform in battles by watching all my battles from start to finish. I hope that you enjoyed at least one of battles above and that you likewise learned something from it as much as I enjoyed sharing it with you!
In case you are interested, here are the other Splinterland Battles I previously shared.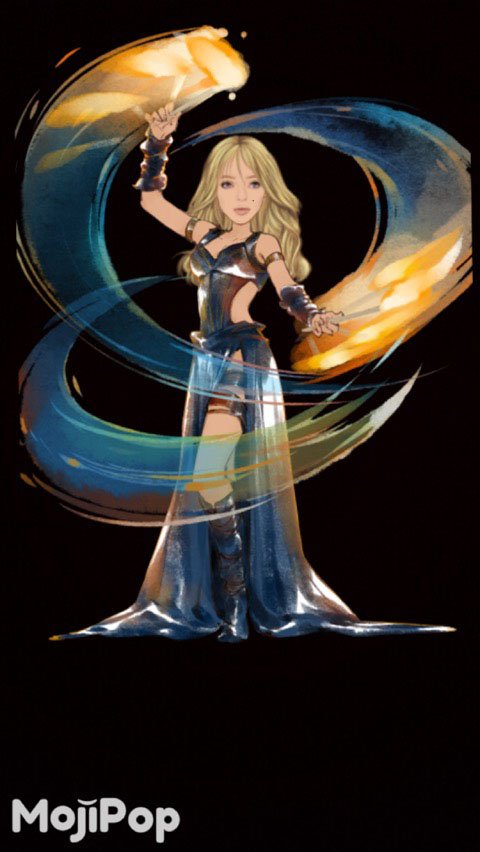 ---

In your comments below, please feel free let me know if you have any other suggested card positioning or drop me a tip or two that could help me and others play the game better.
I am TOTALLY having so much FUN getting into the challeging game of Splinterlands! I want to thank @aggroed and @yabapmatt for creating such a fantastic game and another good way to build a bit of NFTs. Keep it coming!!!
Thank you also to @clove71 and @carrieallen whose comments have been a source of encouragement for me.
Thanks also to @stokjockey, @senstless, @welshstacker, @mattclarke, @cryptoFrancois, @grapthar, @jonnyla08, and @anouk.nox.spt for the continued help and assistance, and for all Splinterlands gamers who regularly post articles.

I have a passion for stacking silver & gold, home-cooking and travel. And now, I love battling in Splinterlands! Follow me my journey.
Thank you for viewing this article. I will see you again soon!

@silversaver888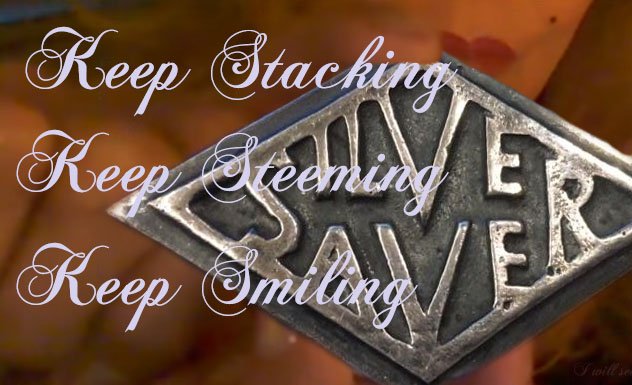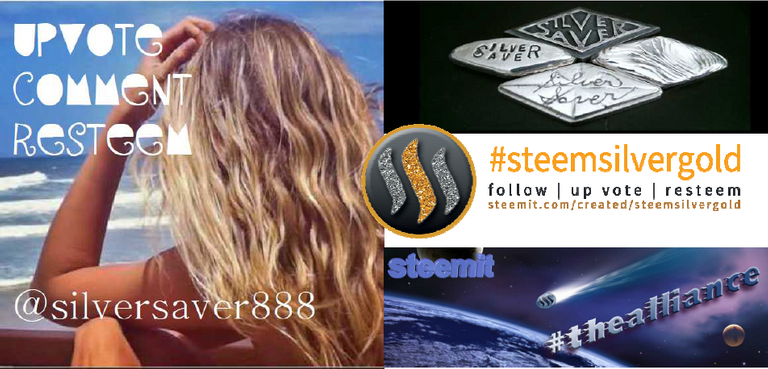 ---
GET IN THE GAME!!!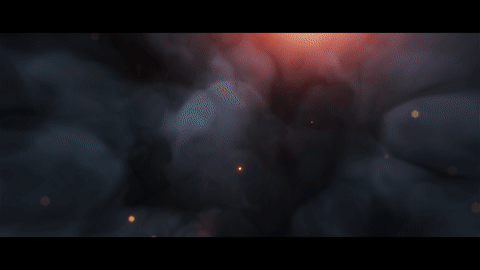 GIF Source