The very first tournament for all the Team Possible Splinterlands guilds was quite a success. The participants had fun, what more could we have asked for?

Graphic created with The Logo Creator Software
Team Possible
Team Possible currently has 9 different guilds in the Splinterlands game.
We have free, low level guilds for new players, different higher level guilds for more experienced players, all the way up to a guild for Champion players, that is currently ranked 6th in the overall list.
(If you're interested in joining one of our guilds, feel free to join our Discord server and ask for more info.)
In spite of the fact that players are spread over the different guilds, we consider every single guild member as a part of the Team possible family. And what better way to create a feeling of unity than to organize a tournament in which all people of all Team Possible guilds were welcome.
Since @royaleagle and myself have our birthdays on the 28th and 21st of March, this seemed like the perfect opportunity to go ahead and host a big Birthday-tournament.
The Tournament
Since we have new players as well as top players in our guilds, we decided to host a Silver league tournament to even the playing field a bit. New players with a deck that wouldn't be competitive in Silver could request to get a delegated deck assigned to them, so they would at least have a chance.
We asked people to register for the tournament, so we would know how to distribute the prizes.
42 people registered, but in the end only 34 people actually participated.
To make sure that our top players wouldn't win all the big prizes, we decided to set up a completely random list of prizes, with the top prizes for 21st and 28th spot (our birth dates).
From the reactions we've got on Discord, I can only conclude everyone had a fun experience, so I think I can say that we accomplished our mission.
Prize List
As I mentioned above, the prizes were completely random. You could finish in 16th spot and get a bigger prize than when you would have finished in 3rd spot.
We did this to motivate everyone, and make sure the newer players also had a shot at winning a great prize.
The final prize list and the winners: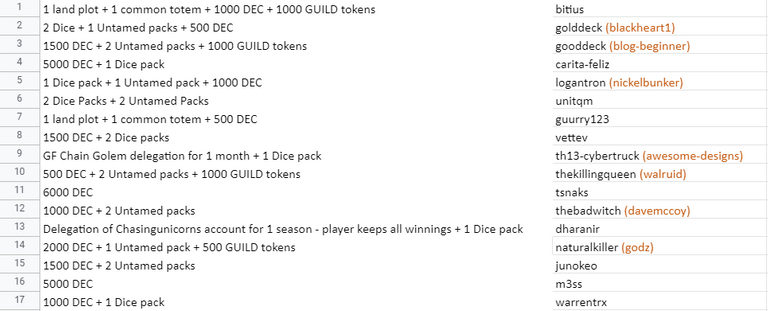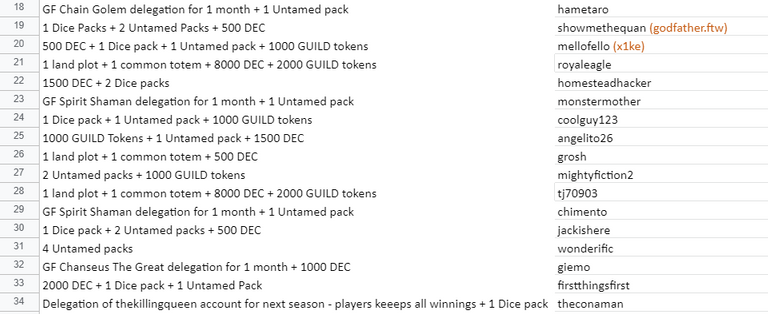 Congratulations to everyone, and thanks for participating.


I'll start sending out the prizes right after I have published this post. It might take some time, though, there's a lot to be sent out.
I hope you all had fun, and who knows we might repeat this some time in the future.

Graphic created with The Logo Creator Software