4 days ago, I published a contest in which you could win a free delegation of a gold foil promo card for the entire length of the Steemmonsters season. Time to announce the winners!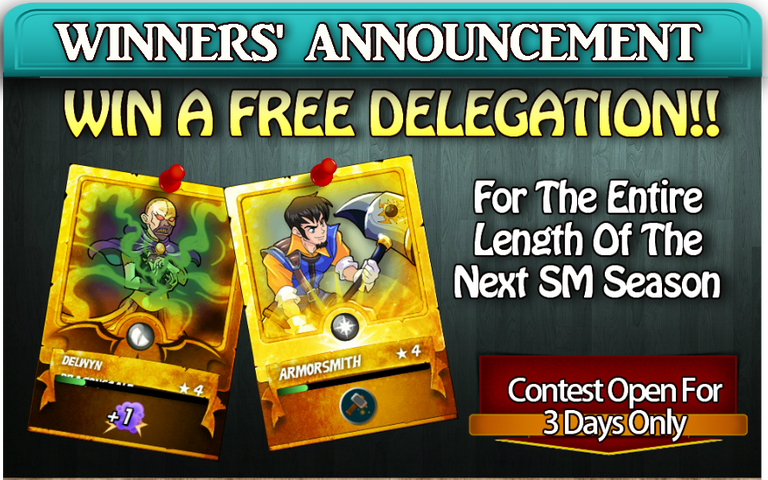 Source 1 - Source 2
Why Gold Foil Promo Cards?
It' simple, in ranked play, you can accumulate a lot more DEC if you play either gold foil or promo cards. Playing the combination of both, gold foil promo cards is even more rewarding.
Since I was stupid enough to burn almost all my gold foil cards when DEC during the DEC-craze, and the level of my deck is too high for these guys to be useful, I decided I could just as well make 2 people happyt by delegating them for the entire ongoing season.

The Contest
Entering the contest was easy. All you needed to do was leave a comment in which you told me which of the cards you would prefer, ánd tag a felllow Steemmonsters player.
They don't come any easier than that.
However, you could increase your chances on winning by upvoting and/or resteeming the contest post. These actions would each give you 1 extra entry in the draw.
There weren't as many participants as I had expected, but that was good news for you. The less participants, the bigger your chances on winning.
Participants who preferred the Derwyn Dragonscale card:
@travoved
@mighypanda
@knowledge-seeker
@axeman
@indianteam
@gillianpearce
@hmayak
Participants who preferred the Armorsmith card:
@guurry123
@gatolector
@cicisaja
@minloulou
@publicumaurora
@hashzone91


I was happy to see both cards were equally popular. :0)

The Winners
I won't take up more of your precious time and go over to the announcement of the participants who will receive a delegation of either Delwyn Dragonscale or the Armorsmith for the entire length of this season.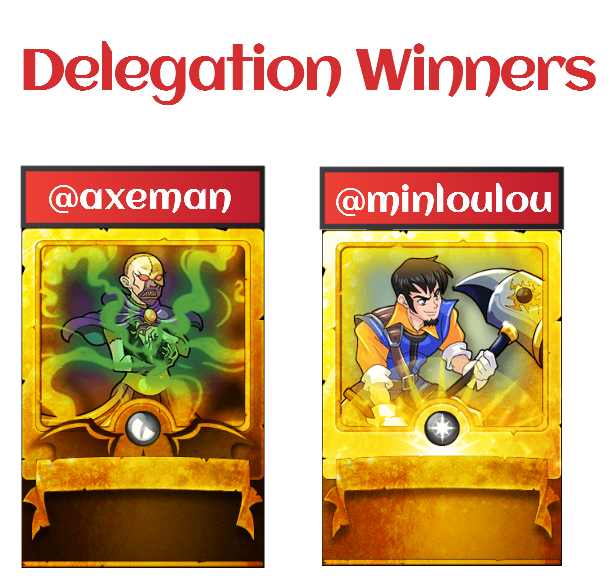 Source
Congratulations!!!
The cards have been delegated to your accounts. I hope you'll be able to make the most out of it!
Please note: the delegations will be retracted when the current season ends.

Steemmonsters Tips & Info
[VIDEO] Steemmonsters 101
- A Steemmonsters introduction video with links to the best beginners' tutorials.
Steemmonsters - Sneak & Snipe 101
- A post that explains how the Sneak and Snipe-abilities work.


SteemMonsters Tip: Leveling Up With Cards In Cooldown
A tutorial that shows you how to use the serial numbers of the Steemmonsters cards to make cards that are in cooldown playable again.*
Don't have a Steemmonsters account yet?
Create one by clicking the banner below:
Source

DICLAIMER: This post contains affiliate links

Graphic created with The Logo Creator Software
Subscribe To RSS Feed | Subscribe To Newsletter