Guys, you won't believe this, but I had never joined an @steemmonsters tournament until 23 hours ago! This all has to do with the amazing @steemmonsters team plus @blocktrades sponsoring one @steemfest ticket including accommodation (!) for the winner of the tournament on August 11th. Yesterday's tournament was sort of a placement session, whereby the 8 'best' players continue to The Big Match on August 11th.
There are three more rounds that you can still join if you want to be a contender for one of those juicy @steemfest tickets as well: read @anomadsoul's post for all the details and dates.
1st Qualifier: July 14th at 22:00 UTC
2nd Qualifier: July 21st at 17:00 UTC
3rd Qualifier: July 28th at 12:00 UTC
4th Qualifier: August 4th at 7:00 UTC
As I mentioned in the last post, having some financial 'luck' this time around is needed if I want to make it to Bangkok. Now two amazing Steemians have showed amazing support and are willing to donate me some of their hard-earned STEEM to help me get there - but next to that, having ticket and accommodation in the pocket would make my doubts about going to Bangkok in November turn from a 'hmmm maybe' to a definite 'yes'. So of course I had to try!
So how did it go?
---
Well, apparently very well! I didn't know exactly what to expect, but the steemmonsters.com website (ref link) pretty much takes you through the whole set-up quite intuitively: you sign up beforehand, you check in 15 minutes before the tournament starts, and after a count-down, you'll automatically get matched with a player. After 3 rounds (sometimes only 2 rounds are necessary) you continue to the next round or can stop playing because you lost against your opponent. You'll get matched with another opponent and play another 3 rounds. And so on...
I ended 6th yesterday, which secured a spot for The Big Match \0/
Will I win?
---
Probably not, people like @louis88 are very fanatical and experienced players, and I'd have to win from him at least to be named best player and win the price. But, one thing that the organizers did well is to cap the placement rounds at Silver Rank and not allow Legendary cards, so more inexperienced and less 'card wealthy' players have a change too. In the end, a small amount of luck comes in play in this game as well, so...
I think it's worth a try.
I have no idea yet on the rules for The Big Match on August 11th, but I'm hoping they keep these reasonable as well so there's a shot for everyone to win fairly.
The only worry I have for now is that the price/ticket is non-transferrable and there's no way to know or check who the players are and if they are indeed planning on seriously going to Bangkok after winning. So that's something for the organization to figure out on checking, maybe before handing out the price, and if the winner declines, it goes to the one in second place, etc.
Some screenshots from playing a tournament
---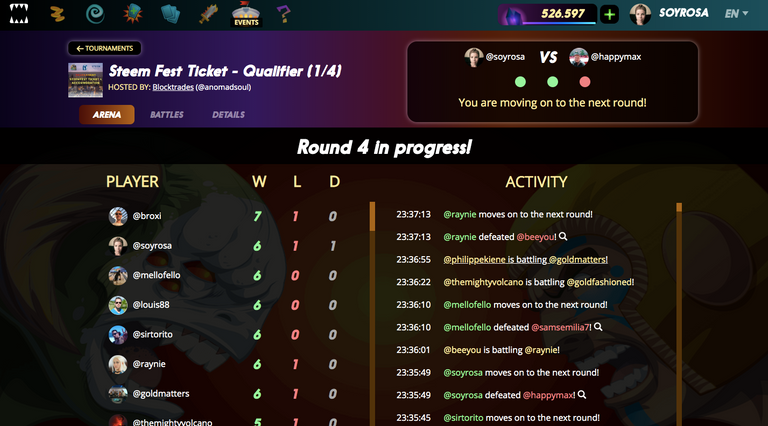 Lost one game, won 2, went on to the next round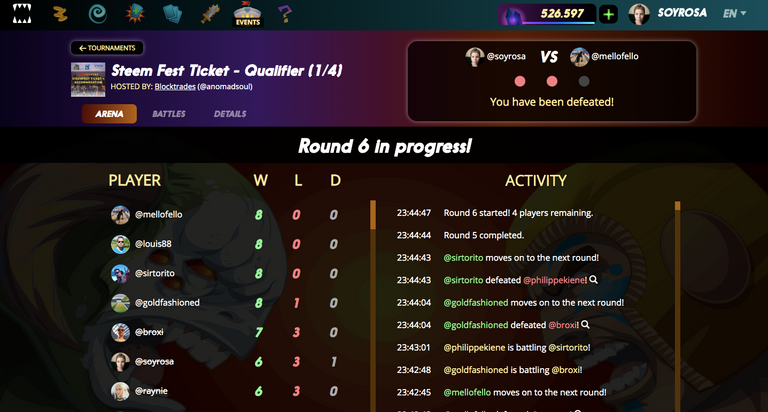 Lost 2 - game over - but I made it to the Top 8 which was all that was needed. FOR NOW.
---
Long story short: if you're planning to go to SteemFest but could use a bit of financial support join the tournament on steemmonsters.com (ref link) and see if you can get lucky!