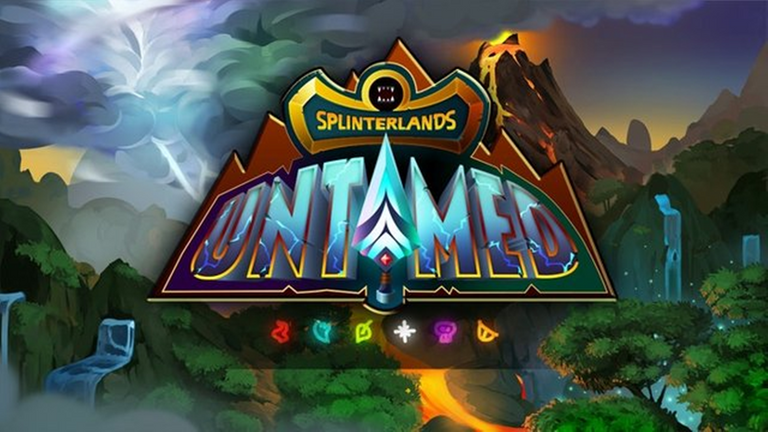 It is time to look at the big boys that the team got. The Epic cards have been very good in this set. While the Legendaries are also strong they all cost 10 so much harder to use. I will now go over these 3. No contest to payout yet but still give me some feedback. I will pick one random person that does this to win 500 DEC. I am really enjoying this game and hope you are thinking about playing.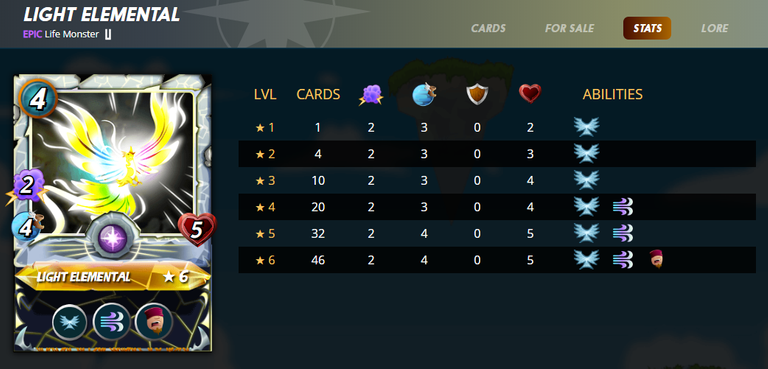 Light Elemental is a very nice addition to the team. Life had a lack of mages and this one is good. It seems to be an anti range card. WIth headwinds and blind and flying all are set to make it harder for the ranged units on the other team. The flying is also nice for a team that was missing good cards for earthquake mode. The magic damage is a little low. The card should still get some play due to the lower cost for an Epic card. With status effects that will hurt the other team a lot. The card won't help a lot till level 4 due to that being when it gets headwinds. Overall I like the card but it isn't super powerful. Don't sleep on blind because I have seen it make a lot of attacks miss.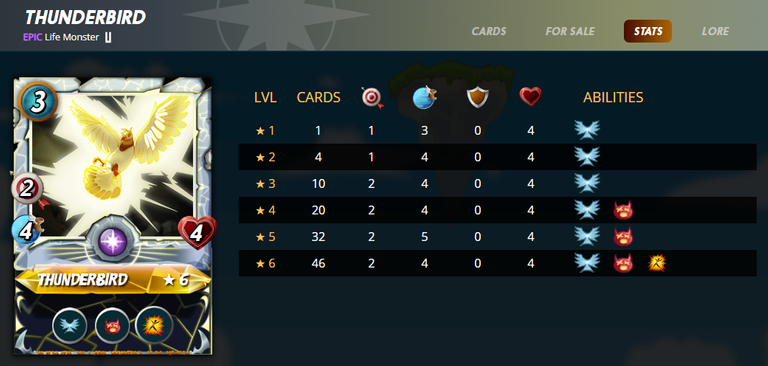 Thunderbird adds another flyer to the team. At 3 cost it will be easy to play. This does mean that the Life team didn't get a high-cost Epic with a lot of attack power. Instead, they got two that have a cost easy to fight in that can affect the game a lot. Stun is great. We all know that if you play the game. Fast attackers with stun are even better. Then add in that you have to kill this bird twice and you have a strong card. I don't like the 2 damage max. A lot more cards have the Headwinds skill now so you might only have 1 damage and then if they have a shielded tank you are doing no damage. Still, a 3 cost you can toss in that can land a stun is a useable card. I just feel like 2 damage at max level makes it hard to use over a max Feral Spirit. Let me know what you think of the card.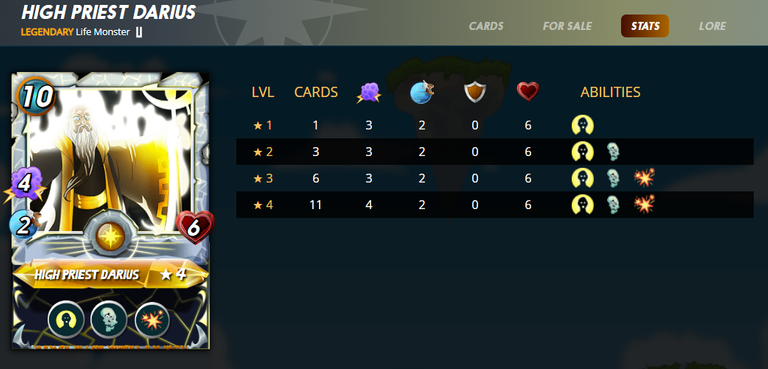 High Priest Darus is a strong card as he should be. 4 base magic damage with blast is a big attack. He also has weaken that is a nice addition and resurrect. It also sets the team up to have two cards with resurrect. That could be very interesting to see in battles. Thing high mana matches when you need to take down one of the many good tanks on life 3 times. Also, he can replace the angle of light as someone who can resurrect and deal damage instead of healing. When I compare him to the other his lower hp stands out as a possible weakness. At 6 if his weakened down to 5 he can kill himself with on attack if front row and 2nd have magic reflect. I set that up a lot due to strong mages so it will happen. When it does he might not get to use his ressurect skill and that is a bummer. He is a cool card and will get used but I need to see him in action to see how strong he is,

These cards confirm what I thought about this set for Life. The cards seem not as strong to me. That might be due to the fact that Life was one of the strongest teams. These ones will still be nice to have but the other cards in the set seem to help the other teams more to me. Dragon is next then on to the neutrals.
I am a member of the CCC group also. I am always trying to support others here with my giveaways. This is a Contest Kings giveaway No Upvote, No Follow, and No Resteem are needed to join
This is an Invitation to join #ccc for Guaranteed 👍 Daily Income 💵 and Payout 💸 for Newbies (2.0) 🐟 🐜 🐛 in #ccc 👣 and Follow 👣 the Honor Code 🏅 - the Creed (Conditions and Limits Inside) AND the latest update <<< please click to read.