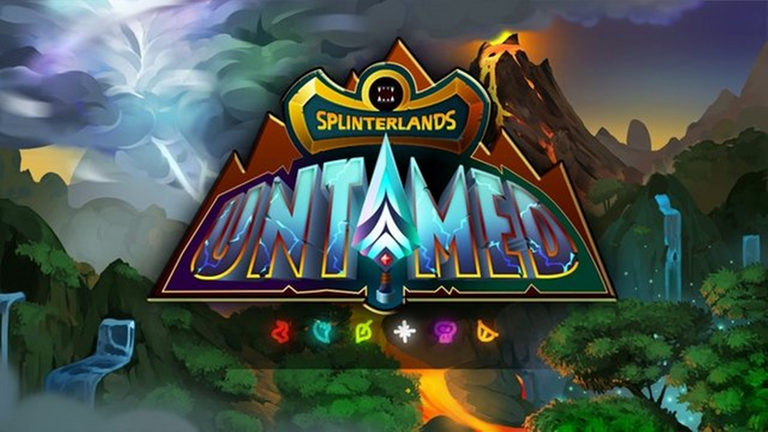 Hello this is the next part of the Untamed Fire Card Review if you want to see the other part it is here This set has made fire a much more well-rounded team. I will be talking about this more as we take a look at the new ranged monsters and the new summoner. Please let me know what you think of the review or one of the cards. I will pick one random person that does this to win 500 DEC.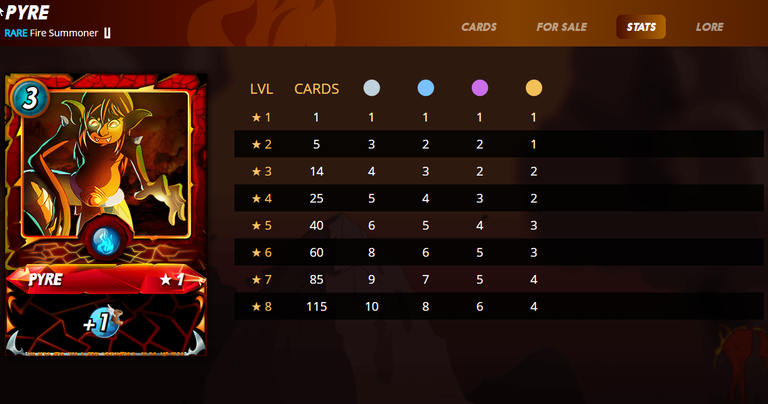 Pyre is the new summoner for the team. Plus one speed for the team is something that is rare in the game. The other summoner that had this is the Dragon Promo card and he doesn't get much play. Pyre has a better shot of getting used. Fire is a fast team. A lot of monsters with 5 or 6 speed. Now they will start with another one. They have cards to speed them up even more like Flame Imp and ones to slow down the other team. You could have some fire monsters at 8 speed with this summoner used. If this works well on the hit and miss rates lookout. I like this card and hope to get it leveled up. One downside to leveling these summoners is it takes a lot more to get them to level 7. So don't expect to see them often for a few more weeks.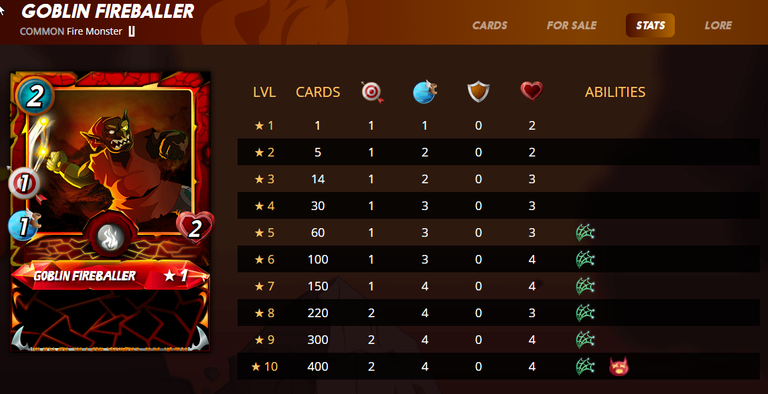 Goblin Fireballer is a nice card for a common. He is a 2 cost monster that can have 2 attack with snare and stun. This is a card that will get slipped into a lot of battles if someone has it has the max level. One bummer is he doesn't get that second attack until 8. Also, there is almost no reason to use him until level 5 when he gets snare. He will be an extra attacker in low mana matches but the fire team has a lot of these. I think this card will be undervalued as most won't want to max it out. But those that do will be glad to watch him stun and snare monsters. Newer players might use him more as they won't have Imp Bowman right away. With 2 mana cost, he will also sometimes be a toss in.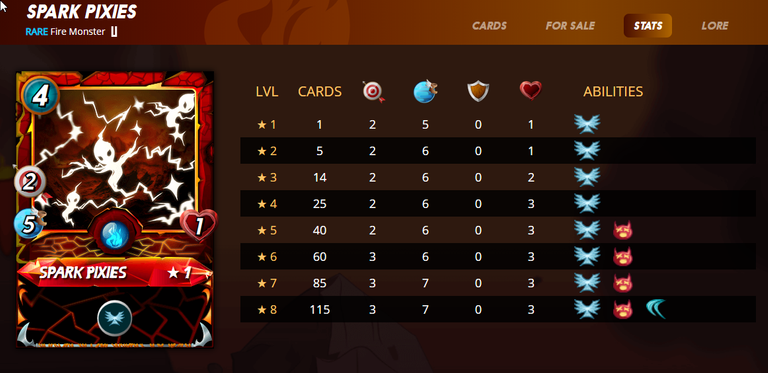 Spark Pixies is an interesting card. Great speed with stun is super good. Also a team up with Goblinfire baller gives you two ranged stun on the team. Stun is very powerful in a lot of games so you could see that a lot. Lower life means you need to be careful with this guy. A sniper might kill him in one blow. Flying helps that you might get a miss but he should not be put in the first spot snipers attack. He also shouldn't be last to get taken down my sneak. So even though he is only 4 cost he will be best the 20-30 mana range games where you can bookend him a bit. His attack starts at 2 so that is nice but only gets up to 3. But I am willing to play this card a lot once it has stun. Stuns can win you a match. This card should be pretty valuable once more people are playing.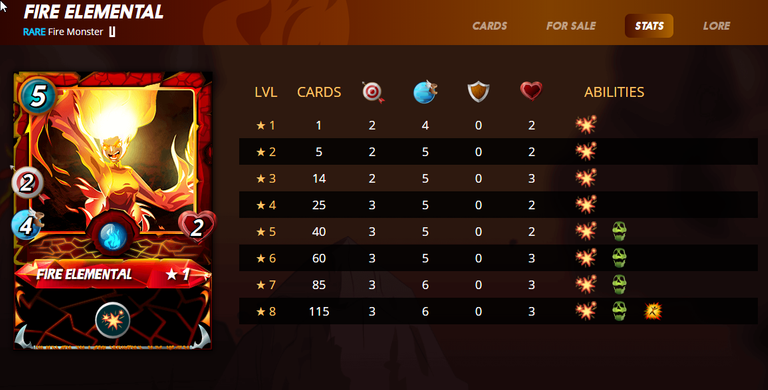 Fire Elemental keeps the lore of Elementals being strong going. Ranged Blast is pretty cool as there are much fewer monsters to bounce it back. On fire now you get a combo card to go double ranged blast and triple blast with the right set up. This card is also fast, it has low life but can get Redemption. That skill would make sure this card deals out a lot of damage. Another nice part about this card is at level 5 it is very playable. It will already have it's top attack and blast and affliction. For that reason, this card will also be wanted by a lot of players.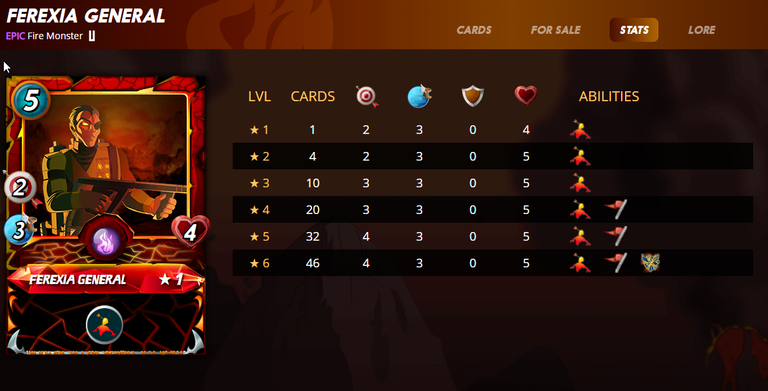 Ferexia General is the first of two epic level ranged cards fire got in this set. It is also a very nice card. Four damage snipers are strong. At the same time inspire lets him work well with the melee cards on the fire time. Shatter is also good but maybe a little less as he won't hit the Tank cards very early due to the sniper ability. It will be nice to help take out any back-row mages with armor. At level 4 this card is usable in a lot of matches. You will want to try to get it to 5 if you can play it for that last attack. That last level is up to you. Shatter is cool but not sure if it is worth it on a sniper. Let me know what you think?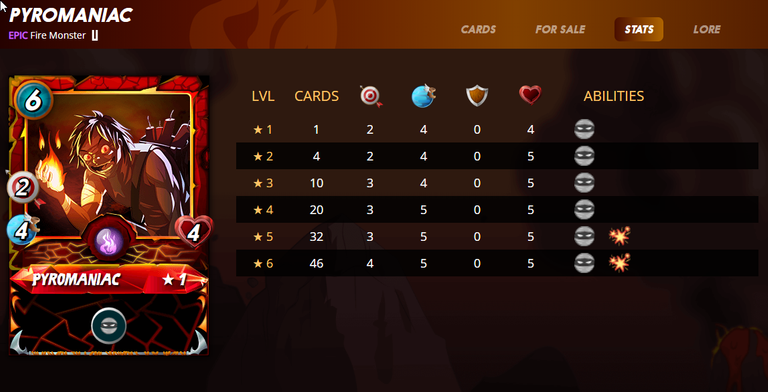 Pyromaniac keeps the blast theme going for fire. This one doesn't stack as well with the others as his first ability is sneak. Ranged sneak is pretty cool. To avoid thorns on the last spot being an issue for you. Blast with sneak on a ranged monster could be really cool. His mana cost is a little high so I see this card getting more play in the 25 to 35 mana matches. Overall his speed, life, and damage are solid. I think he will be nice add it to a lot of teams that fire that mount. I can't wait to get him blast so I can try the card out. Before that, he just isn't that good.

Now that I have gone over all the cards for the Untamed set for the Fire team. I can see these cards are meant to make the team more playable in other formats of the game. I like this a lot. I didn't like Fire that much. Armor hurt them a lot. They had too many great cards that could only go in tank position most games. Now they have some back row cards to change that. I card wait to level these cards up and see if they can make my Fire team win a bit more. I think It is time to do Earth next. Thanks for checking this out and for any feedback.
I am a member of the CCC group also. I am always trying to support others here with my giveaways. This is a Contest Kings giveaway No Upvote, No Follow, and No Resteem are needed to join
This is an Invitation to join #ccc for Guaranteed 👍 Daily Income 💵 and Payout 💸 for Newbies (2.0) 🐟 🐜 🐛 in #ccc 👣 and Follow 👣 the Honor Code 🏅 - the Creed (Conditions and Limits Inside) AND the latest update <<< please click to read.
I am now going to recap a past giveaway so you don't need to look one unless you want to see who won the giveaway from [this post.] (https://steemit.com/palnet/@stever82/5bckf8-giveaway-win-dec-sbi-or-pal-and-see-the-last-winner)
Winner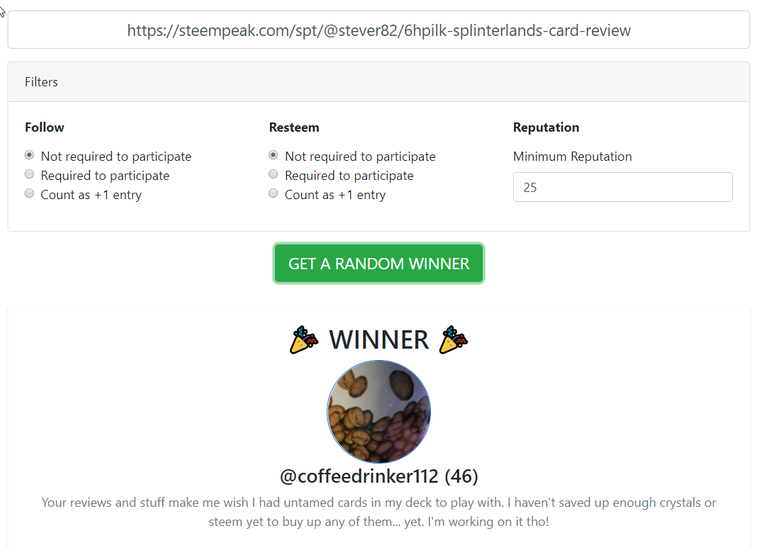 Congrats to @coffeedrinker112 your prize has been sent. I hope it helps you get some new cards soon.