I keep talking about it, but it is still true. Steem Monsters Daily Quest Rewards are AWESOME!
I was not able to grab a screen shot of all of the cards I gained for today's quest, but the highlight of my Steam Monsters Daily Rewards haul was a Gold Mushroom Seer.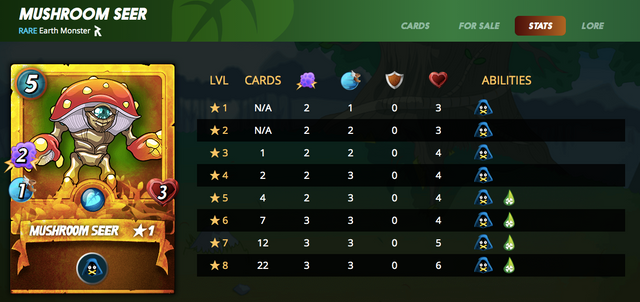 I use the Mushroom Seer often in my Earth Splinter, especially against opponents who tend to use magic attacks. I have maxed out (level 8) non gold foil Mushroom Seer.
Value of Gold Card (as of July 9, 2019): $3.40
Type of Attack: Magic
Special Abilities:
Silence - available at level 1 - reduces the magic abilities of your opponent by 1
Poison - available at level 5 - reduces the health of card who is poisoned by 2 at the beginning of each round
Here is proof that Steem Monsters can pay you back as you play!
Have a great day and see you around the battle field.
@SumatraNate