Heya Monster fam,
The world of splinterlands is quite unpredictable, It brings happiness in one's life and i see some people just complaining about it all the time. We have discord city The neoxian city. Where we all share our good and bad moments with our splinterlands fam. Tbh it's hell fun discussing splinterlands news and updates with friends we joke, make fun of each other, brag on our achievements, and whatnot. The city of neoxian is my other world out of my real life where i spend enough time.
Yesterday, it was a memorable day Happiness at times, sadness at times. Yea why sad because i got Fire splinter as a quest and i have had a quite tough time with that deck. Although my Malric Inferno is Level6 my level4 Elemental Phoenix is still level3 because Malric Inferno can't summon level 4 legendary Alas. :(
I have pretty good level cards in fire deck but still, fire can be good in melee attack rule. Well, this is my sad story not complaining though because it was my decision that i will upgrade my all decks instead of one or two like other people are doing.
The second part of sadness is i see people complaining over reward cards :P and the way they lose XD. Well, maybe that's their way of letting out all their frustration. One of our very good players is frustrated enough and he is going to rent out all his cards and going to take a break of few seasons because he thinks he is fed up of the current splinterlands algorithm. Hmmmm well splinterlands algorithm is for all of us so i guess the day we will start enjoying the game instead of thinking that this game is our source of income so we all will be happy. Sure who doesn't want good cards everyone but luck matters XD
Happy story is i got an e-mail from splinterlands and i have redeemed my #Untamedpack. Potions yet to redeem but i am waiting for a new update. On the other hand, one of the luckiest members of our guild @zaku was able to fetch out 3 GoldFoil Legendries from orbs. So happiness and sadness is part of life the way we enjoy good moments of life we should try to accept the sad moments as well.
Wisdom is flowing out lol
My quest rewards cards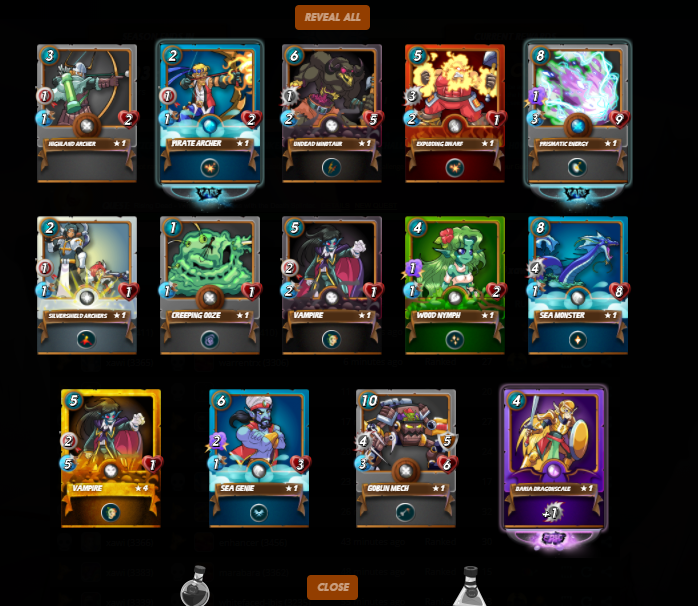 One common gold foil and one epic out of many cards still not bad :P
that's all for now see ya